Interested in trading US Stocks and ETFs after the exchanges have closed? Interactive Brokers has partnered with liquidity provider Blue Ocean to offer access to streaming quotes beyond the two typical sessions - regular and extended US-trading hours. Interactive Broker clients can trade over 10,000 U.S. stocks and ETFs from 8pm ET to 3:50 am ET Sunday to Friday using the IBKR Overnight destination. Trades executed between 8:00pm and 12:00am will carry a trade date of the following day. For a full listing of the available stocks and ETFs see the exchange listing page on the website.
Limit order trades can be placed within TWS, Client Portal and Mobile TWS and clients are eligible to trade with their existing US stock trading permission but must enable Overnight trading in the Client portal.
Clients can set the destination to Overnight by setting the Time-in-Force to Overnight Trading. The Overnight order destination combines internal and external liquidity providers to display the live NBBO for all available liquidity.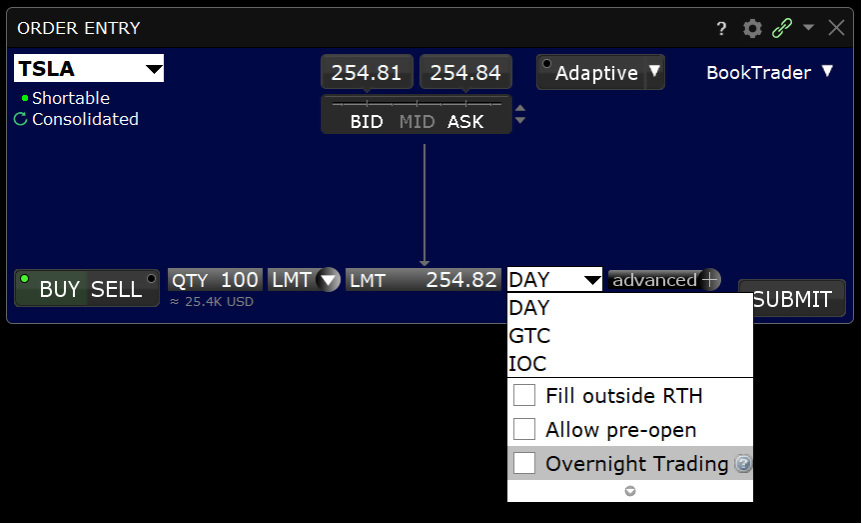 Notes:
The Reference Table to the upper right provides a general summary of the order type characteristics. The checked features are applicable in some combination, but do not necessarily work in conjunction with all other checked features. For example, if Options and Stocks, US and Non-US, and Smart and Directed are all checked, it does not follow that all US and Non-US Smart and direct-routed stocks support the order type. It may be the case that only Smart-routed US Stocks, direct-routed Non-US stocks and Smart-routed US Options are supported.
<! -- The Pages below have unique notes which can be altered above. Good After Time (GAT) Orders: File ID 587 Good Til Date: File ID: 589 Limit Orders: File ID: 593 Market if Touched Orders: File ID: 600 Trailing Stop Orders: File ID: 605 Volatility Orders: File ID: 604 -->