The Transfer & Pay menu in Portal provides resources to let you transfer funds, transfer positions, and check transaction status and history. Additionally, you can submit withdrawals for both your master account and sub accounts.
Our website provides an overview of funding methods available to clients.
Prop Trading Account Structure
IBKR offers Proprietary Trading Group accounts for corporations, partnerships, limited liability companies and unincorporated legal structures.
Pool Account
A single trading account with one or more users. Multiple users can view and modify other traders' activity.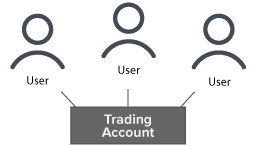 Separate Trading Limit Account
Multiple, linked accounts all in the name of a single entity. Assets in all accounts are owned by the entity account holder. Each account has its own trading limits and can have its own trading strategy.
Master, sub accounts and users are part of the same legal entity.
Funds are deposited in the master account and transferred between the master and sub accounts to control individual trader limits.
Initial margining is determined for each individual account, while maintenance margining is determined at a consolidated account level.
Master users can set trading limits on individual sub accounts based on order size and value.