The IBKR Advantage
Vast universe of bonds

No markups or built in spreads

Enter orders and trade direct with
other IBKR clients

Rated Best Online Broker for
Bonds by Benzinga
Use Our Free Bond Search Tool to Learn How Much You Can Save
IBKR offers low and fully transparent commissions on bonds, with no mark-up on bond prices, and provides access to a full universe of US government securities, corporate bonds, municipal securities and CDs. We encourage you to use our Bond Search tool to compare available yields against those of other brokers.
Take the Bond Challenge
For corporate bonds, simply enter a suitable maturity date range into the search tool and click "View Results". Clicking the Yield or Maturity column headers will sort your search results. IBKR clients can enter orders and interact with each other by posting bids and offers.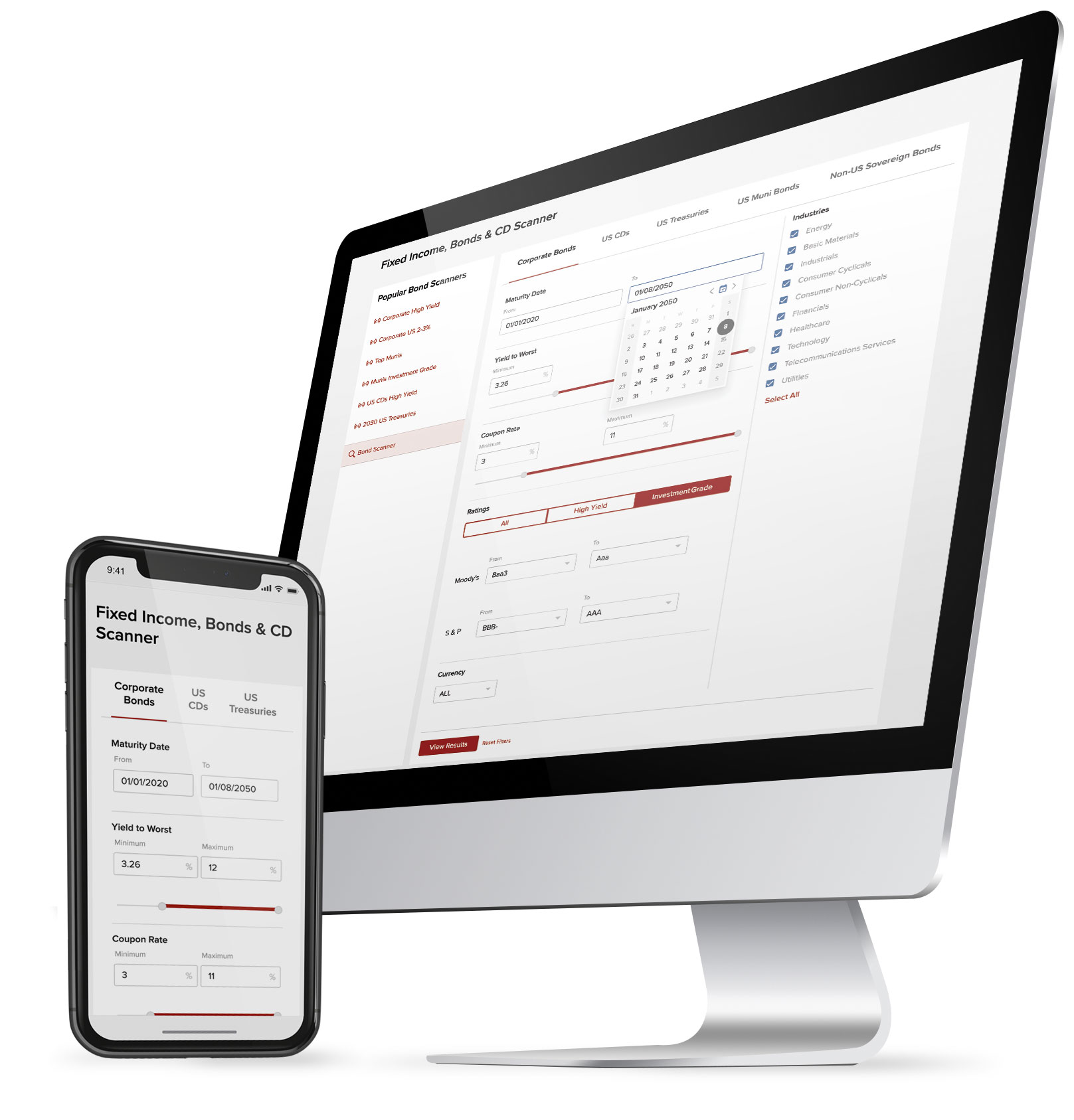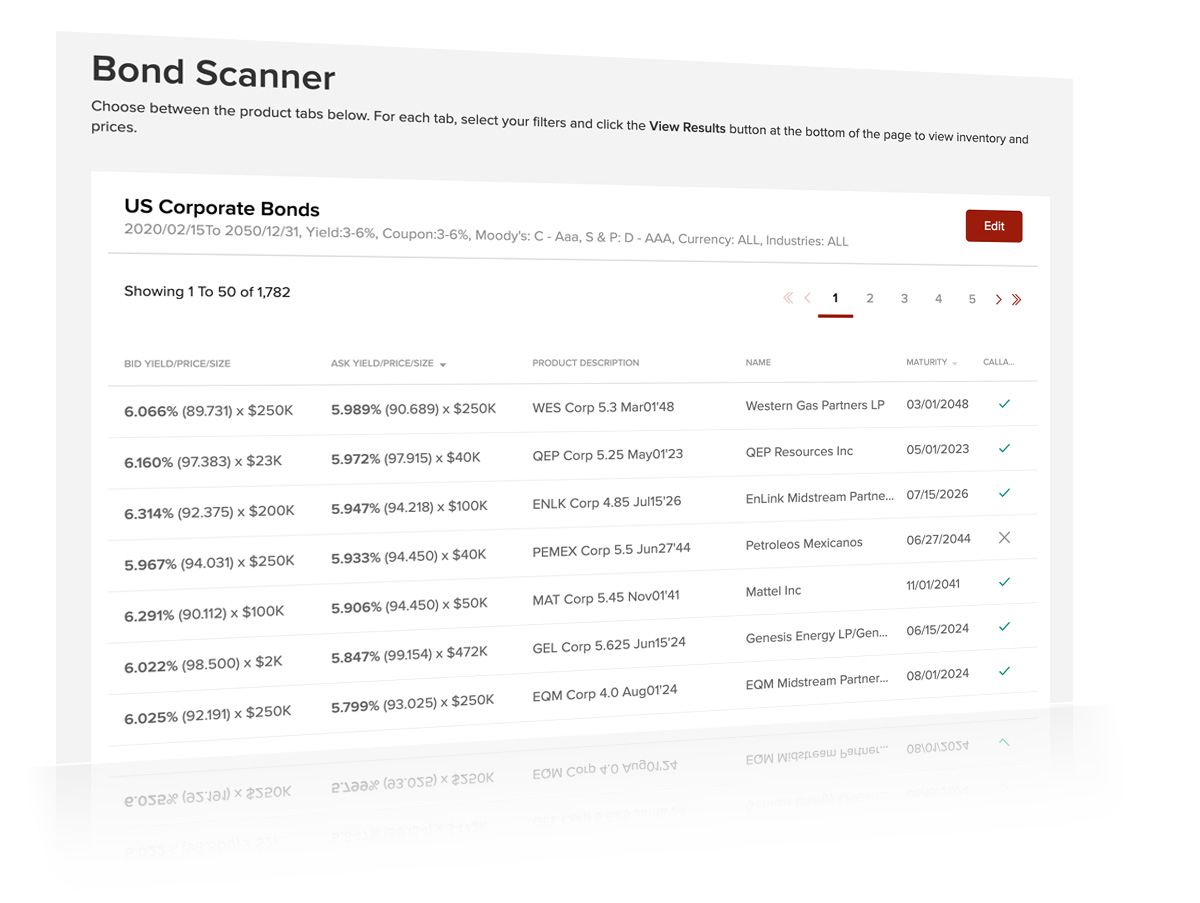 You can fine tune the bond search tool by selecting specific industries and defining values for minimum and maximum yield to worst. Define the results by high yield or investment grade or simply choose all bonds. Moody's and S&P Ratings filters let you evaluate risk versus return and you can quickly scan within CDs, Treasuries and muni bonds by selecting the bond type buttons at the top of the search tool.
IBKR acts as an agency broker and charges from 2.5 to 10 bps on corporate bonds, with a USD 1.00 minimum per order. We pass through the highest of all bids and lowest of all offers available at the electronic venues we access.
Self-Service Access
We encourage our clients to make their own bids or offers for issues of interest.
In addition, we have the ability to cross orders in TRACE eligible and certain non-TRACE eligible corporate bonds internally on our integrated ATS should clients post better bids or better offers on our platform than in the market, improving the chances of a favorable fill.
IBKR offers direct market access to US, Canadian and European corporate bonds, US government securities, US Municipal bonds, 1,900+ non-US Sovereign bonds in Asia and Europe, Euro-denominated government bonds, fixed income futures and fixed income options, all from a single integrated account.
Discover the advantages of bond trading at Interactive Brokers:
Depth and Breadth of Offering - IBKR offers multiple fixed income bonds to meet your trading needs. Trade corporate, municipal, or treasury bonds all from a single integrated account and single trading screen.
Client Bond Quotes for Trading in TWS - Unlike traditional bond platforms, our clients can both see and place bid and offer quotes for US corporate bonds. Non-marketable limit orders that meet or exceed the existing best quote will be included in the IBKR market data for other IBKR clients to trade.
Comparable Bonds All in One Place - To help ensure fair pricing and make it easy to compare municipal bonds with similar characteristics, TWS automatically displays a table of comparable bonds for each bond order. You can submit a Request for Quote on any of the presented bonds directly from within this table.
We route orders to additional liquidity providers including a number of major global banks. Bond orders are SmartRouted to multiple bond market centers including:

Bloomberg ALLQ
Euronext
Tradeweb Direct

ICE BondPoint
ICE MuniCenter
NYSE Bonds

And assorted additional global bond venues.
Submit Corporate and Municipal Bond RFQs - Submit a Request for Quote on a bond that has no existing quote, to potentially improve upon an existing quote, or to get a quote for a particular trade size.
Get access to most electronically traded bonds
at low and transparent prices.