Client Portal offers clients a simplified experience with single-login access to the resources you'll need to monitor, manage and trade your IBKR account. This platform is designed for clients who want a clear and understandable real-time view of their account(s).
Access the Client Portal from the Log In button on the IBKR website. Enter your username and password and security prompts after you click the Login button. Client Portal is supported on all your mobile devices, too.
---
Home Page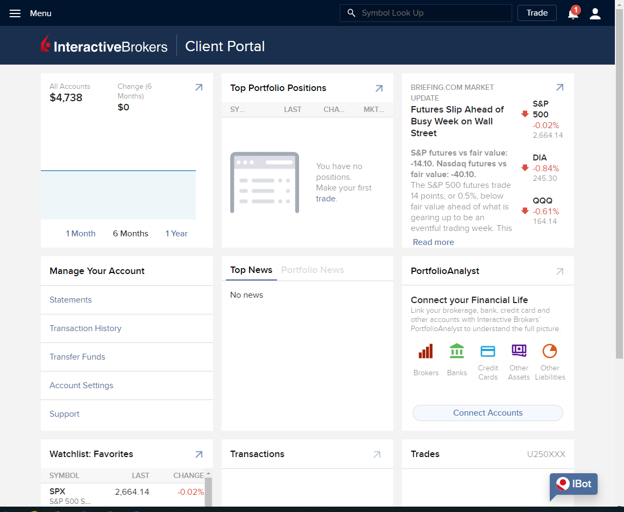 The important information about your account appears on the home page to make it easy to monitor and trade your account. See your rate of return, portfolio positions, recent transactions, notifications and messages, portfolio and top news, available cash, and more. Menu - Use the three horizontal lines in the top left corner to access the Application Menu.
Bell Icon - Keep informed of upcoming events that could impact your account with the custom notifications based on your portfolio and trading activity. The Bell icon in the upper right corner lets you see at a glance the number of unread messages. Can also be accessed from the Support in the left Menu. Trade button remains in the top right of the Client Portal dashboard – accessible from any Client Portal window to place a trade.
Ask IBot - Find solutions to common issues faster with the IBot Automated Response System. For the shortest response time simply click the IBot icon and type in your questions, for example "how do I withdraw funds" or "what are the commissions for US stock orders."
Information is tiled on the home page and where applicable, you'll see a "Go To" arrow in the upper right to expand the tile for additional detail.
Account Selector
If you manage multiple accounts, have multiple linked accounts, or use account partitions, you will be prompted to select an account once you log in to Client Portal. The accounts for which data will be displayed are shown on the Dashboard on the Portfolio page. You can add and/or remove accounts at any time using the slide out Account Selector menu from the " … " in the dashboard.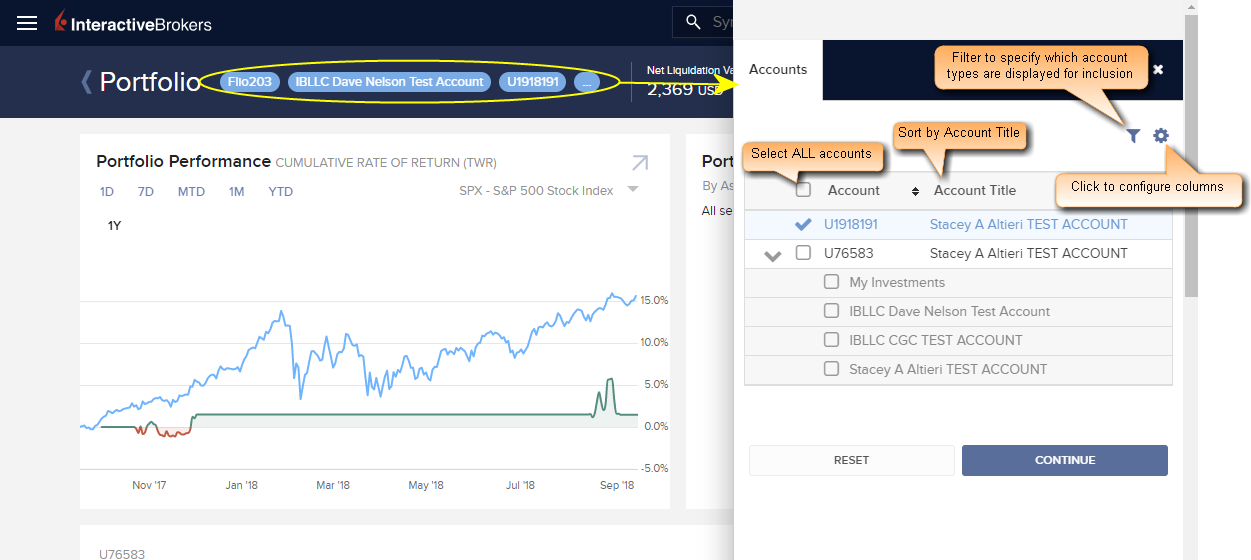 Portfolio
View each position with the last traded price, the % change in price, and the current market value. Click on a position from the portfolio list to view a chart and quote details for the asset. For additional data points use the "…" in the top right corner to add or remove columns.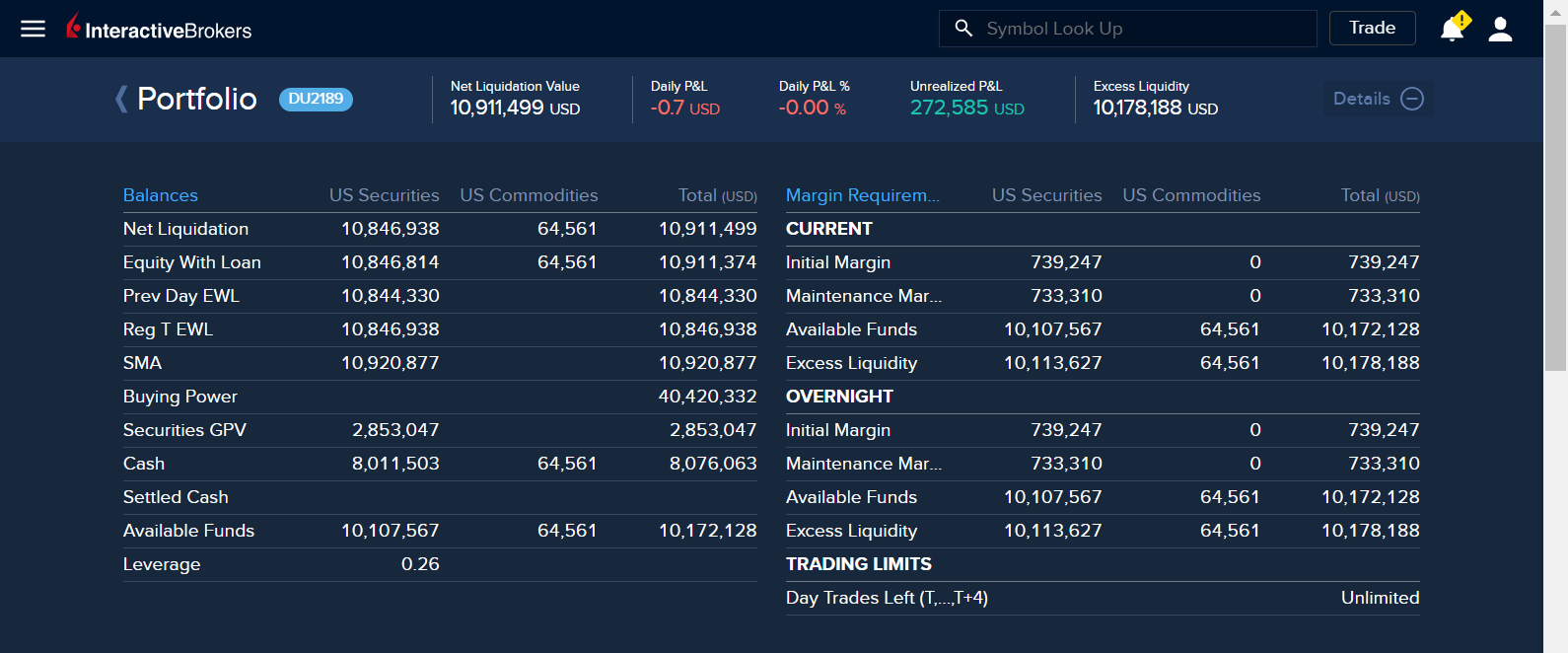 Top Portfolio Positions
Click on any position to open the quote details page with comprehensive product information and a real-time chart for the underlying. Financial Information, Key Financial Ratios, Analyst Forecast and recent news headlines for the selected instrument are included. Expand the Event Details tile to display filtered information for the selected ticker.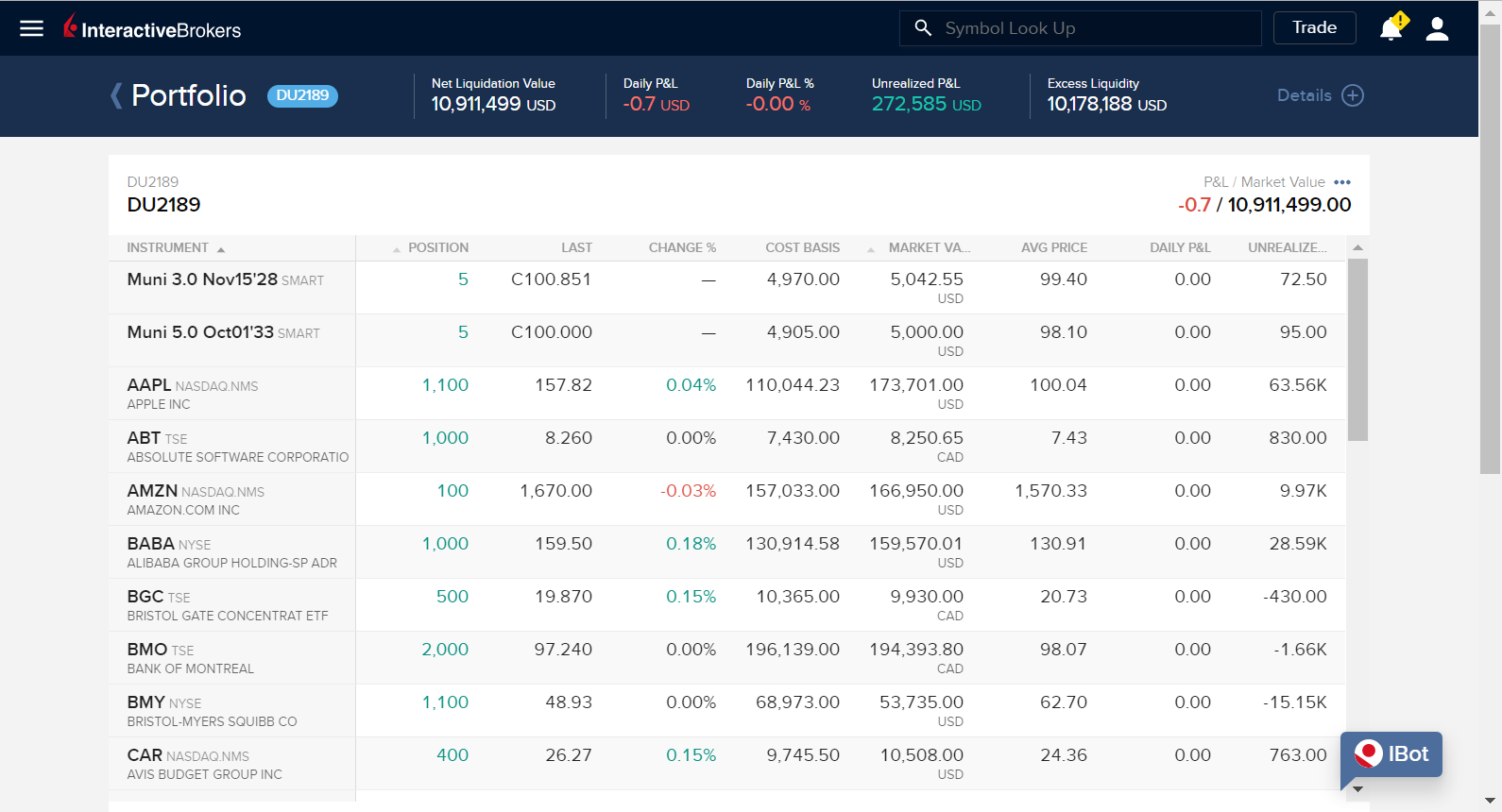 You can access the instrument details for key market data by clicking the symbol from a Watchlist, Market Scanner or Portfolio page to open comprehensive product information on the quote details page. That includes.
Chart
Select the chart time period. Choose from 1D, 1W, 1M, 6M, 1Y, 5Y. Choose the chart bar type to display. The "…" icon opens Chart Settings to hide or show Volume and VWAP, and to apply Chart Studies and Secondary Indicators. Hold your mouse over the chart for more information. Rest your mouse in the chart for pop-up detail display.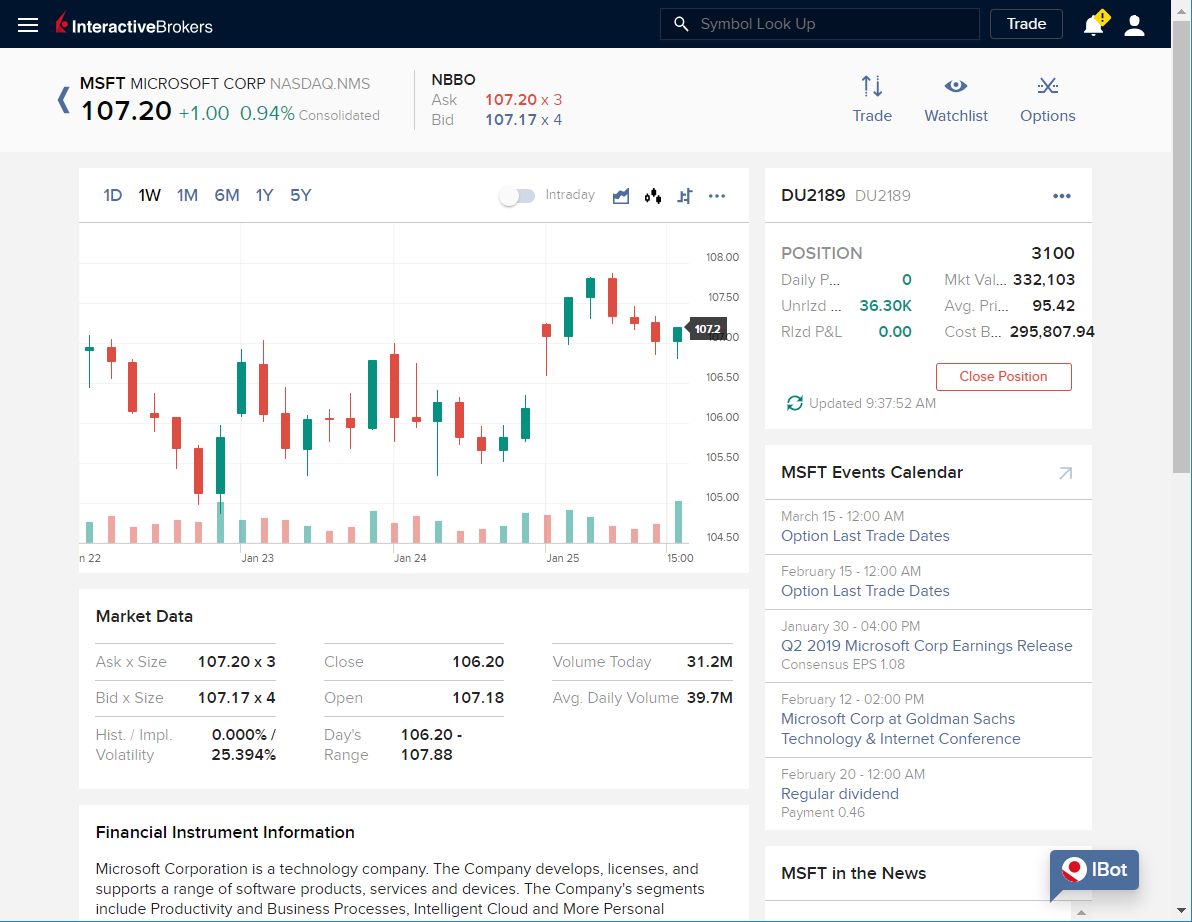 Key Fundamental Data is included.
Use the back arrow next to the instrument name to return to the original page.
Option Chains
Open the Option Chain with the icon in the upper right on the Instrument Details page.
Use the tabs along the top of the screen to choose an expiration date.
To create an order for the contract you want to trade, click the Bid price (for a sell order) or the Ask (for a buy order). The Trade window slides open with the order fields pre-populated based on the selected contract. These values can be modified before you submit the order.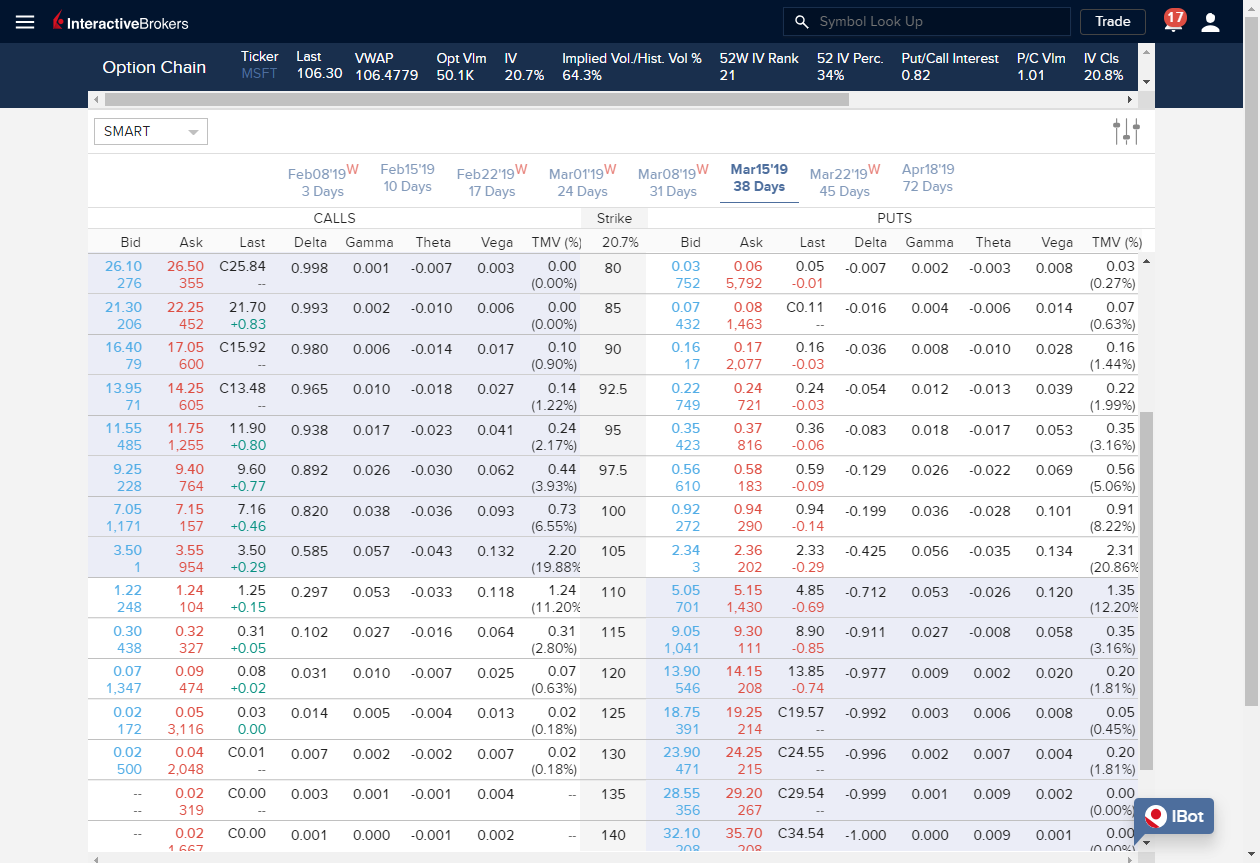 Events Calendar
View Corporate Earnings, Corporate Events, Economic Events, Dividends, Splits and IPO/Secondary Offerings from the Events Calendar. Filters are provided to streamline the displayed data. This page opens to view events for today's date by default, but you can click any date on the calendar widget to view events for that day.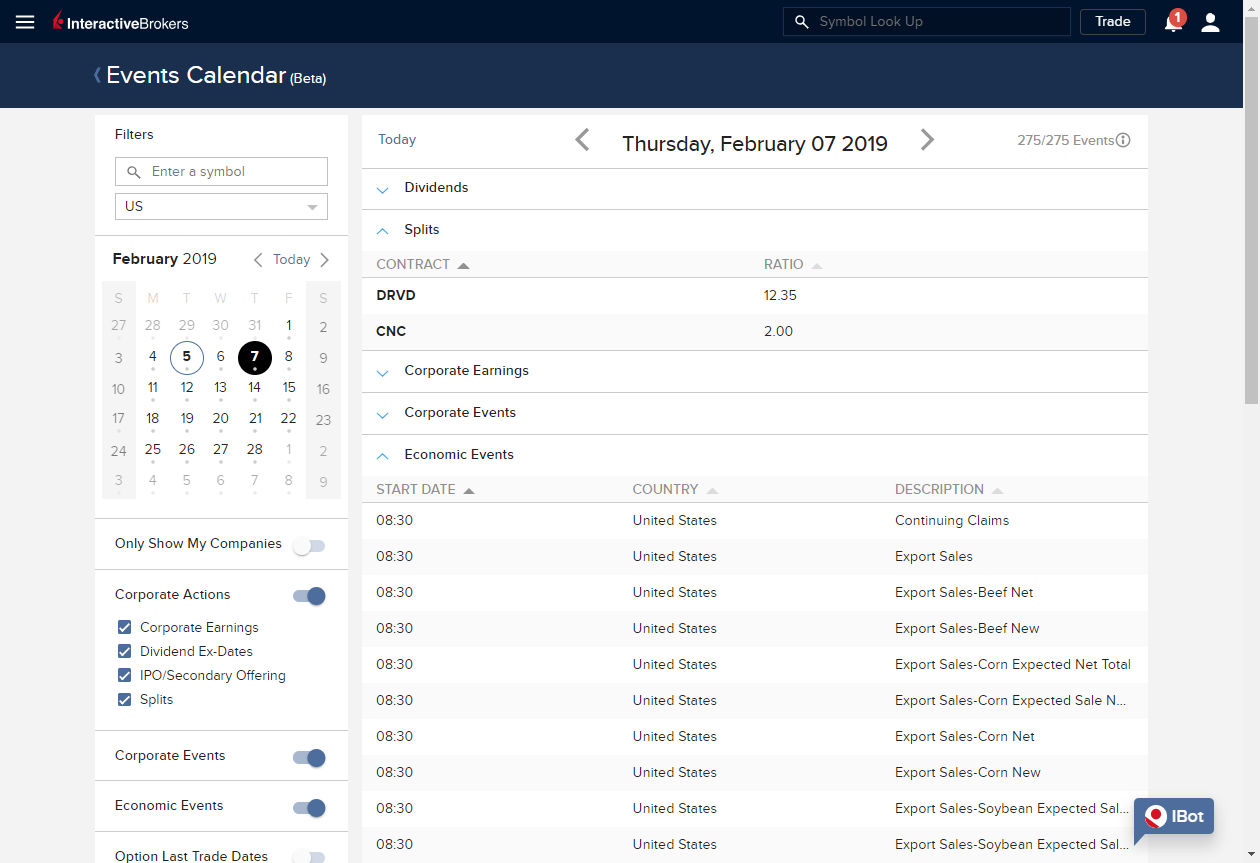 Portfolio Performance
Portfolio page displays your essential account information, such as Net Liquidation Value, P&L, Buying Power and more - all in real-time. Track your performance with the easy-to-read cumulative and monthly return charts. Account values display in the Portfolio Dashboard across the top of the page. Use the "Details +" button to expand the Account information panel to view current Account Balances and Margin Requirements.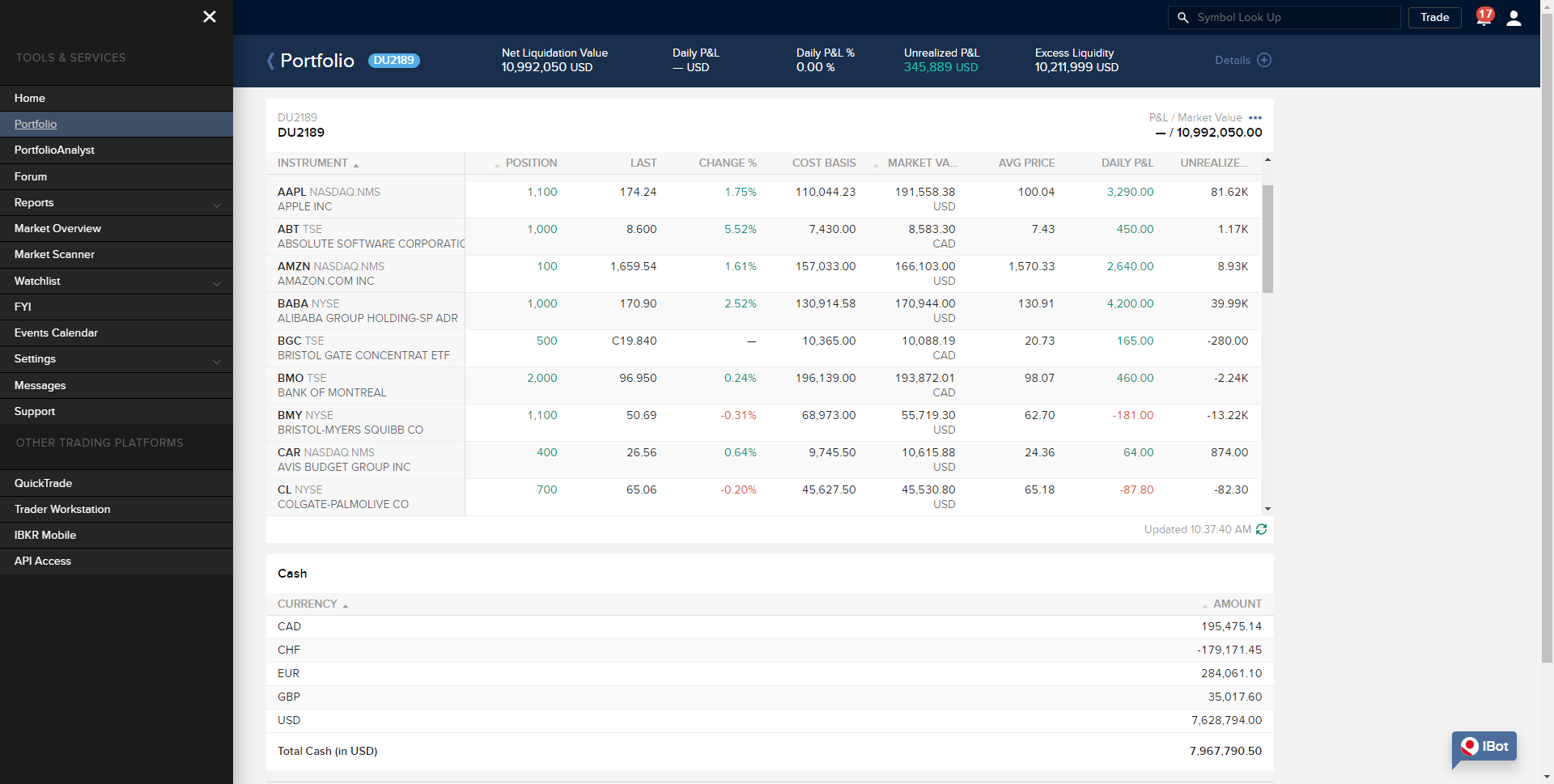 Expand this tile with the go to arrow to access the Portfolio Analyst – our online Performance Analysis Report, where you can consolidate and analyze your Financial Portfolio Data in a single place.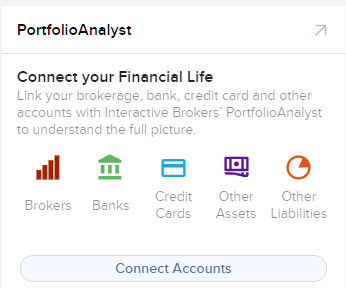 Combine IBKR account data with the ability to add your "held-away" accounts such as -- checking, savings, annuity, incentive plan, credit card accounts -- for a consolidated view of your financial portfolio in a single place with Portfolio Analyst.
Account Net Asset Value – shows an interactive bar graph of the current total value of all your accounts, including your IB account and any external accounts you have added. Drill down for more details for any individual account.
A single click lets you access several preconfigured PDF reports to analyze different aspects of your account portfolio's performance. Use the gear icon to create and save customized reports.
Portfolio Allocation can be viewed by Asset Class, by Sector, by Industry.
---
Trade
Create Orders
Easily place orders, manage open orders, and view recent trades from any page in the Client Portal with the slide-out trade ticket that opens from the Trade button in the upper right corner. An Order panel slides in from the right to define your order criteria. Use the Preview button to review the order and Submit the trade when ready.
View Today's orders
From the Trade button:
Click an order line to view expanded order details.
Filled orders reflect that status on the right.
Unfilled and partially filled orders include Cancel and Modify icons.
---
Market Information
Market Overview
Use the Go To arrow to open additional panels that include a current Market Update, a chart displaying 3 representative instruments for US, Europe, Asia and Forex. Bloomberg TV is available for up to 12 hours a day. Top Gainers and Losers can be displayed for Americas, Europe or Asia. Additional panels let you view Today's Top News headlines, and Performance by Sector.
Scroll down further to view color-coded bar charts displaying the current percent change of representative indices and bonds from different countries as well as sovereign debt, foreign exchange rates and global volatility indices.
Market Scanners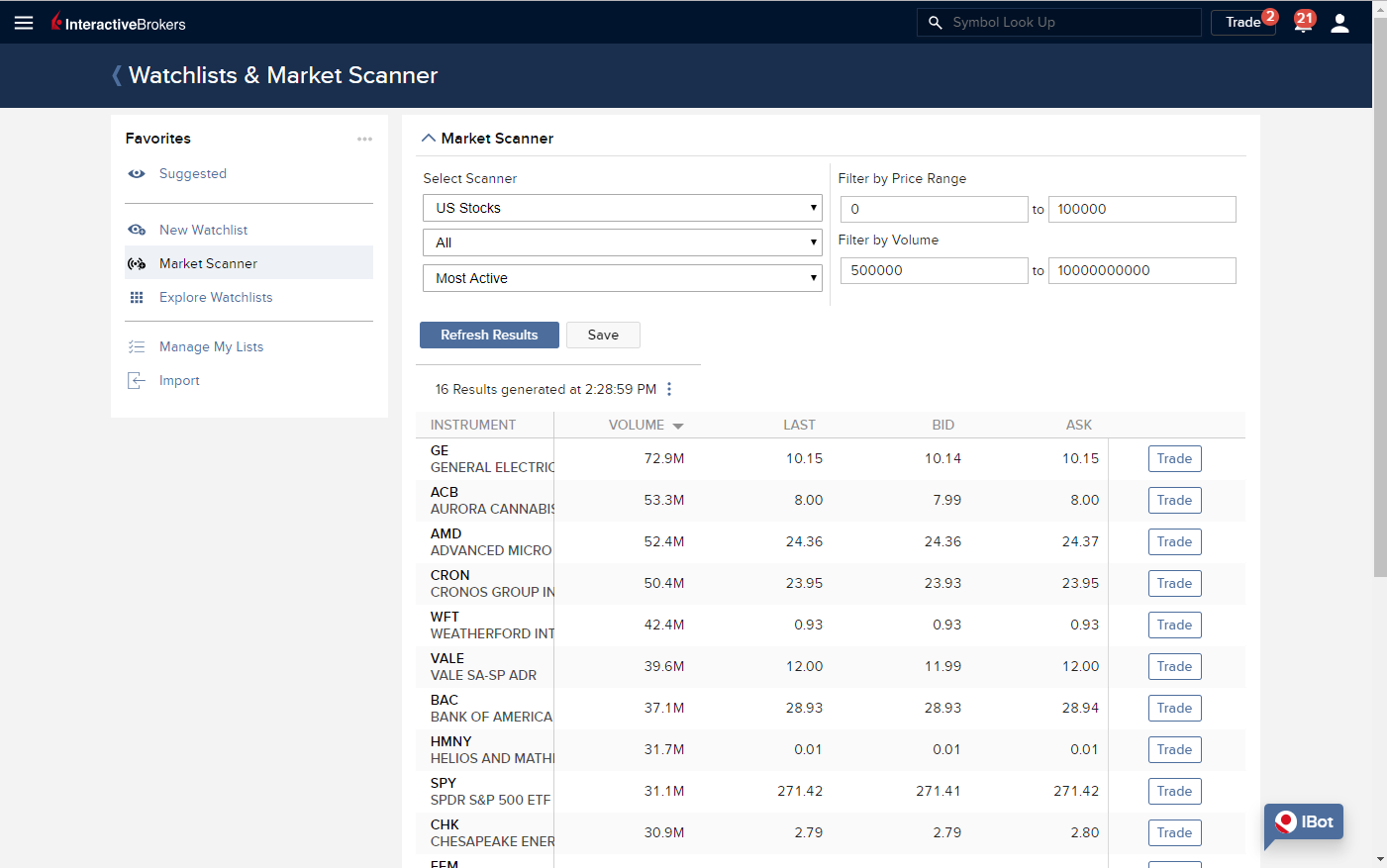 This dynamic tool searches the markets and returns the top trading instruments based on the parameter and filtering criteria that you define. Start by selecting a financial instrument and use the efficient dropdowns to define the scanner.
Once you have run a Market Scanner, you can save the scan as a live Watchlist, or the scan results as a static Watchlist.
A LIVE Watchlist is basically a saved market scanner. Each time you open a LIVE watchlist, the original scan is run and the list of instruments that best meets the scan criteria is updated in the Watchlist. This Watchlist is dynamic and based on the Market Scanner and so cannot be edited to add or remove instruments.
Watchlist
Watchlists are a list of instruments that you are interested in tracking, along with their current prices. Manually create a Watchlist that you can view at any time. Or Import Existing Watchlists from TWS, WebTrader and Mobile apps for Smart phones & Tablets.
We also offer several pre-defined Watchlists you can Explore at any time. Use the watchlist icon on top to add a specific ticker to your watchlists.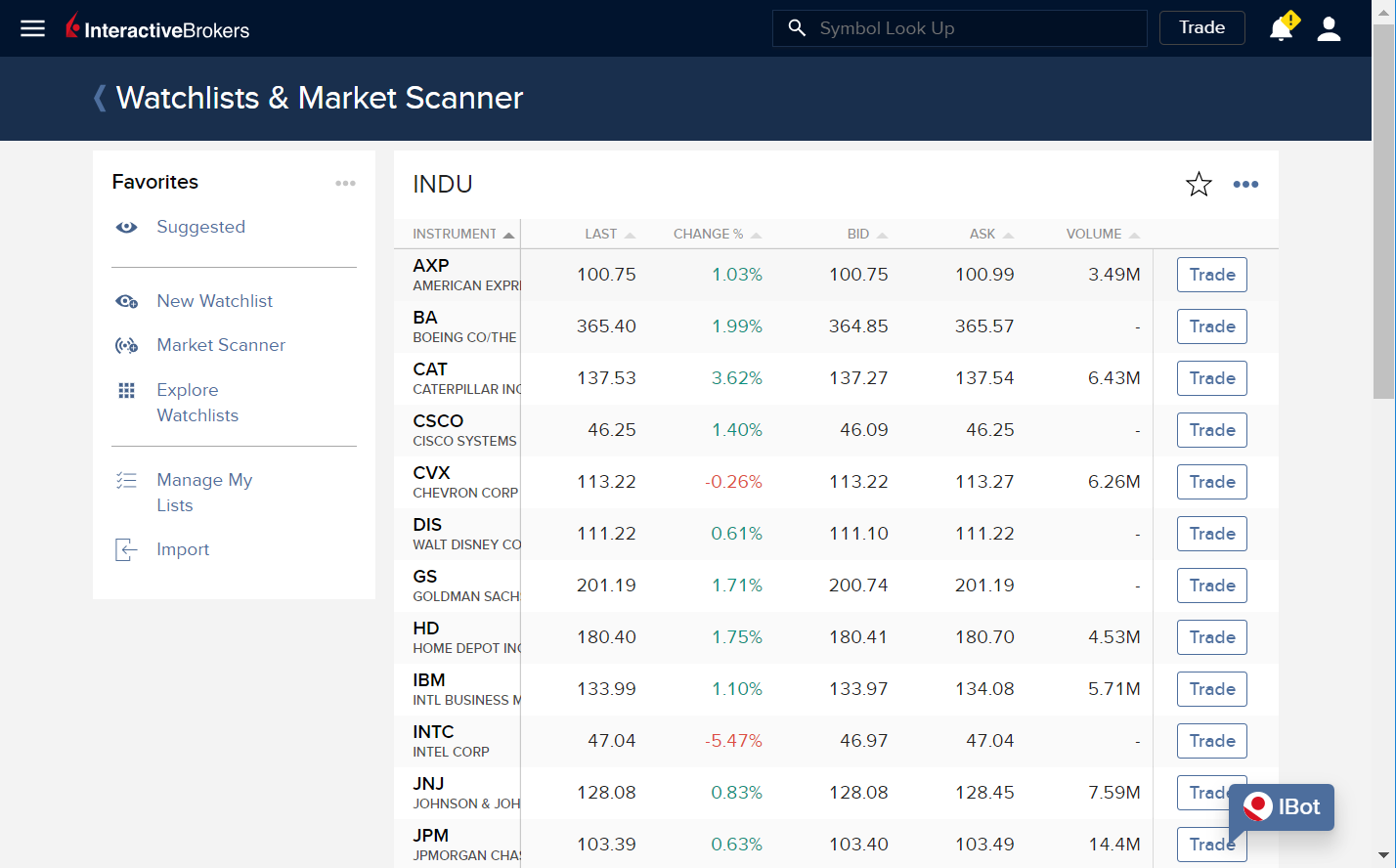 Forum
The IBKR Forum lets you share ideas, ask questions and connect with the IBKR Community. The forum is only available to IB clients and is not public. Posts are monitored by IB staff; inappropriate posts will be removed.
Clients can post observations, ideas, articles and questions, to which others can respond.
The Settings button lets you set up rules to Only Show Posts from users who fit specified criteria you determine in the 'Who Can See' settings. You can restrict which posts you see and who can see your posts using Settings button.
---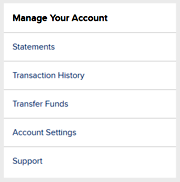 Manage Your Account
Provides direct access to Account Management features such as Account Statements, Transaction History, Transfer Funds, Account Settings and Support.
Run a variety of reports, including default and customized activity statements, margin reports, trade confirmations, and tax forms.
Statements and Trade Confirmations - Create, save and run your own custom activity statements and trade confirmation reports. Run different kinds of statements, including your saved custom statements, trade confirmations and third-party downloads.

Create Custom Statements – Use the + icon to create and save custom Activity Templates. To modify any of the report fields, use the Edit (pencil) icon and modify the template as required. Select a date or date range from your customized templates to run on-demand.
Refer to the Reporting Guide for samples of the available reports.
All fund management, including deposits, withdrawals, and transfers of both cash and positions, is administered through the Transfer & Pay section, IBKR Debit Mastercard® holders will see an additional Debit Card section under Transfer & Pay.
Please refer to the Funding Reference pages for specifics.
Settings
This menu selection lets you configure your account-level and user-level settings.
Account level – User Profile, Financial Information, Trading Permissions, Account Configuration, Set up a paper trading account
User Level – Subscribe to market data, news, information and research, Password changes email changes
Support
Access all Client Services functions, including the Message Center and live chat.
Site Map
At the bottom of each page a site map provides links to the Client Portal features: