Use the TWS Yield Optimizer to compare borrow rates on hard-to-borrow stocks before you sell short.
Use different borrow strategies, view the best rates for lending your own shares and see the most cost-effective EFPs
for investing your excess cash.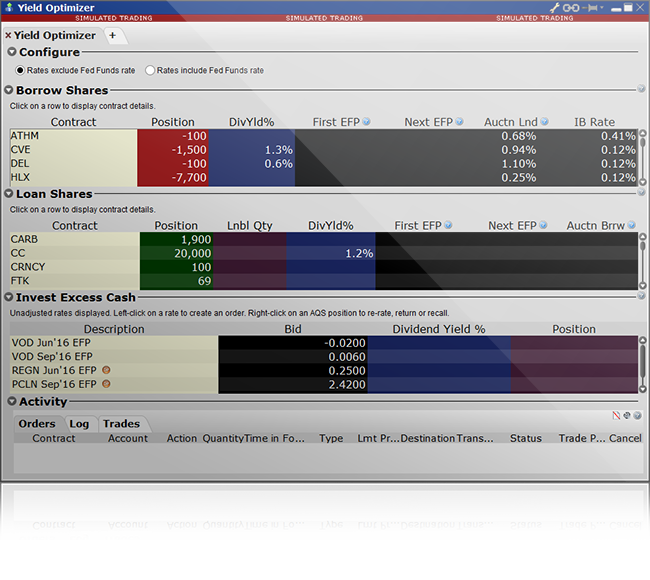 The TWS Yield Optimizer offers traders the following features:
Compare borrow rates - If you want to put on a short sale, use the Borrow Shares section of the Yield Optimizer to quickly compare the rates from selling an EFP, or borrowing from IB. Create a borrow order from the strategy offering the best rate.
View per ticker borrow details - The Borrow Shares section provides a quick-glance overview of rates on multiple tickers. Use the per-ticker detail panel to see borrow rates for all EFPs, borrow and lend volumes, and to create an order.
Lend shares - The Lend Shares section displays all of your long positions.
See your current rate - If you currently hold any short positions, they will automatically display when you open the Yield Optimizer. Use the details panel for a specific position to see the borrow rate you are currently paying.
Invest excess cash - If you have unused cash in your account, you could be receiving a higher yield by investing in an EFP. The Invest Excess Cash panel displays EFPs with the best rate of return.