Option Spread Templates
We now offer a simple-to-use grid interface with spread templates for comparing and creating option spreads, accessible from the Option Chain page. This grid interface allows you to easily compare prices, spread tightness, Delta, and Gamma across a range of similar strategies and quickly populate the Strategy Builder with the one you want.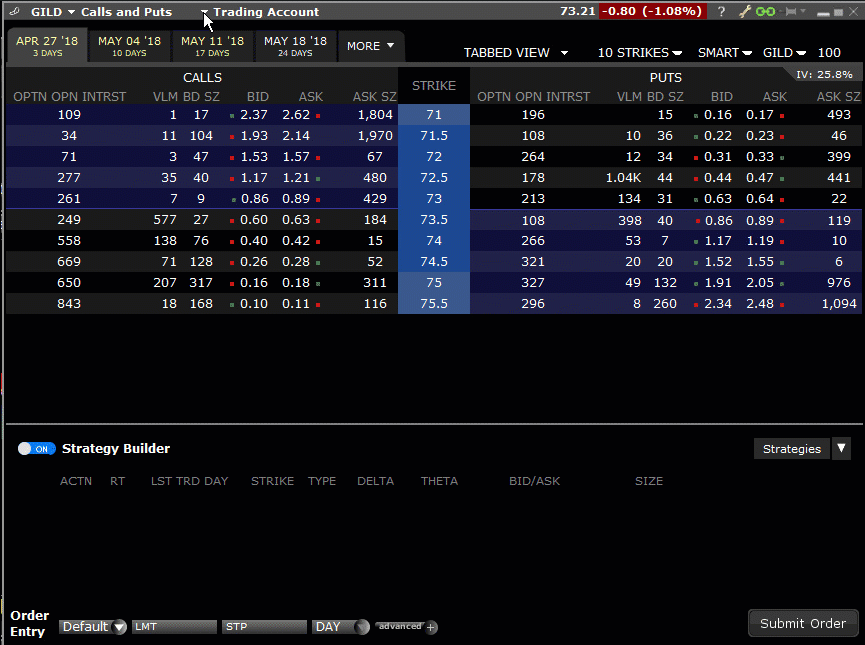 To use the Spread Templates, from the Option Chain page use the drop-down in the blade (to the right of the symbol) to choose a strategy (Horizontal, Vertical or Diagonal spread). The grid layout appears with the view centered near the current strike price. You can toggle the first leg between calls and puts using the Calls | Puts selector in the upper right corner. Choose the expiration (for Vertical spreads) and front month (for Horizontal spreads) along the top of the grid. For Diagonal spreads, use the Front/Back drop-down arrow to select a front and back month.
Once the spread parameters are defined, use the bottom and side scroll bars to scan and compare. Click a box within the grid to populate the Strategy Builder. As you create the multi-leg complex strategy, the Order Entry panel below the Strategy Builder populates with the strategy's bid and ask prices. Additionally, it now also identifies the limit price as "Debit" or "Credit" in the Limit Price field.