Interactive Brokers Leads Industry in Percentage of Profitable Customer Forex Accounts
GREENWICH, CONN, February 6, 2013 - Interactive Brokers Group, Inc. (NASDAQ GS: IBKR) was recently ranked as the leading forex broker by percentage of profitable customer forex accounts according to a composite Forex Broker Comparison produced by the website Forex Magnates.
The comparison was comprised of data from 11 of the largest forex broker performance reports as submitted individually to the regulator, the National Futures Association (NFA), for the fourth quarter of 2012. The comparison is as follows and can also be found at http://forexmagnates.com/q4-2012-forex-traders-profitability-report-us-forex-market-keeps-losing-brokers-and-accounts/.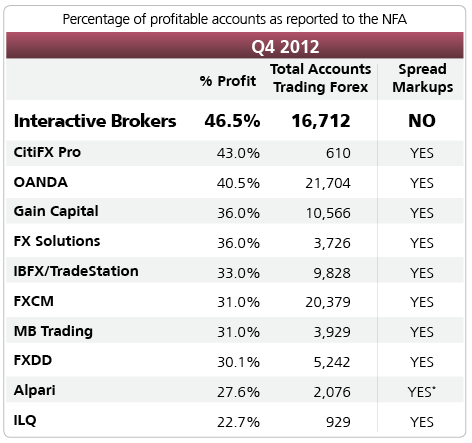 Interactive Brokers (IB) offers FX traders direct access to interbank forex quotes on 19 different trading currencies, never engaging in hidden price spreading, markups or kickbacks. IB combines real time prices from 13 of the world's largest FX dealing banks plus a transparent, low commission that avoids the conflict of interest of FX platforms that deal for their own account.
IB's FX routing provides best-execution functionality and a transparent pricing structure, with displayed spreads as small as ½ PIP and actual spreads even lower.
The same philosophy and technology that enables IB's clients to achieve superior forex trading results also drives our clients' trading and investing of stocks, options, futures, and bonds worldwide on over 100 markets.
For more information about the advantages of trading forex with Interactive Brokers, please visit: http://www.interactivebrokers.com/forex
Media: Caitlin Duffy, (203) 913-1369
About Interactive Brokers Group, Inc.:
Interactive Brokers Group, Inc., together with its subsidiaries, is an automated global electronic broker that specializes in catering to financial professionals by offering state-of-the-art trading technology, superior execution capabilities, worldwide electronic access, and sophisticated risk management tools at exceptionally low costs. The brokerage trading platform utilizes the same innovative technology as the Company's market making business, which specializes in routing orders and executing and processing trades in securities, futures, foreign exchange instruments, bonds and funds on more than 100 electronic exchanges and trading venues around the world. As a market maker, we provide liquidity at these marketplaces and, as a broker, we provide professional traders and investors with electronic access to stocks, options, futures, forex, bonds and mutual funds from a single IBKR Integrated Investment Account. Employing proprietary software on a global communications network, Interactive Brokers is continuously integrating its software with a growing number of exchanges and trading venues into one automatically functioning, computerized platform that requires minimal human intervention.