So first we will look at the Mosaic components so you can see how to easily find the information you need – right at your fingertips!
The Mosaic title bar includes drop down menu selections for File settings, Help and Documentation (including a Quick Start Guide) along with direct access to your Account Reports and other Account management functions without the need to log in separately. There's an icon to adjust increase or decrease the platform's font sizes. The full screen icon will scale TWS windows to fit your monitor.
The buttons across the top of the frame give you access to view other TWS tools that are not visible in the default layout and to subscription based services such as event calendars, news and analyst research reports. Just click "Subscribe to Market Data/Research" to open Account Management, where you can view and apply for available data. Many include a free 30-day trial.
The Mosaic workspace is "locked" as a single, grouped unit by default so you won't inadvertently close windows.
Monitor Window
The default Watchlist is pre-populated with several sample tickers. The background colors and tick dots give you at-a-glance information and directional movement.
Create your own Watchlist with real-time market quotes based on your data subscriptions. Enter a ticker symbol and you'll be prompted to identify the asset class and exchange / routing destination in the Contract selection window.
Where available, equity and options tickers use "SMART" for an aggregate price display and sets up your orders for IB's SmartRoutingSM. This dynamic technology scans competing market centers seeking to automatically route orders to ensure that each piece of an order gets the fastest fill at the most favorable price.
Additional Watch lists can be created using the "+" icon in the title bar.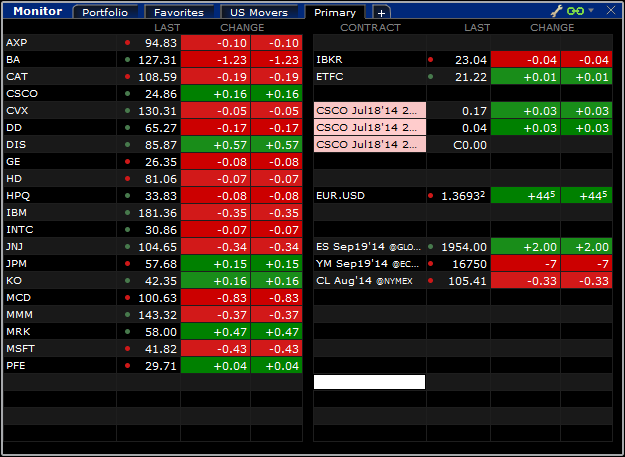 Portfolio Tab
The Monitor window also provides a Portfolio tab which displays your held positions, current prices and market values as well as total equity and margin balances.
Daily P&L allows you to gauge the account's gains or losses in the current session – both for individual positions and the overall account.
Columns are sort able with a left click on the column header. First click is ascending order, second descending order, third click and fourth clicks will sort and total by asset class in the Portfolio tab.
Key account balances display at top of this window. The +More button opens your Account window for complete account information.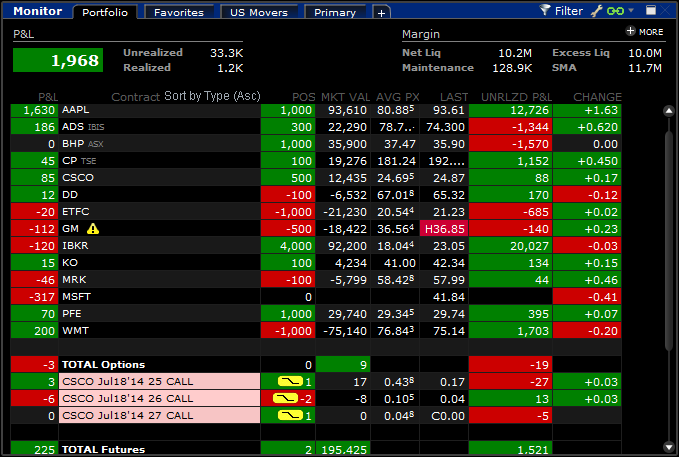 Left click on column titles to sort in ascending / descending order or by Asset Class.
You can quickly close a held position with a right click on the ticker and select Close button. The Order Entry window populates with total number of held shares/contract.
Market Scanners
Scanners allow you to quickly and easily scan global markets for the top performing contracts to seek out potential trading opportunities.
You can create, customize, edit and view real time Market Scanners with the "+" tab in the Monitors window. You specify the instrument and filtering criteria, and TWS will rank results. You can apply filters and choose how to display the results. There's even a Dual Sort which splits the scan results in two columns – one sorts the results from High to Low and the other sorts Low to High – with both sorts displayed in the scanner window.
Charts
Real-time charts are color-linked to your ticker selection to update as you change ticker symbol. Additional Chart windows can be opened from the New Window Button.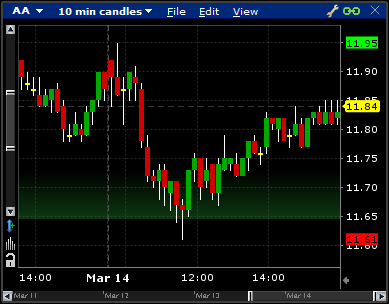 Change the date range/bar increments with title bar drop down.
Charts are customizable, allowing for user defined time periods, volume displays, trend lines and annotations.
Support is also provided for over 20 pre-defined studies.
Edit menu allows for adding indicators, studies, trend lines, index comparisons.
Use horizontal scroll bar to move the date range to previous time periods.
Right mouse clicks and title bar menus give you access to the full range of the TWS real-time chart features.
News
Real time headlines are color-linked to your ticker selection. Active headlines appear as they print, time and news provider are indicated.
Click a headline to read the full story
Major breaking news headlines are highlighted
Use the Configure wrench to specify subject filters
Tabs give you access to
Market headlines – use the Configuration wrench to set up filters.
Portfolio holdings – add news for competitors in the same category or for all tickers in your watch lists
News for the selected ticker and/or competitors in the same category.

Additional subscriptions to premium news services such as Dow Jones, Reuters, Fly on the Wall, Briefing.com and more, are available in Account Management.
Order Management
Order Entry
Order Entry window provides a fast, convenient way to create and transmit orders. This color-linked window is compact with efficient pull downs and context sensitive selections to help you quickly define your order.

Click the Buy or Sell button to start your order. You can also right click on any ticker then choose Buy, Sell or Close to initiate an order.
Top row displays held position (if any) and current NBBO for selected ticker.
For equities, the Shortable field displays if ticker is available to short. Hover your cursor over the Shortable label to see available shares and the current fee rate.
You can modify any aspect of the order such as quantity, order type, price and time in force from the drop down choices or by typing directly in a field.
When you Submit the order, an optional Order Confirmation window appears to verify order criteria prior to transmitting your trade.
The "Advanced+" button allows you to attach stop loss, profit taking and bracket orders.

You can also set up Iceberg, One Cancels Other and Hedge orders, apply other advanced order attributes, and even define algorithm criteria by selecting IB Algo as the routing destination.
Check Margin button allows you to view the margin requirements before you submit the trade.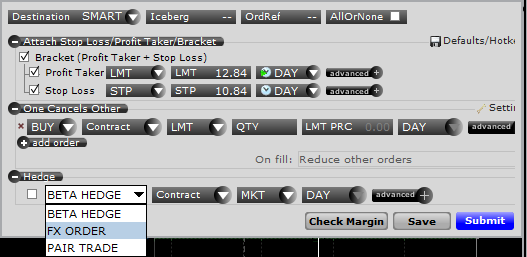 Option Spreads
Create Option Spreads with the Strategy Builder available from the New Window drop down or in the Option Chains with the button in the lower right corner. To create the spread, identify each leg by selecting the Bid price to sell the leg, or the Ask price to buy the leg. TWS displays the implied spread prices. The Order entry section allows you to specify trade criteria and submit the order. Use the Advanced button to add a stock leg or make the spread delta neutral.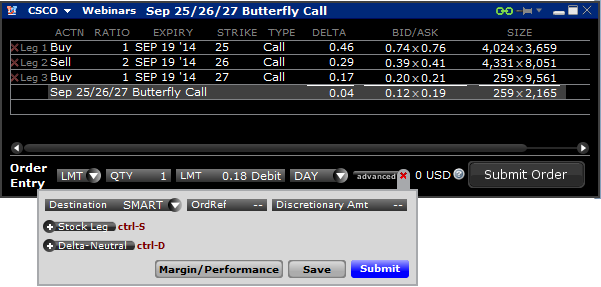 Activity Monitoring
Order Management window contains multiple tabs to view working orders, executions as well as a summary tab to for daily trading activity.

Once transmitted, Orders Monitor allows you to track and modify live orders. Completed/cancelled orders will display in a gray text. Filters can be applied from the title bar dropdowns.
To modify a working order, click the field you wish to change, and modify the criteria. Then be sure to click the U (update) button to transmit that change. The C button (Cancel) will send an order cancellation request.
Tabs allow you to toggle between other Activity Monitoring windows.
Orders Monitor – Is the central location to view and manage current day trades. The Orders window can be set to reflect all orders, working orders, canceled orders or complete orders with the title bar filters.
Trades – Shows individual trades for the current trading day. Use the "+" icon to expand the execution summary row to view the fills on individual lots.
Trades Summary – Nets the buys and sells by ticker with a summary of trades for the current trading session.
When the Activity monitors are not on active display, yellow icons appear next to the title bar buttons for Orders and Trades to alert you of current trade activity.
Configure your Workspace
The default Mosaic layout is a collection of interchangeable windows that allow you the flexibility to add/remove, resize, reconfigure and rearrange these separate, individual components. You control the features you want displayed so you can customize the trading platform to suit your trading preferences.
First unlock the workspace with the Lock icon. The workspace outlined in green indicates you are in Edit Layout mode.
New Window button allows you to resize existing windows or add other TWS tools to the workgroup. Choose the feature, drag to position, and size to fit the workspace. When satisfied, click Lock icon to exit layout mode.
Individual windows can be customized using the Configure wrench on the title bar of each TWS tool.
Create a personalized workgroup
From the File menu, select New Workgroup Window. Select TWS tools from the New Window menu. Click and drag to add features to your customized workgroup.
Classic TWS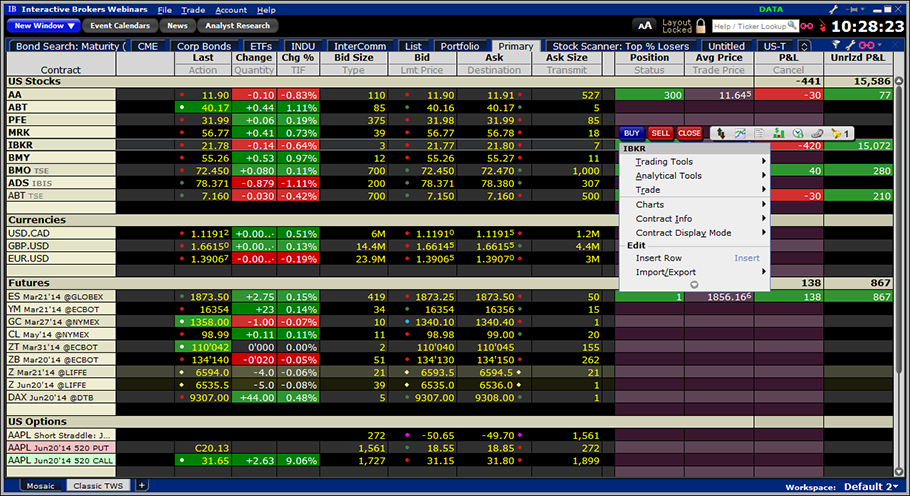 With TWS build 944, Advanced Order Mode with a single multi-product spreadsheet has become the Classic TWS tab. With both tabs in the same frame you can easily toggle between the separate workgroups with the tabs on the bottom left of the window. The basic difference between Mosaic and Classic TWS is how your orders are created.
Mosaic – the color-linked Order Entry Window is separate from a Watch List
Classic – quick click order entry from bid/ask prices, with the order row displayed directly beneath the Market Data row
NOTE: Classic TWS users may notice the menu and toolbar are not visible. All original functionality is still available on this streamlined system. Try using the right click for intuitive navigation choices or the New Window button to access the more advanced, optimized trading tools. If you prefer, you can switch back to the original view by unchecking Simplify menu and toolbar from File > Global Configuration > Display > Toolbar.
Quote Monitor
The Classic TWS Quote Monitor tab displays the same common market elements that are in the Mosaic Monitor lists and also includes expanded quote details such as bid/ask prices and sizes, etc. for all tradable products. Position values including P&L, average cost and market value are displayed for your held positions. Colors are used to give you at-a-glance information – from directional movement, to order status and more. You can add/remove, rearrange and even resort the columns on each tab according to your trading preferences.
Before you begin to trade you'll need to populate the Quote monitor by adding tickers for real time streaming quotes. With access to over 100 global markets it's important to specify the ticker, instrument and regional exchange.
Where available, equity and options tickers use "SMART" for an aggregate price display and sets up your orders for IB's SmartRoutingSM. This dynamic technology scans competing market centers seeking to automatically route orders to ensure that each piece of an order is filled at the exchange with the best price and liquidity.
You can display an unlimited number of symbols, but only 100 tickers show active quotes at any one time on the platform. Additional Quote Monitors can be created using the "+" icon in the title bar.
Quote Monitor pages serve as the main trading pages with quick click order capabilities for Classic TWS.
Column headers – the top row of displays real-time market quotes,
The second row of column headers shows Order Row fields.
To modify the default layout, use the Global Configuration wrench or right click on header rows to access Customize Layout.
Trading
Quick Click Order entry in the Classic TWS interface means you can instantly create orders with a left click on the Bid or Ask price of an interactive quote line – notice the tool tip that appears as you hover your cursor over these prices.
Click the Ask price of an asset to create a BUY order.
Click the Bid price of an asset to create a SELL order.
Each order row appears directly beneath the market data row.
TWS uses pre-defined defaults to save time, so instead of creating a completely blank order management line, when you initiate an order, each field is filled in with an editable value.
The active order fields are context-sensitive, so only valid selections for the ticker and routing destination will display. As you enter order criteria, fields become active or inactive based on your choices. Use the arrowhead to expand menu selections.
Once transmitted, an Order Preview window opens. Verify then Transmit.

Note there are Precautionary settings created as a safety to prevent transmitting an order that has a mistyped entry. A message may appear asking you to verify the quantity or order total. You can override and transmit the order or edit as necessary.

Modifications can be made to a working order up until the order fills. Make the edits on the order management row then be sure to use the Update button to transmit your changes
The Order types matrix on the IB website, under the Trading menu organizes the 60+ selections and provides drill-down access to step-by-step order creation for each of the various order types.
You can specify your default order values by instrument type, and even more specific by ticker symbol, even create and save multiple order strategies. Look for Presets in the Global Configuration window.
Attached Orders
From a Limit order, you can Attach order(s) to activate once the parent trade fills. Right click on the parent order row and choose Attach.
The attached orders are considered child (dependent) orders of the parent order and use the same order criteria as the parent. They are submitted one time with the parent order and will not continuously update. Child orders activate after the parent order fills.
Profit Target, Auto Stop, Auto Trailing Stop or Bracket orders can easily be set-up with the Attach right click command on the primary (parent) order row.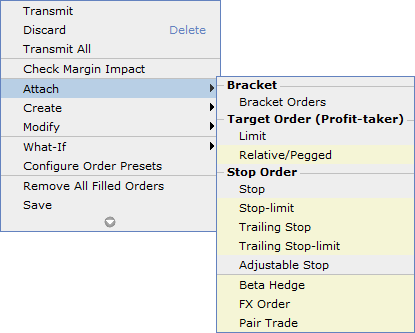 View Trades
You can view and manage working (open) orders on the system generated Pending tab, as well as on any trading page that displays the ticker symbol.
Once an order has been executed, the order row is removed and the execution report is displayed in the Trades Log. Completed trades also show in the Mosaic Activity window.
Real-time trade reports can be viewed from the New Window button > More Advanced Tools > Trade Log. Fills are listed line by line, and netted by contract on the Summary tab.
Show Trades line allows you to view completed trades from the previous 5 business days. After which, your trade activity can be accessed through the Account Management Activity reports.
For orders with multiple legs, or orders that execute in multiple lots, click the "+" sign to the left of the execution to see separate lot details.
Additional advanced trading layouts can be accessed using the "+" tab to choose from several pre-formatted trading layouts such as the Advanced Market Scanners, Accumulate Distribute Algorithms, Basket Trading, etc.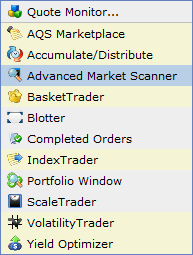 Portfolio Tab
The Classic TWS Portfolio tab is a system generated page that displays your position values based on current market information. Add a total row to view current portfolio P&L.
Specialized Trading Features

Trader Workstation gives you more control over the workspace, with the customized order entry modules designed to meet specific trading needs – such as for options, forex, spreads, algos etc. Be sure to check Feature Highlights for a description of all the optimized features available on the TWS Platform.
Each feature uses a familiar trader tool layout with the interactive quote line and order management row, with context sensitive right click functions, customizable market data and order row fields, quick click order entry with shared order default values with consistent order status colors.
Tips
Changes to your TWS are saved automatically when you exit. If you open the trading platform to an unfamiliar look use the Restore Settings (File menu | Open Settings File) – stores the previous 5 business day's settings and allows you to restore trading pages and tickers you had set up on a previous day.
Market Data fields can be added/removed/rearranged. Hover your cursor over the column headers and select Insert Column or right click on column headers and choose Customize layout.
Position and P&L columns can be added to your quote line for real-time position information wherever a held ticker is displayed.
TWS Menus display all available features and functions – but only actively used features appear in the drop down choices. When you see an arrowhead at the bottom of any menu, it means that inactive selections have been collapsed to streamline the menu. Use the arrowhead to expand the menu and view all selections.
Hover help – simply rest your cursor over a field, an icon, or column header for a tool tip.
Left click on a column header to re-sort spreadsheet in ascending/descending order. Right Click on contract field to cycle the various "Group by" methods.
Right click throughout the TWS platform for intuitive navigation choices

Order Row right click menu allows attaching dependent orders, check margin implications of the order before transmitting, check the associated risk or even create a what-if risk scenario.
Column header right clicks allow you to toggle the value view (i.e., absolute value or percentage.)
You can even configure the cell, the row, the button etc. with right click choices.

Wrench icon opens the Global Configuration window for customizing TWS with your trading preferences.
Push Pin icon will pin selected window on top of all open windows.
Search field – in upper right will help you locate specific features – plus SHOW you how to access. Enter a keyword and allow the search engine to draw your attention to the menu, page selection even zooming in on the exact selection.
Create Header rows with a right-click on a blank row to help you organize tickers on each Watchlist. Drag the header row to move all grouped tickers for that header. Where P&L columns are included, the Header row will display a total for the group.
Account Window
IB's Integrated Investment Account should be viewed as a single account for trading and account monitoring, but for regulatory purposes assets are segregated in separate securities and commodities accounts. This allows you to trade all products from a single, Integrated Investment Account, with cash automatically transferred between the segments to satisfy margin requirements. This separation is visible in the TWS Account window, with balances from each segment listed as well as totaled for your account.
Balances – displays your account balances for securities, commodities and in total.
Margin Requirements – shows your initial and maintenance margin requirements based on your current positions.
Available for Trading – check if you have sufficient funds to put on a trade, based on your balance information and margin requirements.
Market Value - Real FX Balances – total value of all positions, by asset class, sorted by currency.
FX Portfolio Virtual FX Position – shows contract style view of trades executed in the FX market. Please note that these do not reflect real-time FX balances, which can be found and traded in the Market Value section above.
Portfolio - lists all current positions sorted by underlying, and displays the total current market value for each position.
Website Resources