The default layouts consist of the basics you need to start trading. Use the layouts as-is or unlock and edit to make it your own. You can always add items or re-arrange as you find a need.
Each workgroup, window or panel is customizable so you have control over what to display. You can add, remove and resize tools. Use the windows group linking icon to connect tools to your selected ticker(s).
Toggle between your layouts by simply clicking each tab on the bottom of the frame.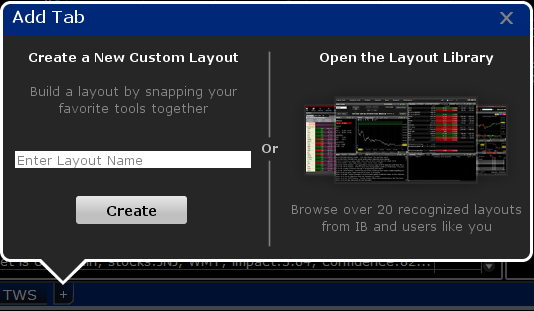 Global Configuration
Every TWS page, panel or tool has configuration settings to allow you to customize.
The Global Configuration window – accessed from File > Global Configuration or anywhere you see a Configure Wrench – provides a central area to define your preferred settings. The left navigation panel shows you components that are universal to the TWS platform and includes expandable categories that let you drill down to individually configure each tool.
Look for the Wrench icon in each window's title bar to find the applicable configuration choices for each tool/window. This flexibility lets you customize your work environment according to your trading needs.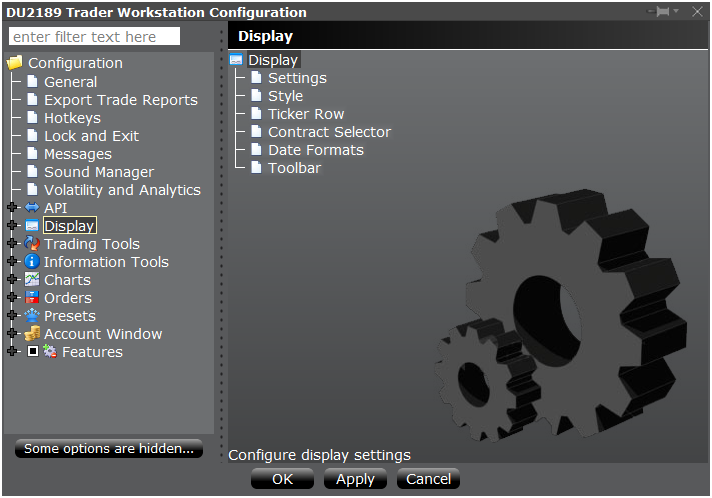 Display
To customize the basic Display settings click the "+" to expand the category selections. Information icons will provide hover help tooltips.
Settings – checked boxes let you indicate the features to be enabled. For example, option traders may want to enable background shading for in-the-money status. You can also tell TWS to Show the named combo strategy first in the contract description.
Style – lets you add grid lines, color text, or even change the platform color palette, dark, light or classic.
Ticker Rows – let you specify certain settings such as:

Use background shading to highlight high or low for current trading day.
Stocks that have Options can be displayed in bold, or
Set a Home Exchange Group to clean up your trading page by removing the repetitive listing of your most-used exchanges.
Specify the format for Bond quotes or whether you want to view Hi-precision Forex quotes down to 1/10 of a pip.

Toolbar – Classic TWS users may notice the menu and toolbar are not visible. All original functionality is still available on this streamlined system. Try using the right click menu for context sensitive selections. Or you can switch back to the original view by unchecking Simplify menu and toolbar from File > Global Configuration > Display > Toolbar.
Restore Settings
Any changes to your TWS settings are automatically saved by default to your computer each time you exit TWS. So any configuration changes, tickers added or component modules that have been opened will be visible when next logging into TWS exactly the way they appeared when you last logged off.
TWS automatically stores your configuration choices, specific to your user id in a settings file –
C:/Jts on a Windows pc or /Users/ JTS on a MAC.
If you've made inadvertent changes, or don't know how to undo a change – choose the File > Layout/Settings Recovery command to quickly revert to a previously saved configuration.
TWS saves the previous week of daily settings so you can restore trading pages and tickers from a previous session. Select MON-FRI settings file, i.e.: tws.Mon.xml to restore your settings from that previous session.
Mosaic and Layout Library
The Mosaic workspace and Layout Library designs provide a collection of interchangeable windows that give you the flexibility to add, remove, resize, reconfigure and rearrange these separate, individual components.

Layout Editor
Above the pre-formatted workspace windows is a toolbar with icons that apply to the entire workgroup – such as a Configure Wrench, expand to full screen, increase/decrease font sizes and locking/unlocking the layout editor.
Each workspace is "locked" as a single, grouped unit by default so you won't inadvertently close windows.
From the New Window Button, you can easily open other TWS features, which will float on top of the selected TWS Layout. Tip: use the pushpin icon to keep new windows on top.
If you want to rearrange, resize, add or remove windows click the Layout Locked icon to unlock the workspace. The green outlined workspace indicates you are in Layout Edit Mode. Resize a window by dragging its borders. Use the window title bar to reposition in the workgroup. Drag and snap edges to the window or frame borders. When satisfied, click Lock icon to exit layout edit mode.
Create a Custom Layout – use the "+" tab to create and name a new tab where you can add, size and snap together your favorite tools from the New Window button. Choose the feature, drag borders and size to fit the workspace. Be sure to lock the layout to complete.
Individual windows all contain a Configure Wrench for choices specific to that feature. For example the configuration wrench for the Monitor window opens to display all available market data fields. The News window Configure Wrench lets you filter individual news feeds, specify topic, or filter headlines to a ticker, portfolio or Watchlist.
Both the Monitor and News windows also let you add more tabs within the window. Click the "+" tab and select from the multiple formats. Or add a Social Sentiment news tab and configure for a particular ticker, items in your Watchlist or your portfolio holdings.
Trading via Mosaic Supported for Advisors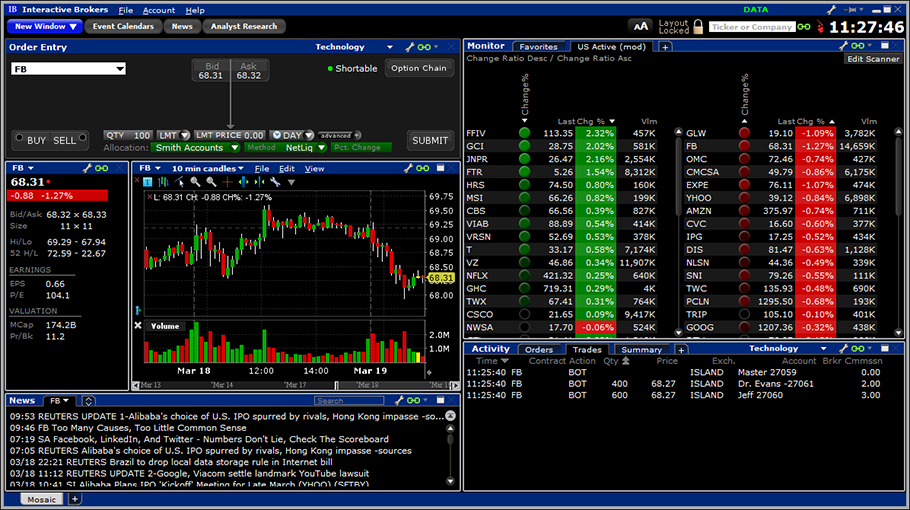 Advisors and other multi-account types have full trading and share allocation capabilities in the Mosaic workspace. The Mosaic Order Entry window for Advisor accounts includes the ability to specify the applicable Account Groups or Allocation Profiles when placing orders.

You can also add the Allocation and Method fields to the Order Entry window with the Configuration wrench.
For more information on creating Pre-Trade Allocations profiles and setting up Account Groups, please refer to TWS User Guide.
Classic TWS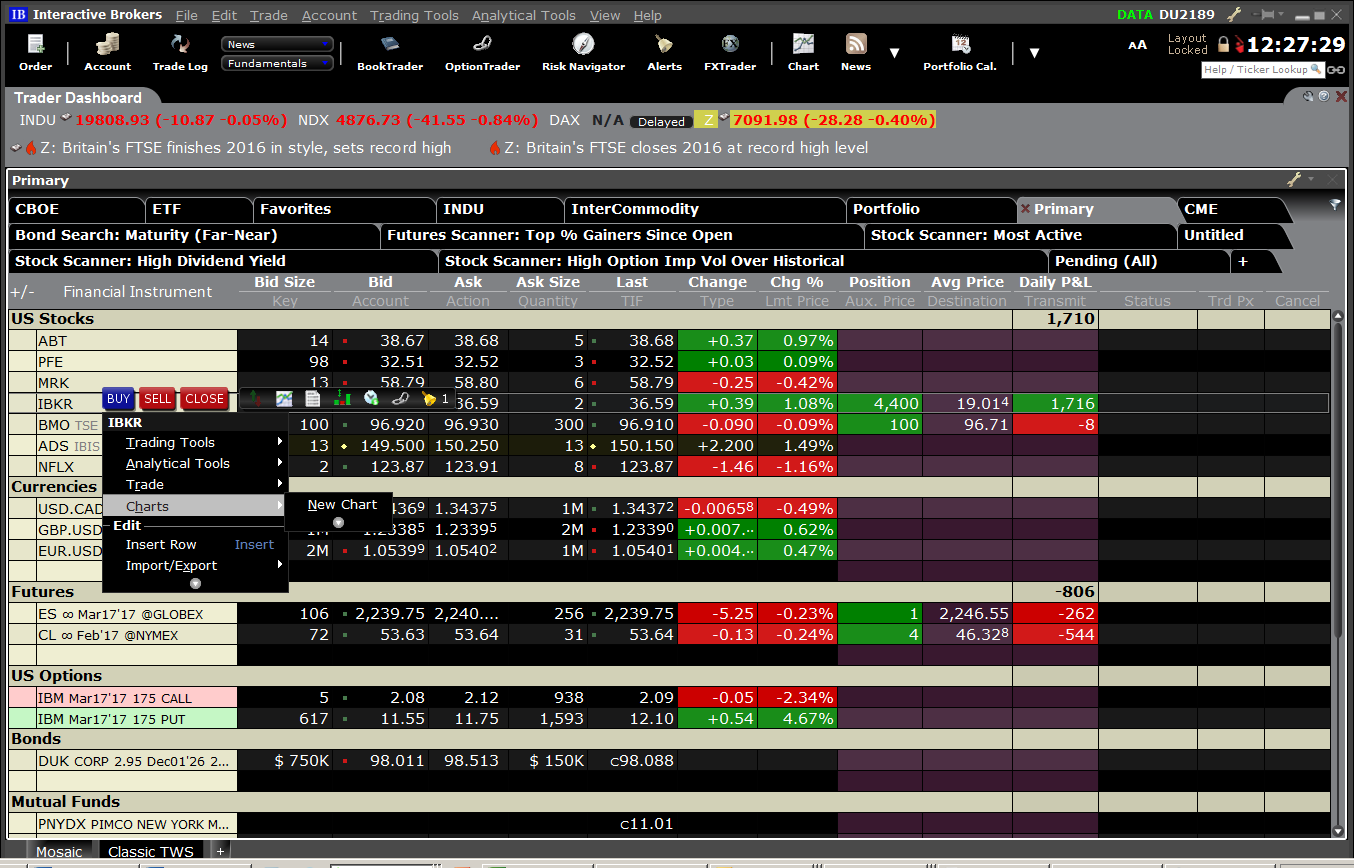 The Classic TWS spreadsheet tab displays expanded quote details along with Position and P&L fields in the quote line for real-time position information wherever a held ticker is displayed. Available market data fields can be added with the Configure Wrench.