Components
Advanced Order mode provides Customizable Quote Monitor tabs in a spreadsheet interface for an uncluttered and personalized trading environment. A quick access toolbar with icons for specialized trading components appears at the top of the window.
Each Quote Monitor tab displays common market elements such as bid/ask prices and sizes, last price, close etc. for all tradable products.
Enter ticker symbols in the Contract column and select instrument and routing destination. The market data row populates with real-time updates.
Market Data fields can be customized through the Global Configuration window. Use the Wrench icon.
Position, daily P&L and Unrealized P&L columns are available on your quote line for real-time position information wherever a held ticker is displayed.
There's no limit to the number of tickers you can add – but only 100 will show active quotes at any one time. Use the "+" tab and add more quote monitor tabs to organize and sort your watch lists. Large lists can be imported from a csv file.
Additional Panels on the Quote Monitor such as the dashboard, button panel, etc. can be toggled on or off using the mini icons on the right tab.
Columns are sort able with a left click on the column header. First click is ascending order, second descending order, third click returns to original sort.
Create Header rows to help you organize tickers on each page.
Hotkeys – use Ctrl+H for a list of pre-configured hotkeys or to create/customize your own.
Hover Help – rest your cursor on any icon throughout the platform for descriptions to appear in a tooltip.
Menus display actively used features. An arrowhead appears at the bottom of each drop down menu to indicate additional selections are available.
Selections not accessed in the past 14 days are grayed out from the active menu choices, but are easily accessed with the arrowhead to expand each menu.
Navigation
Search field – in upper right will help you locate specific features – plus SHOW you how to access them. Enter a keyword (dashboard for example) and allow the search engine to draw your attention to the menu, page selection even zooming in on the exact item.
Right-click for intuitive context- sensitive pop-up menus, based on where you right-click.
Market data row right-click allows you to initiate an order, drill down to contract specific information and access the trading and information tools with the right-click menu selections.
Order Row right-click menu allows attaching dependent orders, check margin implications of the order before transmitting, check the associated risk or even create a what-if risk scenario.
Column header right-clicks allow you to toggle the value view (i.e., absolute value or percentage.) or customize the fields you want to view.
You can even configure the cell, the row, the button etc. with right-click choices.
Trading
While the Mosaic feature handles basic order types, the Quote Monitor in Advanced Order mode allows you to create and manage the more complex order types.
Use the Quick Click order capability to instantly create orders with a left click on the Bid or Ask price of an interactive quote line. Note the text that appears when you hover your mouse on a bid/ask price.
The order row appears directly beneath the market data row. The Order Row will populate with default order values instead of a blank line. Click within any of the fields to edit the criteria before transmitting. Additional order fields can be added using the green "+" from the column header.
Order fields display only valid choices for the instrument and routing destination.
Right-click on an order row and choose Attach orders to create a dependent relationship so once parent orders fill, the dependent child order(s) will activate.
Auto order – Bracket, Profit target, protective stops.
Hedge – Pair Trade, FX Conv & Beta Hedge
Combinations orders can be created directly in the Contract Field.
Algorithms – select IB Algo in destination field, an order row expands for entering algo criteria.
Order types matrix on the IB website, under the Trading menu organizes the 50+ selections and provides drill-down access to step-by-step order creation.
Order Presets allow you to define the default values for your orders, as well as create and save multiple named order strategies by instrument or for specific symbol(s).
Right-click on any ticker row and choose Configure Order Presets – also accessible from Edit | Global Configuration | Presets.
Specialized trading tools are available from the quick access tool bar at the top of the Quote Monitor or with a right-click on a quote line. These Optimized trading features with embedded order entry tools can also be accessed in Mosaic > New Window >More Advanced tools.
Alerts – Create Alerts based on price movement, time and date, trading volume, executions and the state of your margin cushion.
BasketTrader/Index Trader – trade a basket of individual underlying components as a package, and save it for trading at any time. You can also select an index-based basket order or define your own index parameters to create a basket.
BookTrader – market maker designed to instantaneously transmit orders from a deep book ladder of prices to take advantage of immediate trading opportunities.
ChartTrader – Use the ChartTrader to create, send and monitor orders directly from any real-time chart.
Integrated Stock Window – customizable stock-management interface that combines deep book data, real-time charting, and complete order management in a single screen.
Rebalance – simplifies the process of realigning a portfolio based on your investment goals and risk tolerances.
Market Depth – displays the order book with tradable volume at each bid and ask level. It is a valuable tool for active traders or investors who need to see the prices of larger trades and the size behind the spreads.
Merger Arb – create a combination order for an anticipated merger between two companies.
Each of these components functions independently, yet they all share common elements allowing you to view market data, submit and manage orders, monitor activity logs, view execution reports and updates to your portfolio positions.
Alerts
Create alerts using real time market data and/or account values. Select the New button in the Alerts window to define the alert parameters – such as price movement, time and date, trading volume or the state of your margin cushion.
Alerts send a pop-up message to your trading screen, an email message or a text message to your smart phone. Alerts can also trigger a pre-defined buy or sell order.
Conditions area – lets you define the conditions which must be met to activate the alert:
Enter a symbol in the Underlying field.
Specify the alert conditions, and in the Operator field, choose from "greater than or equal to" or "less than or equal to."
Define up to 3 conditions, then select And (for all conditions to be met) or Or (means any specified condition will trigger alert)
Actions area – where you define the action that will occur when the conditions are met, such as sending a pop-up message on your trading screen, an email, text message, or initiating a predefined order.
Duration section – the alert will remain active until it triggers or you cancel it. You can choose to have the alert remain active through a specific date and time by selecting Alert active until...
Preview contains a description of the alert conditions you have specified.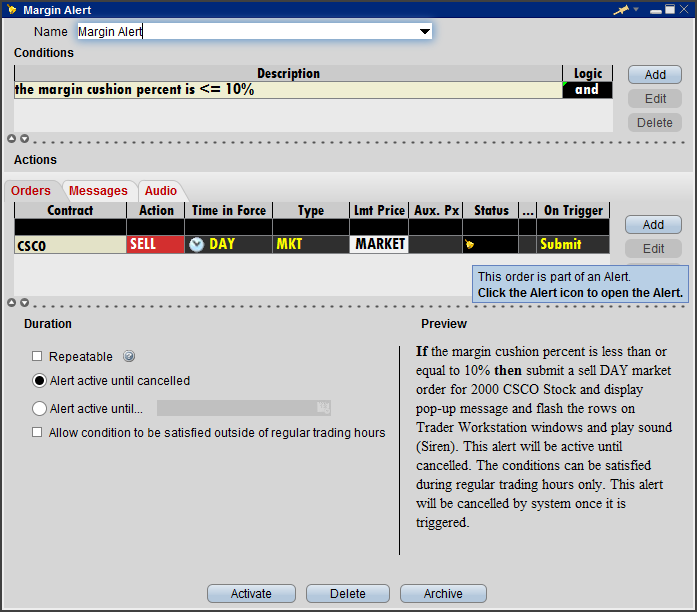 BasketTrader
BasketTrader offers professional traders and investors the ability to simultaneously trade a basket of individual underlying components that can be managed and submitted as a package execution. Baskets are used in index arbitrage, program trading and hedging.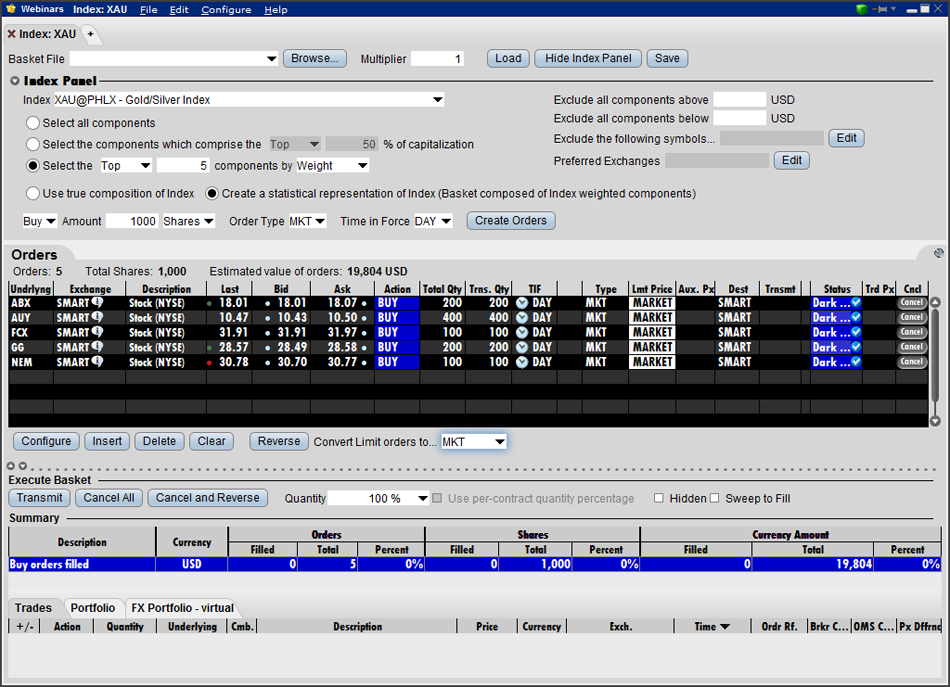 Create a basket file
A Basket order can contain multiple order types on various products, and include any supported time in force or order attribute.
Start in the Quote Monitor and create orders to include in the basket file.
Note: When you create a basket file, you can only include contracts from the same Trading page.
Modify order criteria and define the order attributes as required. DO NOT TRANSMIT.
Next, on the Trade menu, select Save Orders as Basket. File is saved as a .csv file which can be opened in Excel.
Be sure to cancel the orders created above on the quote monitor page. Use the Trade menu and select Cancel Page – you will transmit your orders through the Basket Trader for package execution.
You can also construct and edit a basket file manually in an application such as Excel – but we found the easiest way to create a basket file is to start with a sample, formatted order that you create through TWS. Then when you save the basket file you have a sample layout as a starting point for adding your own header/order row and basket components.
Submit a Basket Trade
Loading a basket order is as easy as selecting your custom-designed file from the Basket File list at the top of the BasketTrader.
Use the Browse button to find a predefined basket file.
Modify the Multiplier if necessary.
Click the Load button and the Order panel will populate with the selected basket file.
You can modify a basket order before you send it by adding or removing assets, changing the multiplier and quantities, etc.
View total shares and estimated basket order value.
When you send a basket order, each order in the basket is cleared individually. If your account does not meet margin requirements, it is possible that only a portion of the basket order will execute.
You can automatically update the limit price for an order (or all orders) to coincide with the ask, bid, midpoint, closing or last price – from the Edit menu, select Update Orders.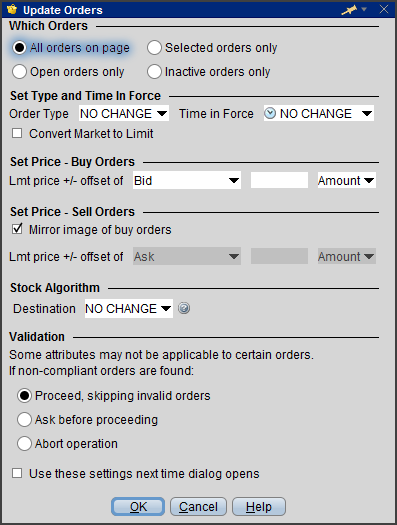 The Orders panel shows you real-time summary information about the basket, including the number of orders, total shares, and the estimated total value of the orders in your basket.
Easily modify parameters across the entire basket, or on an order-by-order basis.
Reverse the order side of all orders with a single click, and keep reversed order prices relevant by automatically converting limit orders to market or relative orders with offset.
Cancel unexecuted portions of a basket with a single click.
The Execute panel lets you set allocation criteria to control the quantity submitted.
Specify a percentage to be applied to each order quantity, or define an amount to be allocated equally among all orders.
The Summary panel shows you statistics across all areas of the order, including overall totals, filled totals and percent of the basket for orders, shares and currency.
Index-based Baskets
You can manage a traditional index-based basket of stocks based on a using the index composition or a statistical composition.
Open BasketTrader and select "Show Index Panel" button or select IndexTrader from the New Window > Advanced Trading tools menu.
Begin by selecting an index from a comprehensive drop down list. Use the criteria selections to fine-tune your index basket.
Customize the composition of the basket by filtering out components based on weight, market cap, beta, price, or symbol.
If you choose to base your index basket on the index composition, the system automatically keeps the basket in line with the index composition as it changes.
Click Load to populate the Orders panel with the index -basket order.
Select the "Hide Index Panel" button to view the orders panel with your basket displayed.
BookTrader
Market maker designed to instantaneously transmit orders from a deep book ladder of prices, the TWS BookTrader is a favorite among active traders, scalpers, and those looking to take advantage of immediate arbitrage opportunities.
This window displays the order book with trade able volume at each price level in a ladder of prices and allows you to create Limit, Stop and Bracket orders with a single click.
The price ladder is colors coded for at-a-glance information on current bid and ask prices, the day's trading range, order types and order status.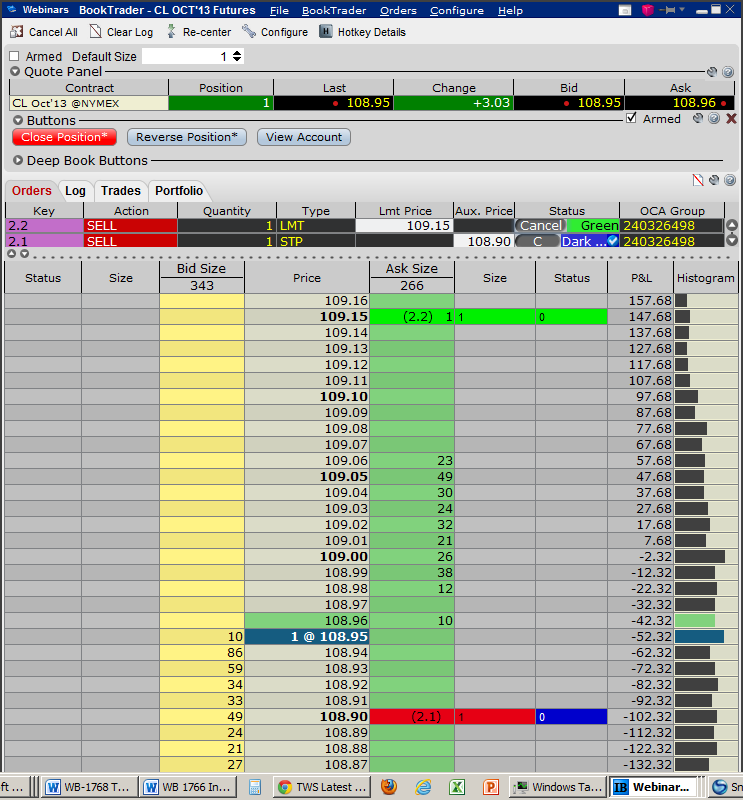 Create an order by selecting a specific price row then
Click in the yellow Bid size column to create a BUY or in the green Ask size column for a SELL.
Left click on a bid or offer size to create a LIMIT order.
Right-click on a bid or offer size to create a STOP order – notice size field is color coded red for Stop order recognition, light blue for a Limit order.
Bracket Order – Hold ALT key and left click on bid or offer size for a Bracket order.
Orders are instantly transmitted, with open orders visible in the Orders tab of the activity panel as well as on the Pending page of the main trading window.
Order Management
Your choice of how to display the status fields in the BookTrader, drives the order management procedures.
Use the Order control section of the Configure Settings to tell TWS how to handle multiple orders on the same side.
When Bid/Ask size is clicked at an empty price level and there's an existing order you can

Move existing order (single order mode).
Create new order (multiple order mode).

When Bid/Ask size is clicked at a price level with an existing order

Request a cancellation of the existing order (single order mode).
Create new order (multiple order mode).
When Show Separate Status Column is selected, BookTrader works in Advanced Mode:
An Order column is created in which all parts of associated orders (parent and child orders) are visible in a single status column.
Enables the Order Type Select buttons so you can build the child orders separately by specifying the price level for each dependent order.

These buttons will override the default mouse click functions of BookTrader to create only the order type selected – For example, if you click the LMT order type select button, any mouse click you perform in the price ladder, even a right-click, creates a limit order.
To return to the default click actions, be sure to click None.
Click a price level in the Order Column to attach the child order indicated on the context sensitive cursor. When you select a price level in the order column the selected order is attached to the parent order in that column.
Chart Trader
You can place and manage your trades directly in a real time chart by enabling the Hot Buttons in the chart View menu.
Click the Buy/Sell button to create an order line. Cursor displays a dotted line – Blue for buy; Red for sell.
Left click at the desired price level in the chart to create an order.
ChartTrader Order management panel opens to manage/modify/transmit the order.
Additional order functions, such as attaching a bracket order or checking margin can be accessed with a right-click on the order line in the chart or in the ChartTrader panel.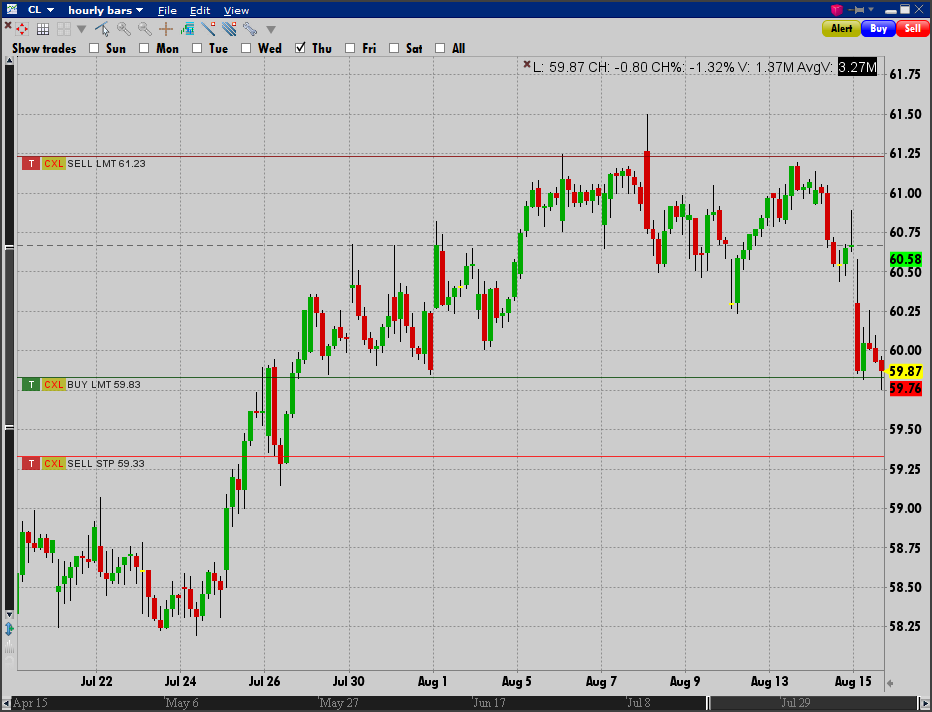 You can also choose to show My Trades with mouse-over details in the chart, through the Edit > Global configuration window. A small red line indicates a sell, a blue line indicates a buy at the price level where trade filled.
Integrated Stock Window (ISW)
The ISW is a dynamic, customizable stock-management interface that combines Level I and Level II market data, real-time charting, rapid order entry and complete order management into a single screen.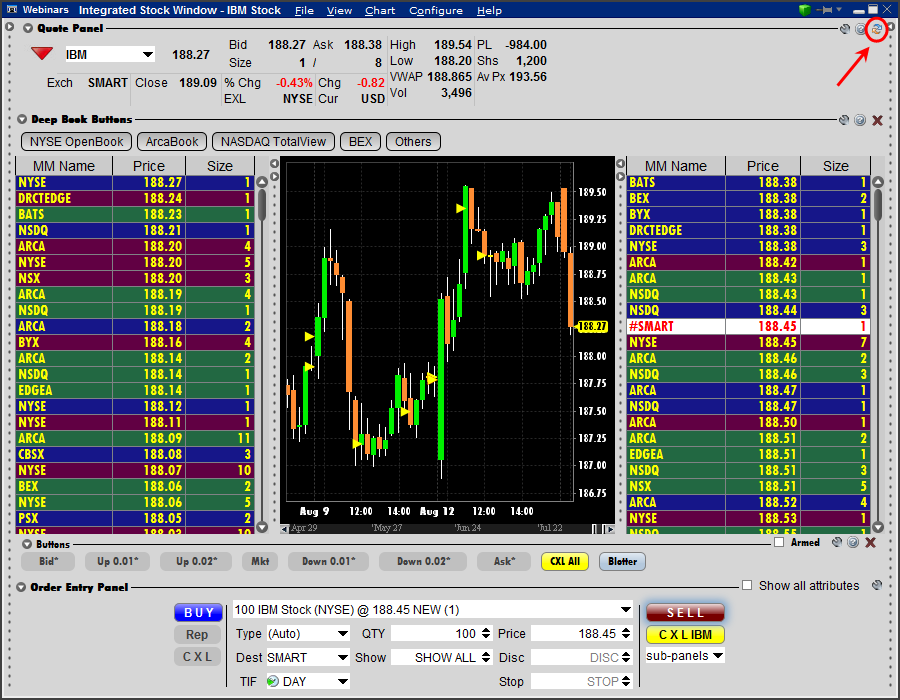 Orders types include basic types such as limits to complex algo orders – use the Order Entry Panel along with sub-panels, price buttons and convenient drop-down selection boxes.
The Quote Panel displays market data for the selected stock symbol.
Use the Switch View icon in upper right panel tab to toggle the Quote display between table view and TWS view.
Book Data panels allow traders to see prices of larger trades and the size behind the spreads.
Displays both Level I and Level II quotes on either side of a real-time chart. The different colors identify separate price levels and the tradable volume at each bid/ask.
Chart Panel displays real time with access to chart functions via a right-click in the chart.
Choose line, bar or candlestick for the display. Add volume, crosshairs, trendlines, time panel, price histogram, even chart appearance can all be customized.
Chart can be collapsed and expanded using the arrowhead icons on top of the dotted lines beside the chart.
Order Entry Panel – to create and manage your trades. The order line is tagged as "NEW" if the order has not been transmitted.
Specify a price or click a price level in the deep book panels. Your ACTIVE order displays with a white background to see where your own order stands relative to the book.
The sub-panels display list(s) of available attributes and advanced order types.
Algo Orders - Use the Destination list to select an Algo venue and define algo criteria.
Click the BUY or SELL button to transmit the order. Un-transmitted orders show as "NEW" in the order line, this tag changes to reflect the order reference number in a working order. Use the drop down list to view/modify working orders.
To modify an order, select from the list of working orders. After making modifications to the order criteria, Click Rep button to request a cancel and replace the current working order with the modified order.
Market Scanners
The Market Scanners automatically populate a pre-formatted trading page with related market data for stocks, bonds, futures and indexes based on specified criteria.
You can create a custom scan that you check each day by simply leaving the defined scan parameters on a trading page, which is automatically named using the scanner title. You can create as many "scanner" trading pages as you need by using the "+" tab and select the Market Scanner layout. For example, Stocks as the instrument enables the selection to scan by Sector, Industry and Category.
Work from top to bottom and left to right, because choices made will determine the remaining selections:
From the left panel choose an instrument – the market scanners available change based on the Instrument/Location /Filter criteria you select.
Define optional filters to control the search results:

Use the Add Filter button for more filtering choices – the more detailed criteria will narrow the results.

Option Volatility scanners, when selected, allow you to specify Daily or Annual Volatility.
Price scans are based on the price the selected instruments trade in, so if a user's base currency is EUR, Price Greater than 20.00 would be greater than 20 EUR.
Price ($) will convert all results based on US dollars for comparison –This filter is useful for:

non-USD based products (where we convert the price to USD), and
global filters – where we need to use common denominator to compare products by price that trade in different currencies.
Search Bar

Click the Search button after you've defined the scan criteria, to run the scan.
Check the Auto Refresh to have TWS automatically update the scan every 60 seconds.
Uncheck Auto Refresh, to manually run the scan using the Search button.
Use the Reset button to set all filters back to the system defaults.
Max results drop down let's you control the number of contracts returned.
Edit button makes it simple to open, modify and re-run your scan.
Change your scanner choices – or create a new scanner by opening a new page tab.
Data is updated every 60 seconds. Most scans return the top 50 contracts or you can select the number of results. High Dividend Yield scan for US Stocks returns the top 750 contracts.
Rebalance Portfolio
The TWS Rebalance window displays all your hold positions, and shows the percent contribution each makes to your portfolio.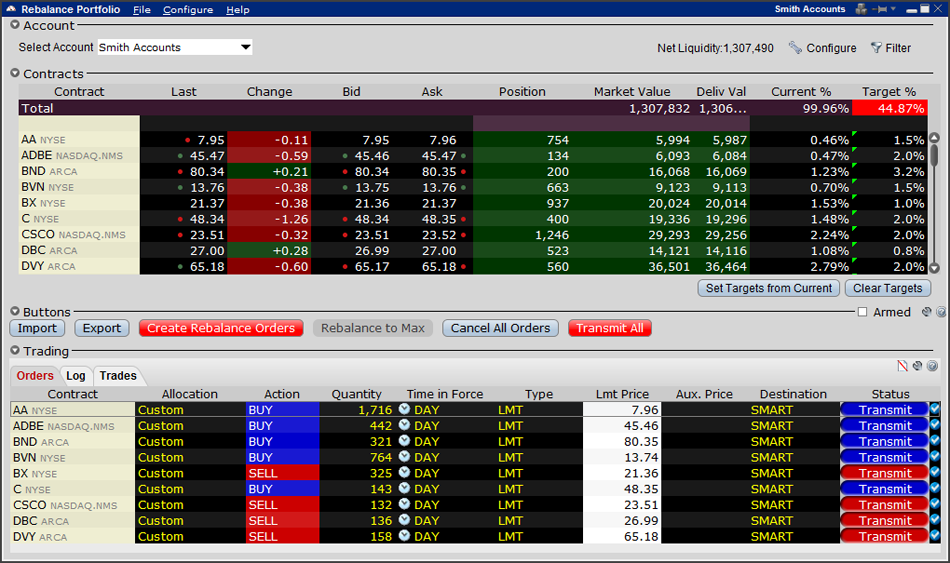 Use the Rebal % field to define a new percent for each position.
The Create Orders button will automatically create buy or sell orders to rebalance your portfolio according to the new percentages entered.
NOTE: For options and futures, the rebalance % is based on the underlying prices.
Click the Create Orders button to instruct TWS to create the orders to achieve the desired percent change.
Use the Transmit All button to send all orders, or click "T" on an order row to transmit a single order.
Merger Arbitrage
Use the TWS Merger Arb feature when a merger or acquisition offer is announced. This trading tool allows you to quickly and easily create a combination order for an anticipated merger between two companies from a single window.
A cash merger, where an acquirer proposes to purchase the shares of the target for a certain price in cash.
A stock-for-stock merger, where the acquirer proposes to buy the target by exchanging its own stock for the stock of the target.
Create the order on a Quote Monitor, or manage the order in a more sophisticated TWS trading tool, such as Accumulate/Distribute or ScaleTrader.
Example: The deal RRR holders will receive $10.80 in cash and 0.2793 of a share of URI common stock.
Note: any field in pink must have a value before the OK button will become active.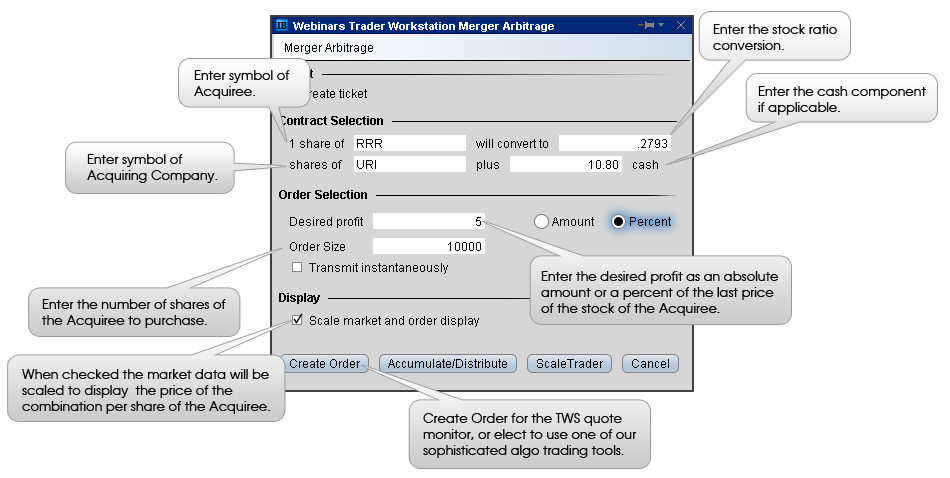 The combo order as entered above, and then opened in Accumulate/Distribute looks like this:

The remainder of the Accumulate Distribute window allows you to specify detailed order management criteria to help ensure that you receive the best price without being noticed.
Market Depth
The aggregate Market Depth window facilitates large volume trades using cumulative quantities and average execution price available at a particular price or better.
Components include real-time Level I and Level II data, account and trade information, and comprehensive order entry.
Color-coded price levels for instant recognition.
Quickly create, modify and transmit orders.
Displays Level I data from all available exchanges.
Access to Level II data is by subscription – use the Deep Book buttons to hide or display sources you subscribe to. The Others button displays Level 1 data from multiple exchanges.

Cumulative size represents the total contract size available at a particular price or better.
Average Price is the average execution price received when transacting the cumulative contract size. You receive multiple executions as your order goes through the order book. Executions will appear in the Trades panel.
Bonds
All Bonds orders and quotes entered by participants are represented in IB's order book. And with IB SmartRouting destinations for bonds such as Knight BondPoint, Tradeweb, Bond Desk and NYSE Arca Bond, IB connects to alternative bond trading systems – giving IB customers access to multiple sources of liquidity. This enhances the liquidity that you can access, but that extra liquidity comes at a cost.
Each of the away platforms has their own fee schedule – which varies depending on the platform, type of bond and the quoted size and can have a significant impact on the net price of the trade.
Since these fees can vary significantly, you can now choose to view the bond quotes as "net" prices, adjusted to reflect the platform fees for the type of bond and the quoted size (excluding IB's commission). Global Configuration > Display > Ticker Row under Fixed Income Pricing you can select either Show Net Price or Show Raw Price.
When you have the net mode selected, an additional quantity field allows you to input a quantity at which you would like to see the net prices calculated. This allows you to view market data in net price terms with the size that you want to trade, which can help you compare execution costs.