PortfolioAnalyst lets you quickly and efficiently analyze the performance
of your account portfolio by creating and saving PDF reports suitable for presentation.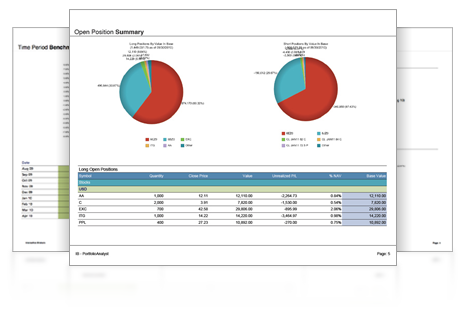 Analyze Performance
Analyze your IB portfolio on a daily, monthly or quarterly basis.
Measure your performance using Time-Weighted Return (TWR) or Money-Weighted Return (MWR) percentage values.
Analyze Net Asset Value (NAV) and percentage value measures over time.
View results for multiple client or sub accounts on a single report.
View results in easy-to-read color-coded charts.
Create Presentation-Ready Single-Page Comprehensive Snapshot Reports
Quickly create PDF reports for easy viewing, downloading and presentation to Advisor and Broker Clients.
View performance statistics at a glance, including your account's return, Net Asset Value (NAV), asset allocation and distribution of returns.
Set up email or FTP delivery of your saved PDF reports.
Create Detailed Reports for Online Viewing or for Presentation
Create customizable detailed PDF reports for easy downloading, printing and presentation.
Compare your portfolio's performance against global industry benchmarks.
View additional performance statistics including Cost Basis, Cash Flow and Mark-to-Market values.
Select only those reports you want in detailed PDF reports.
Institutional accounts can create, save and add a synopsis to a report to communicate important information about the analysis results.
Set up email or FTP delivery of your saved PDF reports.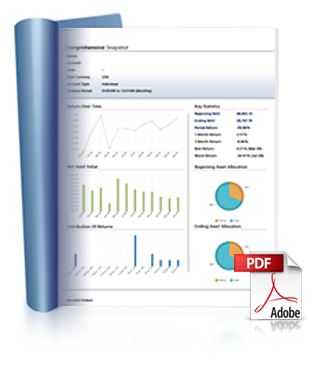 Performance Attribution
The Performance Attribution Report helps you determine how your asset allocation and selection of securities affects your portfolio's performance when compared to the performance of the S&P 500 Index. This report includes summary tables that show how your portfolio outperformed or underperformed the S&P 500 Index.