Superior Trading Technology
Trading Platforms
Our trading platforms have been designed with the professional trader in mind:
Optimize your trading speed and efficiency with our market maker-designed Trader Workstation (TWS), which lets you choose the workspace that best suits your trading needs:

TWS Mosaic provides out-of-the-box usability in a single, comprehensive and intuitive workspace with quick and easy access to trading, order management and portfolio tools.
Advanced Order Management gives you single-click trading in a spreadsheet interface, and lets you access many advanced trading tools in multiple windows.

Use our HTML-based WebTrader, which lets traders who prefer a clean and simple interface or are behind a firewall easily view market data, submit orders, and monitor their accounts and executions.
Trade your IB account on the go from just about any mobile device, including an iPhone™, iPad™, Android, or Blackberry®.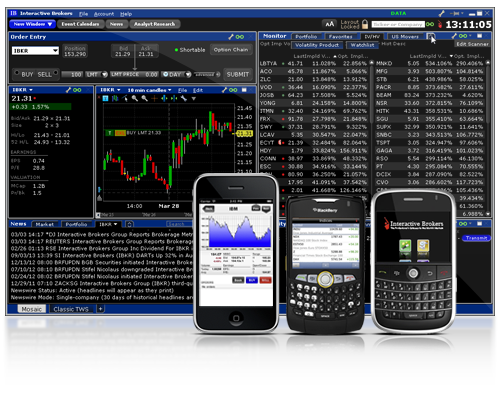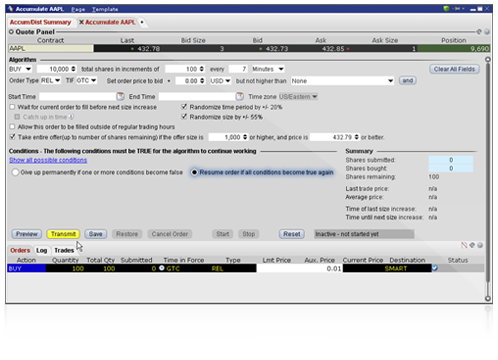 Order Types and Algos
Trader Workstation supports a wide variety of order types and algos to accommodate the needs of all traders and all strategies:
Choose from over 60 order types and algos that can help limit risk, speed execution, provide price improvement, allow privacy and time the market.
Traders who need to balance market impact with risk to achieve the best execution for their large volume orders use IBAlgos, advanced trading algorithms that help implement optimal trading strategies in Trader Workstation (TWS). In addition to our IBAlgos, TWS includes the Accumulate/Distribute Algo, which minimizes market impact for large orders by slicing the order into increments and buying or selling over time at pre-defined, randomized time intervals.
Advanced Trading Tools
Trader Workstation gives you access to a variety of advanced trading tools:
Use the TWS ScaleTrader to execute large volume orders while minimizing the effects of increasingly deteriorating prices.
Use the OptionTrader to view data and manage options orders from a single customizable screen.
Use the FXTrader to trade FOREX markets from an optimized trading interface.
...and many more!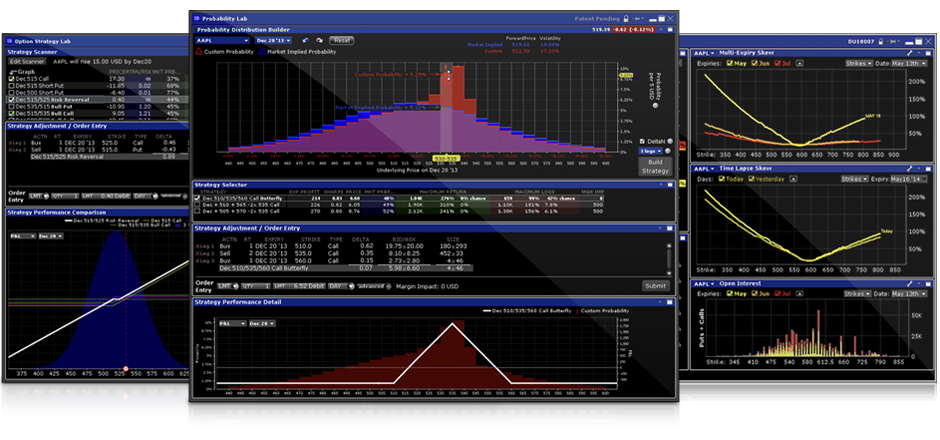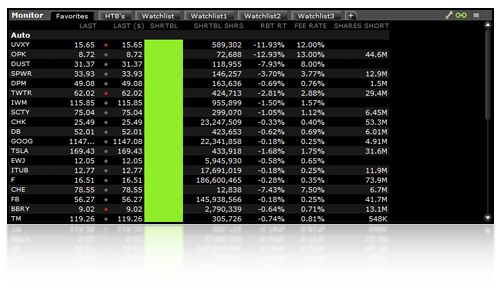 Stock Borrow and Loan
Our suite of electronic Stock Borrow and Loan solutions provides all the tools that professional traders need:
Use the Stock Borrow Loan features in Trader Workstation to electronically borrow and lend US stocks via the AQS® Marketplace.
Use the Short Stock Availability Tool in Account Management to search for real-time availability of shortable stocks and indicative borrow rates.
Join our Stock Yield Enhancement Program, which lets you lend your fully-paid stock shares and earn half the borrow revenue received by Interactive Brokers.
Join our Pre-Borrow Program, which lets you pre-borrow shares.
Alternative Access via
IB API and FIX CTCI
We provide alternatives for customers who prefer to access the IB trading system using their own front end. Use our IB Application Programming Interface (API) or our for FIX CTCI connections:
Create your own customized trading application using our proprietary API. Our API is available in multiple programming languages and does not require additional technical overhead such as a dedicated FIX server.
Access our trading system using our industry-standard FIX CTCI solution, which is designed for customers who can support a FIX Computer-to-Computer Interface (CTCI) infrastructure.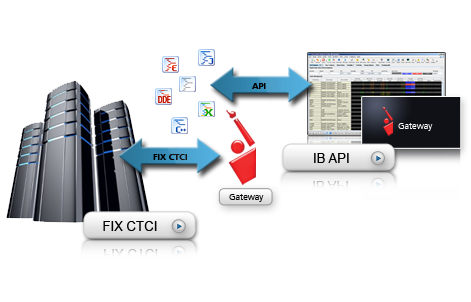 * Includes Interactive Brokers Group and predecessor companies. Options involve risk and are not suitable for all investors. For more information, read the "Characteristics and Risks of Standardized Options" before investing in options. For a copy click here. There is no guarantee of execution. Orders will be routed to US options exchanges.
Any trading symbols displayed are for illustrative purposes only and are not intended to portray a recommendation.