Chart Parameters
When opening a new Chart, the Chart Parameter box opens for you to define basic chart components. If the Contract description field is blank, you'll need to identify the ticker and routing destination in the Contract Description field.
Context sensitive choices are enabled by selections made, so always work from top to bottom and left to right.
Time Period
Candle Size - allows you to quickly see a specific candle size without the boundaries of a defined time period. The larger the window, the more bars/candles will be visible.
Time Period provides a choice of time periods with appropriate bar sizes to select from. More allows you to customize the time period and bar/candlestick size in each section.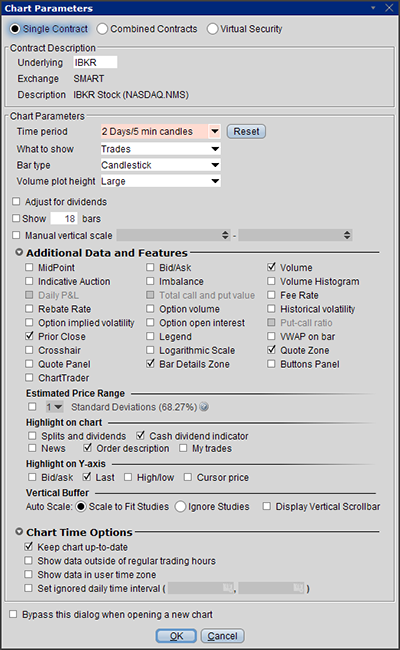 Determine What to show from the available drop down choices based on the selected instrument. Additional Data sub-panels and other Features can be enabled with the check boxes. These fields, too, are context sensitive - for example the Volume Histogram sub plot is enabled for time periods of only two weeks or less.
Bar Type - select between Bar and Candlestick charts.
Volume plot height is enabled only when the Volume is selected from the Additional Data fields.
Estimated Price Range - when enabled shows an estimated range of one, two or three standard deviations.
Show data outside regular trading hours can be enabled for contracts, such as futures, that trade a virtual 24 hour market.
Bypass this dialogue when opening a new chart will set your selections as the chart default.
You can alter any of these settings within each Chart from the Edit > Chart Parameters menu.
Chart Components
The chart title bar displays the underlying, time displayed and menu commands - File, Edit and View.
Title bar drop down allows you to specify the candle size for an automatic chart or choose from available time period charts.
Toolbar - Customize by adding quick access icons for the features you use most with the arrowhead drop down at right of the toolbar.
Chart features and accessories are also available with a Right click within a chart.
Quote Zone shows the pertinent market data directly on the chart.

Left quote zone includes Last price, Change and Change%
Right quote zone includes Position, Average price and daily P&L
Each Quote Zone is customizable, right click to access configuration choices.

Prior Close - price is represented with a gray dotted line.
Chart Legend - identifies the chart contents and displays in an unused area inside the chart, rather than anchored at the bottom.

Right click to configure or to toggle Legend on/off.

Estimated Price Range/Margin - The small blue arrow at the bottom of the price axis will display an estimated range of one, two or three standard deviations. if enabled. Click and drag to the left to view the blue standard deviation cone - based on the current price, the implied volatility of the symbol's option, and the distance in time from "now." This feature is only available for underlyings that have options.

Alternatively when the Margin field is enabled in the Chart Configuration, moving the arrow creates a buffer on the right side of the chart.
Hot Buttons - Hot Buttons are turned off by default. Activate in the View menu and choose to add to the Chart toolbar or to float within the chart frame.

Buy, Sell and Alert buttons allow you to create an order or set a price alert directly in each chart.

Click any of the buttons and your cursor displays a dotted line. Left click at your specified price level in the chart to place an order or set an alert.
The Chart Trader order management panel allows you to modify order criteria and transmit the trade. Open from the View menu if not visible.
Elect to "Arm" the hot buttons for single-click order transmission.

Position Indicator - The graphical Position Indictor shows a line, field or custom shaded region which indicates the average execution price of a held position in the main chart, extending upward for a long position (green), or downward for a short position (red).
File Menu
Easily save your chart configurations as templates, open previous chart files, even create multiple chart views in a single chart window.
Reuse the layout of a favorite chart, including the time period, studies, and layout by saving the chart as a template and reapplying the template to other contracts.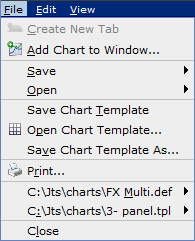 You can re-open previous chart files in the recent files section of the menu. Hovering over the file names will allow you to manage the files you've created or remove a chart file from the list.
Edit Menu
Chart Settings has tabbed pages with these features: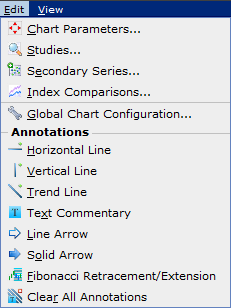 Chart Parameters - allows for chart-by-chart control from within each chart.
Add Studies - brings up a list of all available technical studies.

Highlight a study and choose Add. You'll see the selected study appear on the right. Use the Edit study section with drop down arrows to customize available inputs.
When adding multiple studies, be sure to use Apply button before adding next study.
You can specify a color for a study that will remain consistent throughout all charts from Global Configuration > Charts > Chart Colors which now includes a second tab for Studies. Use global study color to ensure that any change you make to the color for a particular study goes across the same study in all charts.

Secondary Series - chart two or more tickers on the same chart for comparison.
Index Comparisons - choose from popular regional indices for Americas, Europe and Asia/Pacific or select from list of available index tickers.
Annotations - give you the ability to add trend lines, support/resistance lines, Fibonacci lines and even add Notes to any chart. Annotations are easily edited with a right click on the chart item.
View Menu
Additional panels and other chart accessories can be easily enabled / disabled. Check a feature to make visible in the chart. To hide an option, simply uncheck.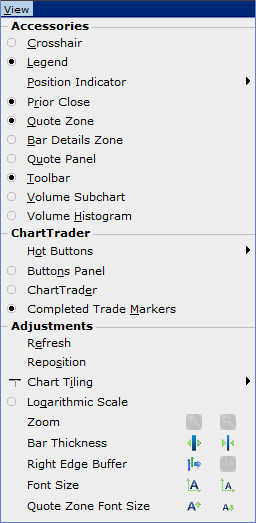 Additional Components
Scrollbars
Vertical Scrollbar - on the left axis of the real-time charts allows you to adjust the visible price range up or down by dragging the range bar.
Once you adjust the vertical scrollbar, the range bar turns yellow indicating the price update is locked. Use the yellow icon at the bottom of the scrollbar to unlock and revert to the automatic scaling and resume real time updates.
You can manually set the vertical range displayed in Edit > Chart Parameters.
The Vertical Scrollbar can be toggled on or off in Global Configuration > Settings.
Beneath the vertical scroll bar there's a small blue arrow that allows you to add/remove vertical buffer space.
Horizontal Scrollbar - a slider along the bottom of the chart allows access to a wider range of data than requested. The slider range bar width represents the start and end time of the displayed interval.
Drag the slider range bar left to see data prior to the requested time period.
Drag range bar separators at either end of the visible range to customize the displayed range.
Trend lines
Horizontal, vertical and freehand trend lines can be drawn on a chart from the Edit menu, Annotation section.
If you have charts for the same underlying, you can choose to apply a trend line to all of the charts by activating the Share Trend lines feature.
Share when bar is the same size will limit sharing of trend lines to charts that use the same bar size. Note: only available if the Share Trend lines feature is enabled.
Margin Area
A movable right Margin Area allows you to move the chart data to the left.
In the Global Configuration > Chart Settings screen, if Margin area is checked, a small, left-pointing arrow at the bottom of the y-axis allows you to drag the right margin, providing a horizontal buffer in the chart.
Right Click and Hover Help
Additional context-sensitive features and functions are available at your fingertips with intuitive right click menus and hover help for tips on specific accessories.
Hover the cursor over a bar or a candlestick to view details in Bar Details zone.
Right click on a bar; expand with arrowhead for Time & Sales.
Right click on the Legend to show other choices.
Right click on a blank spot within a chart for a list of tools.
Accessories
Accessories, such as Crosshairs, Position indicator and Volume Histogram are listed on the View menu and can be toggled on/off.
Additional chart features can be activated from Chart Parameters page:
News notifications, indicated by a yellow arrow, provide access to latest headlines with hover help pop-ups.
My Trades displays your trades in the chart at the intersection of the price and trade time, with hover help details. A red line indicates a sell, a blue line indicates a buy.
ChartTrader
Chart Trader Hot buttons allow you to place trades directly in a chart.
Use the Buy/Sell button to create an order line. Cursor displays a dotted line - Blue for buy; Red for sell.
Drag the dotted line to specify order price. Left click at the desired price level in the chart to create an order.
Order management panel opens to manage/modify/transmit the order.
You can also "Arm" the hot buttons for instantaneous order transmission.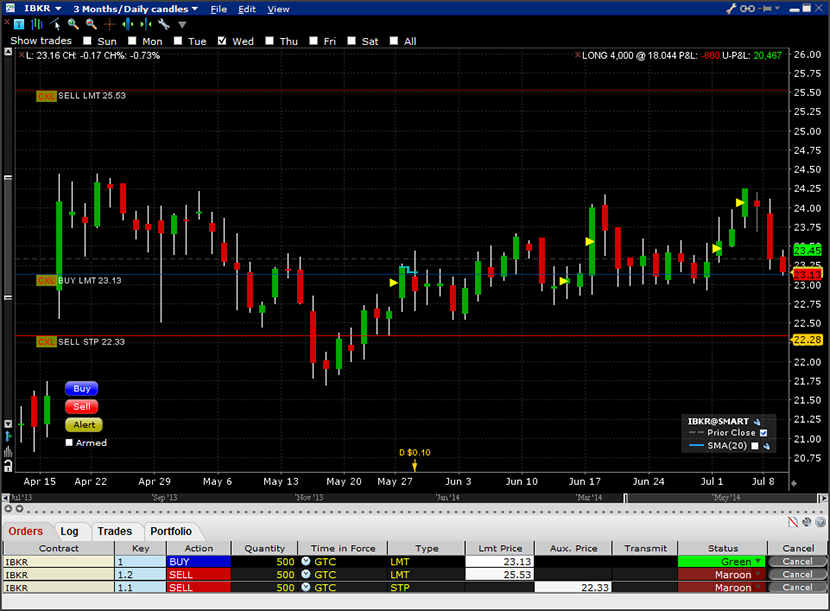 Additional order functions, such as attaching a bracket order or checking margin can be accessed with a right click on the order line in the chart.
The ChartTrader Order Management panel tabs:
Orders tab to view TWS order management fields with order criteria
Trades tab to view executions
Portfolio tab shows position information including realized/unrealized P&L
Multi-Chart Window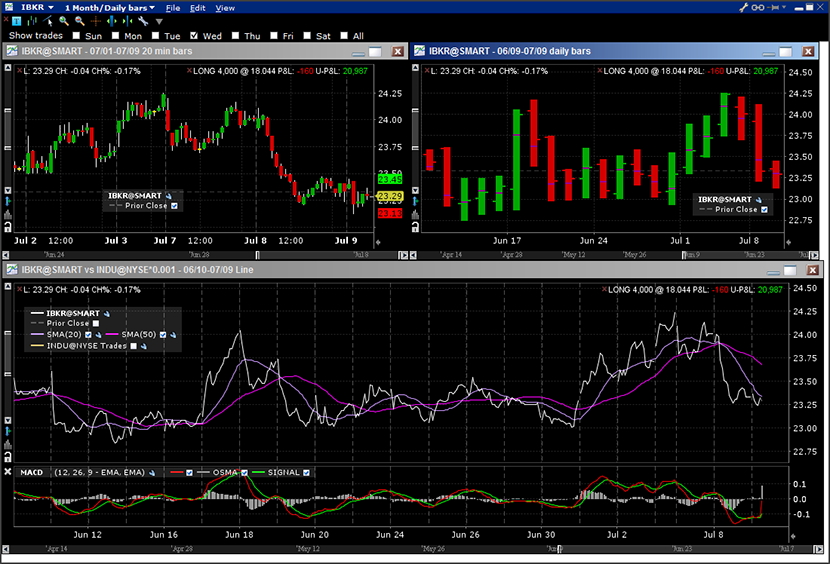 You can open multiple charts in a single window with the command File > Add to Chart Window.
Security selection defaults to Sub-chart uses current security to view the same ticker with different parameters.

Uncheck the box to add different tickers in same window.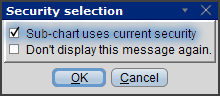 Additional charts can be included with different time periods, different studies, etc. Multi-charts - maximum of 16 appear in single window.
Individual charts in a multi-chart window can be expanded for full screen viewing or collapsed on the grid by double clicking the title bar to expand or collapse selected chart.
Only the chart with the active title bar responds to toolbar and menu selections, such as adding a trend line or a study. Click in a chart to make it active.
Multi-charts using the same ticker can be saved as templates.
Multi-charts using different ticker symbols, won't work as templates, but can be saved as definition files so that you can open and close the charts whenever needed.
Create Templates
You can reuse the layout of a favorite chart, with added studies and indicators, including the time period and chart parameters, by saving the chart as a template and then reapplying the template to other contracts.
On the chart's File menu select Save Chart as Template.
Save with a descriptive chart name - leave the default directory and .tpl file extension.
Replaceable should be checked so you can apply to any ticker.
To create a new chart layout based on a saved template, in the chart's File menu select Load Chart Template and choose from saved templates.
Color Linking Windows
Use the colored grouping link in the title bar of eligible TWS windows to link the ticker selection between windows, so all color linked windows update with the selected ticker at the same time.
Color linking is especially helpful if you have favorite charts you want to view for your watch list.
Select the same color for all windows to include in the same group.
Then click the push pin to keep chart window on top. When you select a ticker in your Watchlist - see all grouped windows update with selected ticker.
Use the keyboard DOWN ARROW to view the same chart for each ticker in a watch list.
Save Charts
When including different ticker symbols in a multiple chart window, you will need to Save > Chart. This creates a definition file instead of a template. To re-open a saved chart, use the File Open Chart menu from File menu on the:
Mosaic anchor toolbar
Classic TWS
Charting Combos
TWS will chart a combination comprised of multiple legs, but you must first specify that you want to have the combo charted. Due to the capacity for pacing market data requests, charting a combo may result in very slow load times for your charts.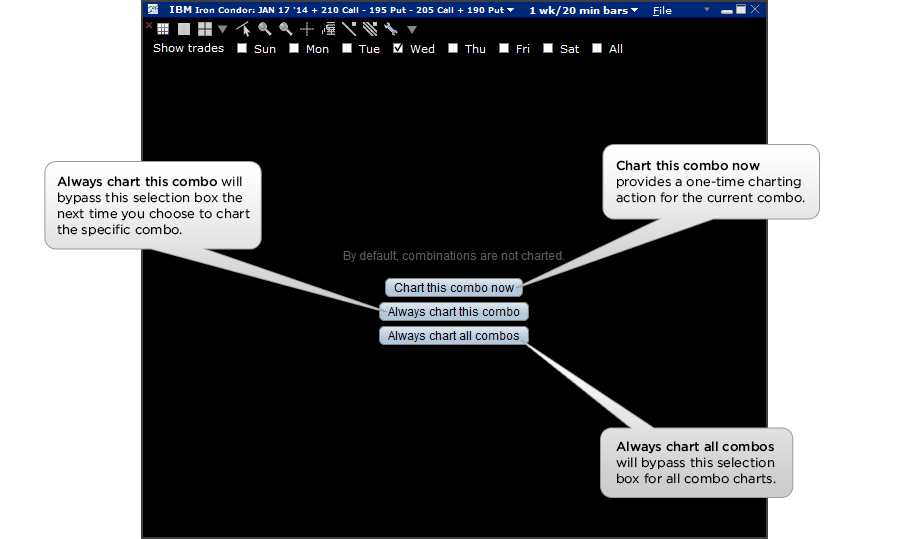 When you attempt to chart a combo, specify whether to chart just this combo this one time, just this combo anytime it is selected, or all combos all the time. By design, combination orders are not charted since the queries required for multi-leg orders could result in slowing down the system.
Create a market data row for the combination from the Quote Monitor.
Use the right-click menu to select Charts then New Chart.
Specify the parameters for the chart and click OK.
Decide how you want to handle charting of combo orders.