IB Communiqué - December 21, 2009
Interactive Brokers would like to wish our customers and their families
a joyous holiday season and a safe and prosperous New Year.
TWS for BlackBerry®

We are pleased to announce the release of the TWS for BlackBerry, our newest mobile trading application. Trade stocks, options, futures and forex products around the world directly from your BlackBerry. Get streaming quotes and real-time charts, view account balances, portfolio updates and trade reports, and receive free customer support. IB also provides delayed market data at no cost for those exchanges to which you don't currently subscribe.

For more information, visit the TWS for BlackBerry software page at

interactivebrokers.com
iTWS 3.0 for the iPhoneTM

We have recently released version 3.0 of the iTWS trading app. This latest release includes:

The addition of the BookTrader, our deep book trading window designed for speed. Quickly transmit complex orders at any price level.
The addition of one-time trade alerts and automatic trade alerts. Let iTWS notify you whenever one of your orders is filled.
Support for account aliases that you have set up in Account Management. Previously these account aliases were only supported in TWS.
Improved quote pages that hold up to 15 tickers per page, and allow you to edit the page name.
Modification to the Bid/Ask price display that makes it easier to see the price difference at a glance.

For more details, see the

iTWS release notes
Daily Interest Rate Monitor

Our suite of market commentaries now includes daily coverage of the global interest rate futures markets for government bonds and short-dated futures contracts. Our in-house senior market analyst Andrew Wilkinson comments on current activity around the world while showing how macro events, monetary policy and international economic data are driving movements in monetary futures.

Find our daily commentaries on the Education menu, including the

Interest Rate Monitor

, the

Options and Futures Intelligence Report

and the

FX View

.
The Mechanics of a Futures Market
The Mechanics of a Futures Market
is our latest addition to the Traders' University collection of interactive tutorials. Learn the difference between on- and off-exchange transactions, understand the benefits of trading through a regulated exchange and more.
Visit the
Traders University

from the Education menu of the IB web site.

Free Delayed Market Data
IB now provides free delayed market data to our TWS customers (if allowed by the exchange) for any products and exchanges to which they do not subscribe. These delayed data lines are highlighted in yellow on the TWS screens for easy identification.
For information on managing free delayed market data, see the
TWS Users' Guide

.
TWS Now Available 24/7
Log into your IB accounts at any time of the day or night (including weekends) with uninterrupted access to TWS, 24 hours a day, seven days a week.
For information on scheduled updates during which TWS may be unavailable for several minutes, see the
System Status

page under the Help & Contacts link.
Expanded News Access in TWS
We have recently enhanced the display of our subscription-based Reuters News Feed in TWS to allow you to filter the news you see according to your interests. The addition of the
News Topic Chooser
allows you to specify the types of news headlines you'll see by applying type and category criteria. News categories include such topics as finance, industrial, general, commodities, sport etc.
For more information on expanded news access, see the
TWS Beta Release Notes

. To subscribe to the Reuters News Feed, log in to
Account Management

and from the
Trading Access
menu select
Market Data Subscriptions
.
New Lower Commissions for European Products
Interactive Brokers continues its tradition of low trading costs with the introduction of our low unbundled pricing structure for European stocks, warrants and ETFs.
To see all of our low commissions, visit the
Commissions

pages on the IB web site.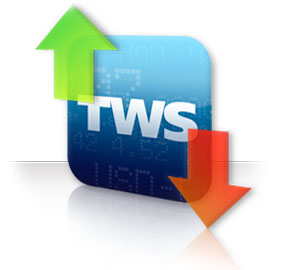 Technology Updates
We continue to enhance our product and feature offerings in the Trader Workstation. Along with the addition of free delayed market data, 24/7 access to TWS and expanded Reuters news access, the latest versions of TWS also include:
The ability to check your position risk directly from an order line on the trading window before you transmit an order. Use the Check Risk feature to see how your portfolio P&L would change if the proposed orders filled. View risk implications in the IB Risk Navigator with a single click.
The process for hedging volatility orders has been simplified by including the Hedge Order command on the right-click Attach menu. Watch for more hedging order types to be added soon.
Support for the Option Symbology Initiative (OSI) implementation, scheduled for February of 2010. This project involves changing the 5-character OPRA symbol to a new 21-character designation. To find out more about these impending changes, visit the Option Symbology Initiative page on the IB web site.
You can find a comprehensive list of all enhancements in the Trader Workstation
Release Notes

.
New Products and Exchanges
We are pleased to announce the following:
The addition of Baron and Evergreen mutual fund families in TWS.
Trading of stock options on the HKEx.
Trading of all products on Borsa Italiana, including stocks, stock options and SSFs, for non-residents of Italy.
To keep up-to-date on all of our recent product and exchange offerings, visit the
New Products

page accessed from the
Trading
menu.
New Third-Party Commercial Tool Providers
We have recently added the following third-party integrated software solutions to our Commercial Tools program:
JQB Soft auto-trade software
IntelliChart forex charting package
Find out more about our Commercial Tools and
Technology Partner Programs

on the IB web site.
New 2010 Traders' Calendar
The new
IB 2010 Traders' Calendar

is now available for download in two PDF formats; large or wallet-sized. The calendar displays exchange holidays and contract expiration dates for the major exchanges and products around the world.


As our customers know, IB's TraderWorkstation™ is a comprehensive and versatile platform that lets you trade multiple products on numerous exchanges around the world from a single screen. The Traders' Edge focuses on one of our existing TWS tools that we think is worth a second look. This month we reintroduce you to the Accumulate/Distribute algorithm.
Accumulate/Distribute
The Accumulate Distribute algorithm was designed to allow the trading of large blocks of stock without being detected in the market. To date, the Accumulate/Distribute algorithm has evolved into much more, so that in its current state it can even be set up for high frequency trading.

The algorithm can be deployed for futures, options, forex or any product that can be traded through Interactive Brokers, and it can also be used to trade and then allocate the resulting positions among multiple accounts.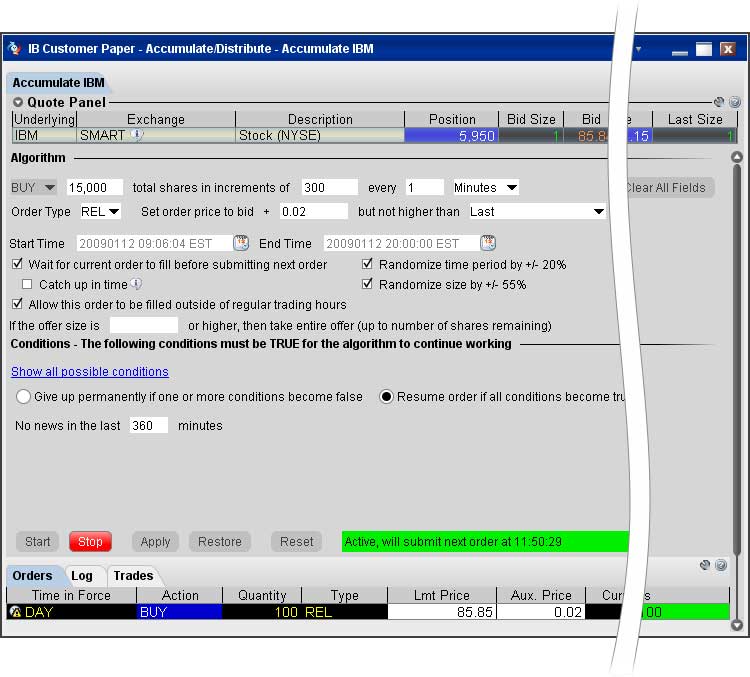 This comprehensive interface allows a single trader to effectively manage multiple algo orders simultaneously.
The randomize time and quantity features, especially useful in periods of low liquidity; help keep a large sized order from being noticed.
Use the Relative order type, which adds liquidity, to take advantage of available rebates.
Save algo parameters as a named, reusable template to easily set up multiple orders.
The order Summary section for each algo provides real-time data so you can monitor the progress of the order.
For more information on using the Accumulate/Distribute algo, see the
TWS Users' Guide.

, and view the
Accumulate/Distribute

webinar.
Interactive Brokers - 2 Pickwick Plaza - Greenwich CT 06830
Interactive Brokers LLC - member NYSE, FINRA,
SIPC
Any trading symbols displayed are for illustrative purposes only and are not intended to portray recommendations.
Options involve risk and are not suitable for all investors. For more information read the "Characteristics and Risks of Standardized Options". For a copy call (203) 618-5800 or
click here
. Supporting documentation for any claims and statistical information will be provided upon request.
BlackBerry® RIM®, BlackBerry® Curve™, BlackBerry® Bold™ and BlackBerry® AppWorld™ are trademarks of Research In Motion, registered in the U.S. and other countries.
Apple, the Apple logo, iPod, iPod touch, and iTunes are trademarks of Apple Inc., registered in the U.S. and other countries. iPhone is a trademark of Apple Inc. App Store is a service mark of Apple Inc.