IB Communiqué - November 6, 2009
Quarterly enhancements to our trading platform along with expanded product offerings result in more unique advantages for IB customers. We've highlighted several of our recent developments below, and invite you to visit us at

interactivebrokers.com

to learn more.
iTWS Version 2 for the iPhoneTM
Our latest release of the iTWS trading app for the iPhone includes significant enhancements, the most important of which is the ability to trade forex in addition to our current product list of stocks, options, futures, futures options and warrants. In addition, iTWS now provides real-time charts and market scanners, a 10-minute grace period to move between apps without having to log back in, and the ability to set up email price alerts.

Tell a friend about our free iTWS iPhone App. They can access real-time forex quotes, set up email price alerts, and view delayed market data, charts and scanners. Download iTWS, at no cost, from the App StoreSM.

Blackberry® users can expect their own mobile trading application early next year.

For more details, visit the iTWS software page at

interactivebrokers.com
IB Has Lowest* Margin Rates of Surveyed Online Brokers

Barron's magazine polled the same group of brokerage firms covered in its annual survey,

Margin Expands Regardless of Rate

, for a recent update on the margin rates they charge their customers. According to data collected by Barron's, a "huge gap" exists in cost, with Interactive Brokers maintaining its position as the least expensive trading venue for investors, whether the margin balance was $10,000 or $50,000.

For more information, see the featured article

Margin Expands Regardless of Rate

on our media page.
PortfolioAnalyst
PortfolioAnalyst allows investors to evaluate the performance of their portfolio online and save their analyses as reusable templates. Recent enhancements to this beta release include the ability to compare your returns against more than 80 popular industry benchmarks such as the S&P 500, Nasdaq Composite, Dow Jones Industrial and KOSPI200 Index




PortfolioAnalyst is available from the Reports Management menu in Account Management. We encourage our customers to try out this beta version and send us your feedback at

portfolioanalyst@interactivebrokers.com
Multi-Currency Cash Accounts
We have recently enabled our cash accounts, including cash IRA accounts, for multi-currency trading. Previously a cash account could only trade in its original base currency, and customers wishing to trade in another currency would have to open a new cash account in that currency, or upgrade to a margin account. To use multiple currencies, you must first convert funds using a Forex transaction. You can trade with the converted currency once the cash has settled, generally in three days.
For more information on our cash and other account types, see the
Account Types

section of the Trading Configuration page.
Stock Borrow/Loan Trading via AQS®
IB now offers electronic market access to AQS®, the first automated, centrally-cleared electronic marketplace for Stock Borrow and Loan transactions. Complete and seamless integration with TWS allows customers** to view short positions, monitor risk and account activity, and trade borrow/loan products all from within the same application. Transparent pricing displays the borrow fee and interest rate as two separate values, with the borrow fee quoted in the TWS ticker line and the interest rate (Effective Federal Funds Rate) shown when you hold your mouse cursor over any borrow fee.
For more information on stock borrow/loan trading via AQS, see the
software highlights

page. For details on using the TWS Stock/Borrow Loan feature, see the
TWS Users' Guide

.
New Products and Exchanges
We are pleased to announce the addition of the following new products and exchanges:
European stocks on the Turquoise exchange.
Spanish stock options and single-stock futures on MEFF.
Support for trading daily options on the AEX index via FTA.
Stock borrow and loan transactions on AQS®
To keep up-to-date on all of our product and exchange offerings, visit the
New Products

page on the
Trading
menu. This list is updated daily and includes all new products sorted by the date they were added.
Study Finds Superior Returns for Active versus Passive Collars
The Options Industry Council (OIC) has announced a new 10-year study by the University of Massachusetts which found superior returns using a long protective collar strategy with 6-month put purchases and consecutive 1-month call writes compared to a simple buy-and-hold collar strategy. In summary, over the 10 year study period, the passive buy-and-hold strategy returned almost 150%, while the active strategy returned more than 200%.
To read a summary of the complete study,
Loosening Your Collar: Alternative Implementations of QQQ Collars
, visit the
OIC

website.
Statement Enhancements
Recent enhancements to our statements include:
Activity statements now support Stock Borrow activity for IB Portfolio Margin accounts that borrow US stocks in the AQS® electronic stock loan and borrow marketplace.
The Non-Direct Hard to Borrow Details section of Activity Statements is now available for statements covering a range of dates instead of just daily statements.
Conid and Description fields have been added to the Activity Flex.
Position sections for mutual funds in an Activity Flex query now include the percentage of equity.
In the Trades section of an Activity Flex query, you can now select Closed Lots as the Level of Detail. Previously, you could select only Executions or Orders as the Level of Detail.
There is now a limit of 100 requests per ten minutes per Flex Webservice token.
Extreme margin values have been added to the Portfolio Margin Details section of the margin report.
The Trade Confirmations HTML report layout has been changed to make it easier to read.
The Account ID now includes the account alias and is displayed when you set up reports and statements. In addition, Activity Statements and Activity Flex Queries now include an option to display your account alias instead of your account ID.
You can find all changes and enhancements to our statements in the
Release Notes

section of the Account menu
Statements and Reports

page.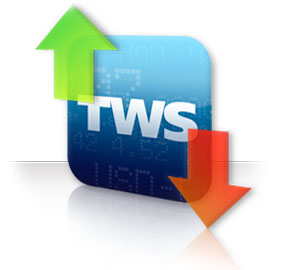 Technology Enhancements
Over the past months we have continued to enhance the TWS trading platform. Major changes include:
The ability to log into TWS over the weekend.
The ability to view a time series of futures prices across the maturity spectrum for available exchange-traded contracts via the Term Structure charts. (Build 899)
Reusable templates in the Accumulate/Distribute algo. (Build 900)
The addition of a Stock/Stock spread type in the instruments list for combination orders. (Build 899)
The option to Add Liquidity and potentially improve the price on a two-legged combo by submitting one or both legs a tick below the market. (Build 899)
The ability to save and trade bracket orders from the BasketTrader.(Build 900)
Automatic creation of a basket of hedge orders from the IB Risk NavigatorSM for selected subportfolios. (Build 899)
The option to modify industry groups and create new groups in the IB Risk Navigator Risk by Industry report. (Build 899)
User-defined custom risk scenarios in the IB Risk Navigator. (Build 900)
Subscribe to deep book market data for options through Account Management Trading Access. (Build 899)
Real-time charts now allow you to move the right margin of the plot while still using the entire chart area to project trendlines and studies. (Build 900)
Use the new Show/Hide Volume icon in a chart to display or remove the Volume subplot. (Build 900)
For a complete list of all new TWS features, see the
TWS Release Notes

.
Re-Launch of the IB Discussion Forum
The IB Discussion Forum is a communication network that allows IB customers, non-customers and IB employees to discuss issues, post questions and share information on any IB-related topic. We have reorganized the page for easier access and to include a broader and more descriptive range of topics.
Access the Discussion Forum from the
Bulletin Boards and Chats

page of the IB website.
New Third-Party Commercial Tool Providers
We have recently added the following third-party integrated software solutions to our Commercial Tools program:
Investox
PT MultiStation
The Options Lab
Find out more about our Commercial Tools and
Technology Partner Programs

on the IB web site.

As our customers know, IB's TraderWorkstation™ is a comprehensive and versatile platform that lets you trade multiple products on numerous exchanges around the world from a single screen. The Traders' Edge focuses on one of our existing TWS tools that we think is worth a second look. This quarter we reintroduce you to the ChartTrader.
ChartTrader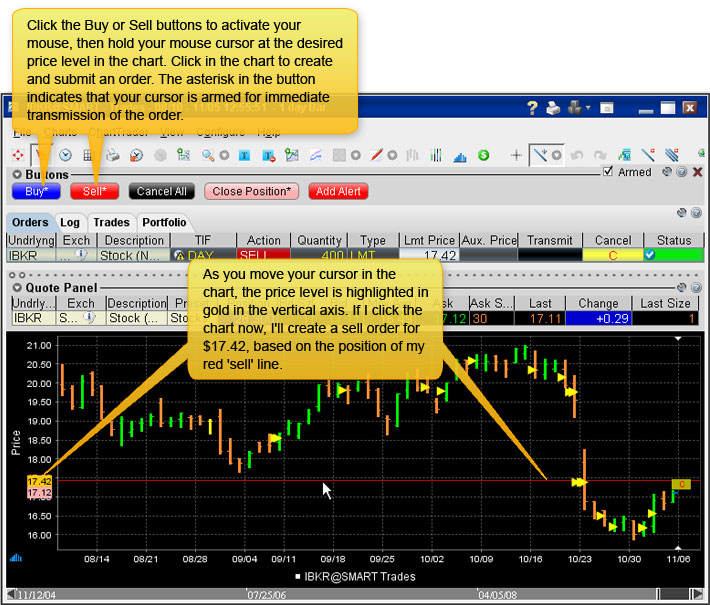 Designed as a stand-alone TWS component, the ChartTrader allows a complete view of underlying price movement coupled with the ability to transmit and manage orders directly from the chart window. Add indicator studies, draw trendlines, view news, set up and manage your trades in a real-time chart while monitoring dynamic market movements. Display multiple charts simultaneously with independent configurations.
Consider the many benefits of using the
ChartTrader
:
Configurable format for easy customization.
Select from over 20 technical indicators, including Fibonacci lines.
Independent chart window allows you to have multiple charts open simultaneously. You can view:

Multiple underlying symbols or
Multiple time periods for an underlying.

Familiar TWS trader tool layout provides:

Complete order management.
Customizable Quote Panel, and Orders, Log, Trades and Portfolio tabs.
Instantaneous transmission with a single click at a price level within the chart.
Context sensitive right click functions.
Use Order Presets to define default order values.

Color-coded for quick-glance information.
For more information on using the ChartTrader, see the
TWS Users' Guide.


If you do not wish to continue to receive the IB Communique
click here
.
Interactive Brokers - 2 Pickwick Plaza - Greenwich CT 06830
Interactive Brokers LLC - member NYSE, FINRA,
SIPC
Any trading symbols displayed are for illustrative purposes only and are not intended to portray recommendations.
Options involve risk and are not suitable for all investors. For more information read the "Characteristics and Risks of Standardized Options". For a copy call (203) 618-5800 or
click here
. Supporting documentation for any claims and statistical information will be provided upon request.
*Barron's Margin Expands Regardless of Rate - October 19, 2009. Barron's is a registered trademark of Dow Jones & Company, Inc. Criteria included margin interest rate data as of February 13, 2009 and October 6, 2009, on balances of $10,000 and $50,000.
** TWS Stock/Borrow Loan is only available to customers who have been approved for Portfolio Margin.
Apple, the Apple logo, iPod, iPod touch, and iTunes are trademarks of Apple Inc., registered in the U.S. and other countries. iPhone is a trademark of Apple Inc. App Store is a service mark of Apple Inc.