Interactive Brokers offers electronic access to US and European corporate bonds, US government securities,
US Municipal bonds, non-US Sovereign bonds in Asia and Europe, fixed income futures and fixed income options,
all from a single account.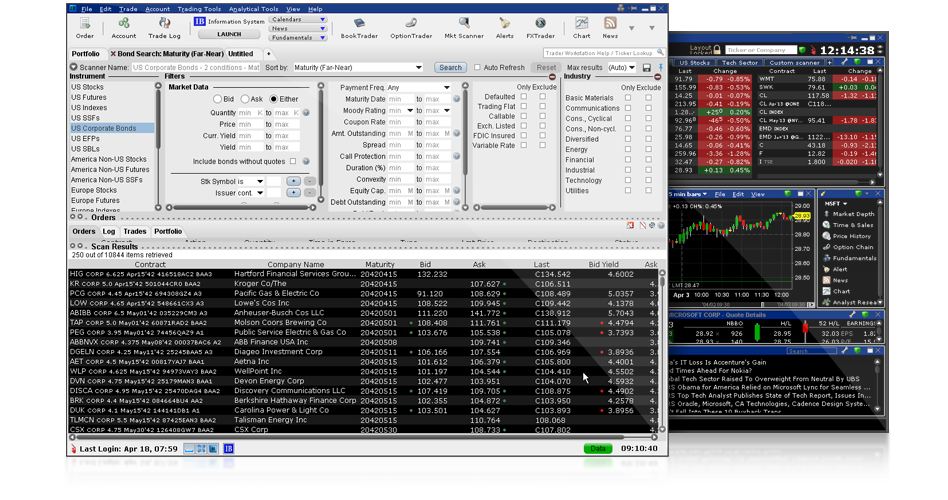 Consider the following advantages of trading fixed income at Interactive Brokers:
Multiple Fixed Income Instruments - IB offers multiple fixed income bonds to meet your trading needs. Trade corporate, municipal, or treasury bonds all from a single account and single trading screen.
Customer Bond Quotes for Trading in TWS - In contrast to traditional bond platforms, customers can both see and place bid and offer quotes for US Corporate bonds. Non-marketable limit orders that meet or exceed the existing best quote will be included in the IB market data for other IB customers to trade.
Comparable Bonds All in One Place - To help ensure fair pricing and make it easy to compare municipal bonds with similar characteristics, TWS automatically displays a table of comparable bonds for each bond order. You can submit a Request for Quote on any of the presented bonds directly from within this table.
US Corporate Bonds Scanner - Scan the bond markets on any criteria from bond ratings and coupon rate to a specified convexity range or equity cap using the US Corporate Bonds scanner.
Smartest Routing with Multiple Bond Market Centers - IB routes to multiple bond market centers including BondDesk, Knight BondPoint, MuniCenter, NYSE Arca Bonds, and Tradeweb. All bond orders are SmartRouted.
Submit Corporate and Municipal Bond RFQs - Submit a Request for Quote on a bond that has no existing quote, to potentially improve upon an existing quote, or to get a quote for a particular trade size.