Prime Broker Product Highlights
For the past 37 years Interactive Brokers1 has focused on applying technology to every part of the trading and settlement process. Through our highly automated technology, we execute trades for our customers on over 100 exchange and market centers in 23 countries, and group-wide we clear and settle over 1,000,000 trades per day2. Our global reach, substantial equity capital and low-risk business model give us a unique competitive advantage in today's rapidly changing markets.
Strong Balance Sheet
Our capital has grown organically from profits over the years. We are part of IB Group, which has over US $5 billion in equity capital2 and very low debt. The group is still approximately 90% owned by the original owners who closely manage the business.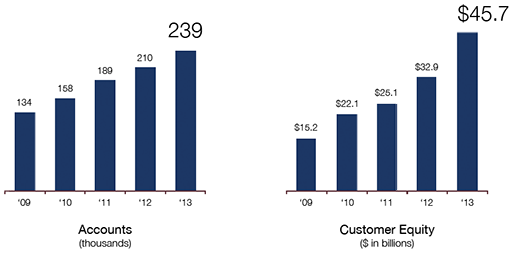 Large Relative Equity Capital
Interactive Brokers LLC has over US $2 billion in regulatory net capital, which is $1.8 billion in excess of regulatory requirements. The Firm uses proprietary software to automate broker-dealer functions and integrate its software with exchanges and trading venues into one automatically functioning, computerized platform. The orders that its customers enter into the IB Trader WorkStation (TWS) or other order management systems are electronically routed to the markets using IB's proprietary order routing technology. IB also uses a real-time risk management system that works behind the scenes to manage risk and enforce credit-related regulations. IB requires all orders submitted for accounts held at IB to be credit checked prior to accepting the order for routing to the market. The system ensures that trades will be supported by current equity in the account and also automatically liquidates under-margined positions without making margin calls. This policy protects the firm's capital and the rest of the firm's customers as well as limiting the losses in customer accounts.
Low Risk Business Model
Interactive Brokers LLC is an agency broker for its customers. It does not maintain a proprietary trading desk or sales trading desk and does not trade for its own account.
Customer Fund Protection
As a regulated broker, Interactive Brokers is subject to SEC and CFTC regulations regarding investment of customer funds. Permissible investment vehicles include bank deposits and a variety of top-rated government securities and related instruments. Our effective investment policy is more stringent than this, reflecting our risk-averse philosophy. We invest customer funds only in government securities and repos, FDIC-backed corporate bonds, cash deposits in bank accounts at the largest banks and triple A-rated Money Market Funds (in which we invest less than 2% of customer assets). Our investment policy is very conservative. Our strict policy when investing client money minimizes your exposure and ours in uncertain credit environments.
Consistent Performance
Financial professionals who find the large prime brokers too expensive to meet their needs come to us from around the world in increasing numbers. Our ongoing focus on using technology to connect to the world's markets and automate all aspects of the trading and settlement process, combined with our low-risk business model and risk-averse philosophy results in continued growth of our customers' equity.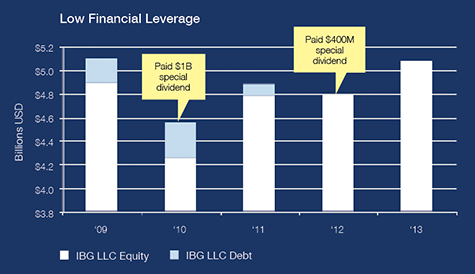 Any stock, options or futures symbols displayed are for illustrative purposes only and are not intended to portray a recommendation.
1 Interactive Brokers Group and predecessor companies.
2 As of First Quarter 2014.
Interactive Brokers LLC is a member of NYSE, FINRA, SIPC. Supporting documentation for any claims and statistical information will be provided upon request. Any trading symbols displayed are for illustrative purposes only and are not intended to portray recommendations. This advertisement is not an offer to sell or a solicitation of an offer to buy any security. Interactive Brokers does not provide investment advice.