When accessing from the Trading Tools menu, note the icons let you choose how to display the Scanner results – as a separate window or an additional tab in the Quote Monitor.
When added as a detached Scanner window, there is a limit of active tickers (100) that will display real time quotes. You can limit the scan results from the Max Results drop-down, or use the scanner fields to filter for fewer results.
Create a custom scan that you check each day by simply leaving the defined scanner tab open in the Quote Monitor tab or simply Save the scanner criteria as a template to view on-demand. Create as many "scanner" tabs as needed.
In addition, you can transmit orders directly from a scanner, and save a scan as a template for later use.
Create a Scanner
Advanced Market Scanner opens with a scanner panel for you to select the Instrument by global region. Work from top to bottom and left to right, because choices you make will determine the remaining selections available:
Choose an instrument first in the left panel. Scanner choices will vary according to the instrument selected.
Available scanner criteria changes based on the Instrument/Location /Filter criteria you select. For example, Stocks as the instrument enables the selection to scan by Sector, Industry and Category.
Define optional filters to control the search results:

Use the Add Filter button for more filtering choices.
The more detailed criteria will narrow down the results. For example, you may only want to see the Top% US Stock Gainers within a certain P/E range, or with a capitalization above 2,000,000,000.

Scans are based on the price each selected instrument trades in, so if a user's base currency is EUR, Price Greater than 20.00 would be greater than 20 EUR.
Each column in the scan results can be sorted by left clicking on the column header.
Price ($) will convert all results based on US dollars for comparison – which is useful for :

non-USD based products (where price is converted to USD), and
global filters (where a common denominator is used to compare products that trade in different currencies).

Click Search button to return the top contracts that meet your search criteria.

Data is updated every 60 seconds. (Time in Scan field)
Most scans return the top 50 contracts or you can select the number of results.
High Dividend Yield scan for US Stocks returns the top 750 contracts.

Save your search parameters as a template with the Disc icon to be loaded on-demand.
If you select a non-subscribed location, a message recommends that you either subscribe or remove the non-supported filters.
You can open multiple scanners in your Quote Monitor by simply adding a new tab with the "+" then selecting Advanced Market Scanner.

Search Bar
After you've defined the scan criteria, click the Search button to run the scan.
Check the Auto Refresh to have TWS automatically update the scan every 60 seconds. Unchecked provides a static view. Click Search button to update on-demand.
Use the Reset button to set all filters back to the system defaults.
Max results drop down let's you control the number of contracts returned.
Edit button makes it simple to open, modify and re-run your scan
Change your scanner choices – or create a new scanner by opening a new tab.
Option Volatility Scanners
Option pricing data has built-in information for understanding sentiment in the markets, for example implied volatility represents the markets' view of uncertainty associated with future price movements.
TWS has 13 scans that will display option volatility rankings with highest/lowest volatility gainers and losers, contracts that are Hot by Option Volume, Put/Call Ratios and Open Interest, and many others.
Choose Stocks as the Instrument,

Set Filters – i.e. for actively traded issues with the volume constraints
Scroll down in the scanner parameter drop-down menu and choose one of the Options parameters available.
You can also choose from Daily or Annual Volatility

Activate the Statistics panel in the TWS OptionTrader to view scanner values for specific underlyings.
US Corporate Bonds
The US Corporate Bond scanner includes filters and parameters specific to the needs of bond traders.
Note that you must upgrade your Fixed Income trading permissions in Account Management before you can trade bonds. Optional subscriptions are available for US Bond quotes, Moody's' Ratings and Cusip service.
Specify optional quantity, price, or yield filters
Filter issuers that contain or exclude certain key words
Specify more detailed criteria such as maturity, date range or ratings to narrow the scanner results.
Use check boxes to require or exclude any industry specific bonds from search results.
Choose Sort from the scanner dashboard to select how the results will display.
The default sort is furthest-to-nearest maturity, also available are sorts by coupon rate, yield, spread between current bid and ask prices, ratings, biggest movers, daily volume numbers, as well as Reuters values you may find useful.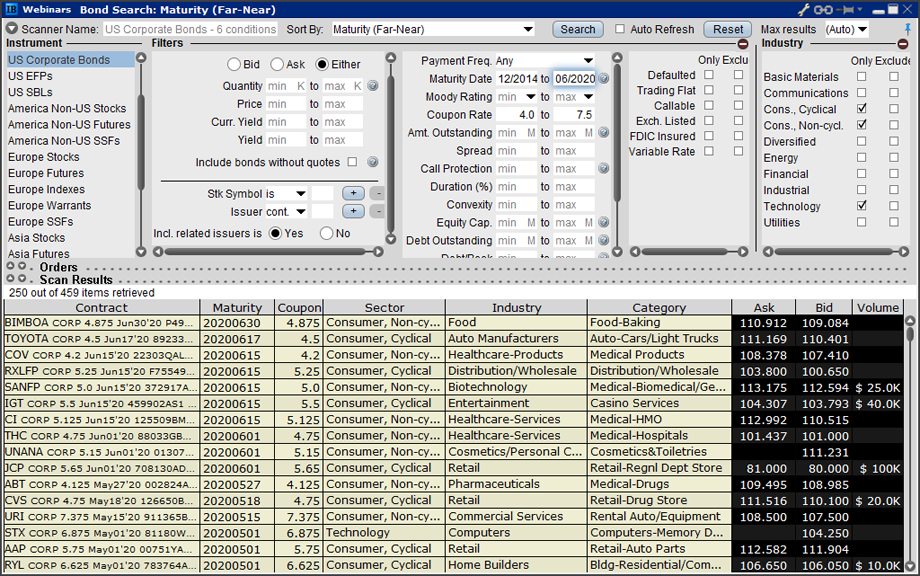 When searching for specific corporate debt issues, note the two fields at the bottom of the Market Data column for identifying bonds.
Stock Symbol – is useful but may not return all available bonds.
Issuer field – draws together all of the issuers under the common company name.
After Hours Scanner Snapshot
You can still use most TWS Market Scanners when all trading has stopped, including during extended hours.
After-hour scanners use data from the previous close to provide a static snapshot as of the market's closing price. A scan displaying snapshot data is identified by a gray background color in the Scanner display.
Market Statistics, TICK & TRIN indicators
View for AMEX, NASDAQ & NYSE:
Advancing Issues, Declining Issues and Unchanged Issues.
Up Volume, Down Volume and Unchanged Volume.
TICK –indicator shows the number of stocks trading on an uptick minus the number of stocks trading on a downtick.
TRIN – Trader's Index is a technical analysis indicator calculated by dividing the advances-to-declines spread by the volume of advances to declines.
Company Fundamentals
TWS Company Fundamentals incorporates numerous market scanners, allowing you to compare related firms to the selected ticker by category, sector and industry.
When you subscribe to Reuters Worldwide Fundamentals you can include additional fundamental fields in the scanners from the Global Configuration window.
Similar Products