a complete turnkey solution for
Compliance Officers
in organizations such as exchanges,
hedge funds, mutual funds, brokers, banks
and insurance companies
IBEmployeeTrackSM provides a simple, cost-effective solution for organizations such as exchanges, hedge funds, mutual funds, brokers, banks, and insurance companies, who are required to monitor their employees' trading activity.
Note: Once you sign up for IBEmployeeTrack, you will no longer receive employee statements by email.
IBEmployeeTrack clients are provided with the following benefits:
Consolidate your employees' trading activity from Interactive Brokers and other brokers under a single platform at no charge.
Electronic access to employee trade activity. Daily reports on all employee trading accounts held at IB are automatically transmitted to your legal department to ensure ongoing compliance with in-house and external reporting requirements.
Custom feeds available for third party monitoring software.
The ability to send application invitations to employees and have a new employee account automatically linked.
Restrict your employees from trading designated symbols.
Customer-specific report design sends only the account data you request, such as trade confirmations, positions, interest and commissions, taxes, and fees.
Accounts are accepted from residents of all countries except those countries that are prohibited by the US Office of Foreign Assets Control. Click here for a list of available countries.
IBEmployeeTrack Structure Chart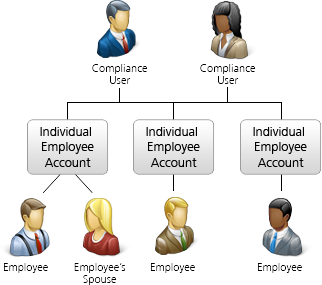 Employee Marketing Handout
IB provides a customized handout for your employees with information about IB's broker services. This customized handout will be created upon registration. Click the button above for a generic sample of this document.
For information regarding your account, contact Interactive Brokers by clicking here.
For information on SIPC coverage on your account, visit www.sipc.org or call SIPC at 1 (202) 371-8300.