Trading Desk für Optionen (engl)
P R O D U K T H I G H L I G H T S
Interactive Brokers LLC (IB) recently launched its Options Trading Desk to support voice and instant message-brokered quotes and executions on S&P 500 Index options. IB customers now have access to the world's most liquid open outcry options pit, with an average daily volume of over 600,000 contracts.
IB's SPX®order handling team brings a wealth of knowledge and experience in handling your options orders. Each trader on the options desk has 15+ years of derivatives markets experience and our SPX pit brokers have a combined 70 years experience. We strive to get you the best possible execution for your trades by providing direct access to pit brokers who handle orders exclusively for IB clients.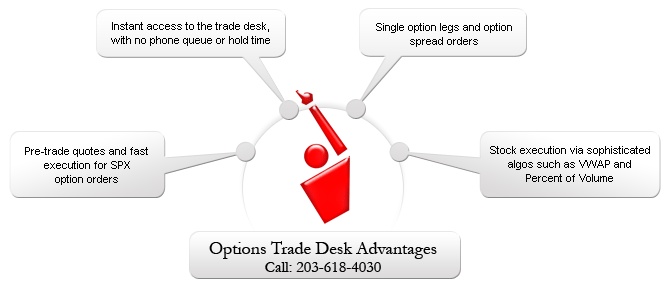 Interactive Brokers' Options Trading Desk is ideal for clients who make their own trading decisions but need better access to open outcry markets for large or complex orders. Our goal is to build long term relationships with our clients by providing expert insight and superior order handling services. If you are having difficulty getting quality quotes or executions online, one of our brokers can help complete your trade.
For over 31 years, the Interactive Brokers Group (IBG) has been one of the largest electronic options brokers worldwide. With its affiliates, IBG handles 18.3% of US options and approximately 700,000 trades per day. IBG affiliates hold memberships on over 70 exchanges, market centers, and clearing corporations around the world.
IBG is a publicly traded company on NASDAQ (symbol IBKR). To discuss how IB can help service your index trading needs, please contact me on our trading desk at 203-618-4030, or via email at optiondesk@interactivebrokers.com.
Kevin Fischer
Manager, Block Execution Services
Click here to view the Product Show List.
Click here to contact the Options Trading Desk.

Options involve risk and are not suitable for all investors. For more information, read the "Characteristics and Risks of Standardized Options" before investing in options. For a copy call 203 618-5800.
Multiple leg strategies, including spreads, will incur multiple commission charges. Interactive Brokers LLC is a member of NYSE, FINRA, SIPC.
IBG Affiliate Memberships
AMEX • ASX • BI (IDEM,MTA) • BSE (BOX,BeX) • CBOE • CBSX • CBOT • CFE • CHX • CME • DBAG • EDX London • Eurex • Euronext • Euronext.liffe • FWB • HKEx • ICEISE (Ireland) • ISE (US) • LSE • ME • MEFF • NASDAQ • NSX • NYSE • NYSE Arca • OB • OMX Nordic • ONE • OTOB • PHLX • SFE • SGX • WBAG • SWB • SWX • TSX • TSX-V • USFE • Virt-x