Quarterly enhancements to our trading platform along with expanded product offerings result in more unique advantages for IB customers. We've highlighted several of our recent developments below, and invite you to visit us at

interactivebrokers.com

to learn more.

 
Option Portfolio Algorithm

Adjust the risk profile of your portfolio by any of the Greek risk dimensions using the Option Portfolio algo. The straight-forward interface guides you step-by-step through defining your objective and specifying relevant conditions. With access to complete and current market data on all options in all classes, the algorithm mathematically optimizes the most cost-effective option portfolio that meets your criteria, and displays the results for you to examine. You can trade the portfolio with the click of a button, or allow the algo to continue working. A refreshed list is generated every 30 seconds. If you'd like to see how trading the orders would affect your current risk profile, a quick click opens the portfolio in "What-If" mode in the IB Risk Navigator

SM

, our real-time risk management platform.

For more details on using the Option Portfolio algorithm, see the

TWS Users' Guide.
2009 Readers' Choice Awards
Technical Analysis of Stocks and Commodities magazine recently announced its 2009 Readers' Choice awards, and readers voted Interactive Brokers as their top choice in multiple categories, including:
Stock Brokerages
Winner
Futures Brokerages
Winner
Forex Brokerages
Winner
Options Analysis Software
Winner - TWS
Institutional Platform
First runner-up
Professional Platform
First runner-up
For a complete listing of IB awards, visit the
Interactive Brokers Awards

page.
IB for Institutions
Interactive Brokers offers a variety of account structures to meet the specific needs of our institutional clients, including hedge and mutual funds, proprietary trading groups, advisors, and registered brokers. A few of the benefits we provide to our Institutional clients include:
Clearing, Prime and Execution Services - clear trades at IB, and take-up trades from or give-up trades to third-party brokers, all from the same IB account.
TWS OMS - staged order functionality handles electronic trade tickets as well as manual phone tickets, and integrates with third-party order management systems.
Post-Trade Allocations - log in to our web-based application and allocate trades to third-party brokers at no charge.
Access Rights Management - ensure safety and security by creating multiple users for an account, and assigning each user discrete access rights to specific accounts and functions. Specify multiple A-level and B-level authorizers to ensure consensus approval for administration and funding requests.
Low-fee take-ups - take up trades from third-party brokers for a low single line item fee.
Algos - multiple algos including Accumulate/Distribute and Option Portfolio.
To find out more about the benefits of opening an Institutional account with IB, see the
Institutional Account Structures

highlights, or contact a member of our
IB Institutional Sales team.

Ultra Low Margin Rates
For years we've been telling you about our ultra low margin rates; now we've decided to show you. A picture may be worth a thousand words, but when you do the math, you will see that this picture is worth far more than just words.

For more details on our low margin rates, see the
Interest and Financing

page on the IB website.
New Products and Exchanges
We are pleased to announce the following additions to our offerings:
The CFTC has recently approved the trading of Mini Hang Seng Index futures (MHI), Mini Hang Seng China Enterprises Index futures (MCH) and Korean Kospi 200 Futures by US residents, and Interactive Brokers is now making this product available to its US customers.
Futures and options trading on the National Stock Exchange of India (NSE) is now available for residents of India.
IB customers can now access several European stock exchanges, including NASDAQ OMX Europe CH (NUROCH) in Switzerland, NASDAQ OMX Europe DE (NURODE) in Germany, and NASDAQ OMX Euronext (NUROEN) in France, Belgium and the Netherlands.
The addition of Dreyfus no-load mutual funds for trading via the TWS. Watch for the addition of Janus and State Street funds early this Spring.
Trading of the new Globex Micro FX Futures on six US currency pairs will be available at the end of March.
The CME has created the CME Group Resource Center, accessible from the Exchange Tutorials tab of our Exchanges Around the World page. This tool provides a range of resources, from tutorials to product information to charts and contract specifications on the most active contracts.
The Canadian smart router will now access the TSE "Special Session" to execute marketable orders after-hours at a more favorable price. We also support TSE auction orders, which are limit orders placed to the TSE Special Session only.
TurboTax Download
Customers can now import their Gain/Loss Summary worksheet into their TurboTax desktop application to assist in the preparation of IRS Schedule D.. Find Schedule D worksheet and other tax forms in the Report Management section of
Account Management

.
Technology Enhancements
Over the past months we have continued to enhance the TWS, API and WebTrader trading platforms. The major changes are described below.
TWS

Advisors can now trade mutual funds for a single account at a time, on behalf of their clients.
Advisors can allocate combination orders using the Percent Change allocation method, and can close a combination order using the Close Position function. (In Beta 893)
The Accumulate/Distribute algo now supports combination orders.
You can now open multiple deep book data windows for the same symbol, and up to nine windows simultaneously, for up to three unique symbols. (In Beta 893)
Now add unlimited trading pages in TWS. The 26-page limit has been removed. (In Beta 893)
For added security, a mouse-driven "foldable keyboard" interface has been added to the login window. (In Beta 893)

For details on all of the latest enhancements and fixes to the TWS, please see the

Release Notes

page.
API (Application Program Interface)

IBALGO orders, including VWAP, TWAP, Percent of Volume, Minimize Impact, Balance Impact and Risk and Arrival Price, can now be submitted via the TWS APIs.
An RFQ sample application has been added, which shows how to submit RFQs for EU and US stocks, futures, equity and index options and spreads.
An End of Download callback has been added. The callback is invoked in response to the completion of requests for Orders, Account Data and Executions.
Two new order statuses, ApiPending and ApiCancelled, will be reported by TWS when requesting open orders and cancellations.

For details on all of the latest API enhancements, see the

API Release Notes

page.
IB WebTraderSM

IB WebTrader now supports multi-account trading, with single order allocation, for advisors and other multi-account clients.

For more details on the IB WebTrader enhancements, see the

IB WebTrader Release Notes

page.
New Third-Party Commercial Tool Providers
We have recently added the following third-party integrated software solutions to our Commercial Tools program:
Find our more about our Commercial Tools and
Technology Partner Programs

on the IB web site.

As our customers know, IB's Trader Workstation is a comprehensive and versatile platform that lets you trade multiple products on numerous exchanges around the world from a single screen. The Traders' Edge focuses on one of our existing TWS tools that we think is worth a second look. This quarter we reintroduce you to the FXTrader.
FXTrader
The FXTrader window provides an optimized trading interface with IB designed tools to trade forex markets. The layout was designed specifically for the forex trader, and is completely customizable. The window is laid out in a three by three grid, with each cell containing a currency pair. Using colors, sizes, text, market data and order details, each small cell provides a multitude of critical information that's easy to comprehend at a glance. We've dissected a single cell below: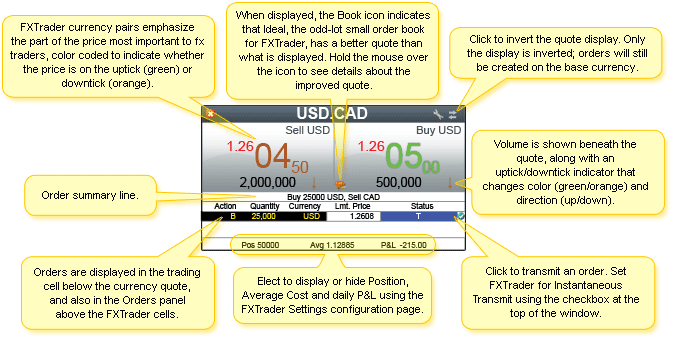 While the display is geared toward forex trading, you can manage any instrument via the FXTrader by adding the instrument to a trading cell. For more information on using the FXTrader, see the
TWS Users' Guide.


Interactive Brokers LLC - member NYSE, FINRA,
SIPC
Any trading symbols displayed are for illustrative purposes only and are not intended to portray recommendations.
Options involve risk and are not suitable for all investors. For more information read the "Characteristics and Risks of Standardized Options". For a copy call (203) 618-5800 or
click here
. Supporting documentation for any claims and statistical information will be provided upon request.