IB WebTrader Highlights
PRODUCT HIGHLIGHTS
WebTrader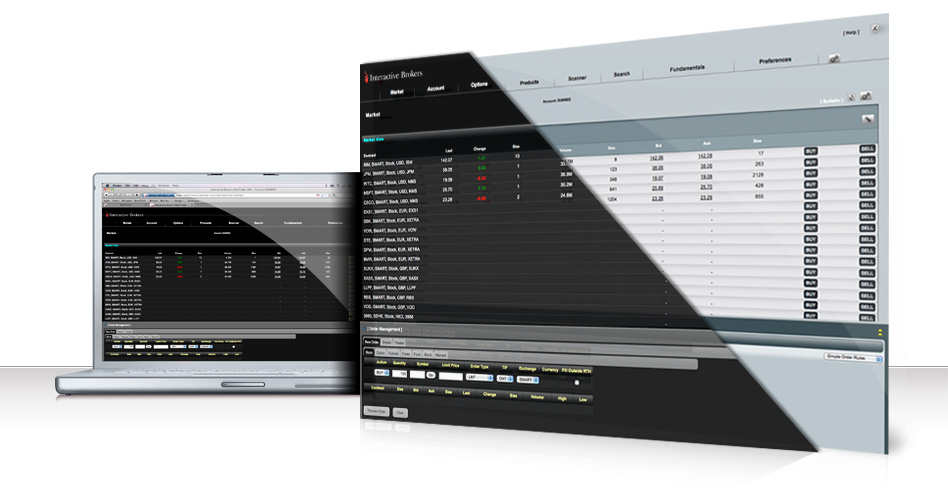 For our customers who prefer a less complicated trading environment, IB offers the HTML-based WebTrader as an alternative to the Trader Workstation (TWS). The clean, intuitive interface makes it easy to view market data, submit orders, and monitor your account and executions. WebTrader is the perfect alternative for users who work behind a firewall, and since it runs through the Internet, you can log in and trade from any Internet-ready PC with no downloads.
To access WebTrader, use the Login menu on the top right corner of the IB website.
The well-labeled tabs and panels break down trading tasks into simple actions:
Market View shows market data and allows you to create orders with a single click on the Bid or Ask price.
The Order Management Panel lets you create and modify orders, and view lists of open orders and executions from any tabbed page.
Executions displays current-day execution reports by action, and shows a summary of exections for each underlying.
Account shows you a summary of your account status, your margin requirements, your equity, net liquidation and P&L, and all of your positions.
Options displays option chains, allowing you to create a new tab for each underlying, and supports one-click order creation.
Products shows you market data, open orders, executions and a chart for a specific product. Create multiple tabs for multiple products.

Scanners lets you quickly and easily scan global markets for the top performing stocks. Customize your scan with any combination of user-specified search criteria such as instrument type, market center(s), or price and volume constraints.
Search provides drop-down boxes to help you easily define your criteria and find contract information and IDs.
Fundamentals provides a profile, news, charting, financials, insider trading info, analyst info and SEC filings for any company.
Preferences lets you modify general settings, like the font size and style, execution reports sorting criteria, and the operating mode (expert allows single-click order transmission).
Customize Tabs helps you customize the application by creating and designing your own page(s).
Customize WebTrader's color scheme by switching between light and dark skins.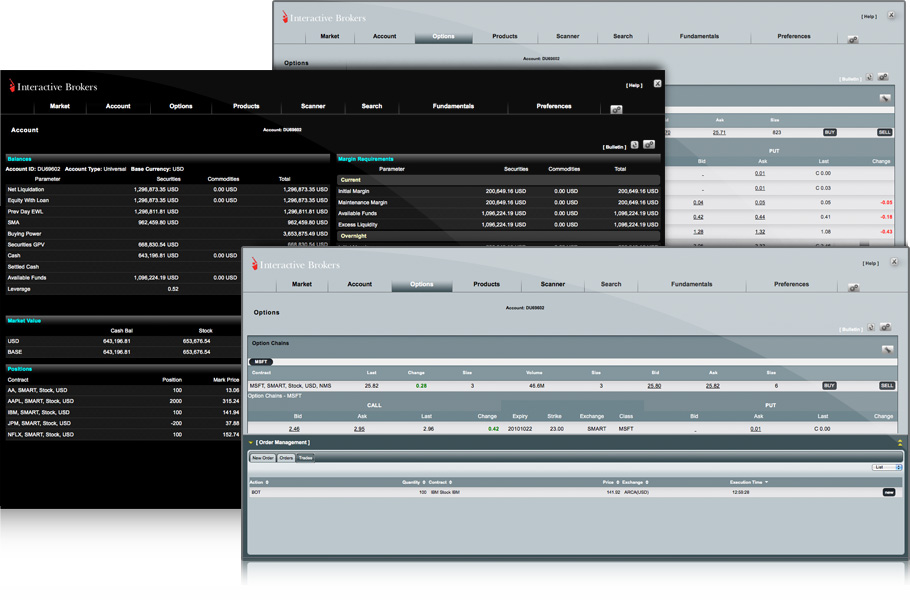 Additional Resources
† Link names are the navigation sequence through the IB website menu bar located at the top of every IB web page.
Any stock, options or futures symbols displayed are for illustrative purposes only and are not intended to portray a recommendation.