IB API
Our proprietary API solutions let you create your own automated rule-based trading system
that takes advantage of our high-speed order routing and broad market depth.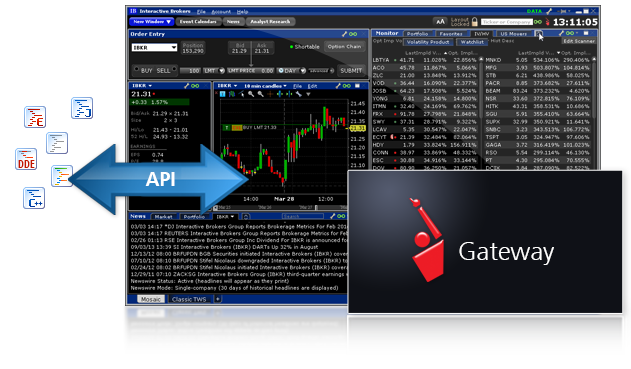 IB API Software
Program traders may build their own add-on applications in Excel (using DDE or ActiveX), C++, Posix C++, Java, and Visual Basic for ActiveX with our proprietary IB Application Program Interface (API), which requires connectivity via either the TWS or the IB Gateway. We encourage API users to test their API components with their PaperTrader or the TWS Demo System before actually implementing any new API systems.
API Platform Downloads
Note:
As a reminder, the use of the IB API as a means of disseminating information, including market data or any other licensed or copyrighted information, to third parties or non-registered IB customers is strictly prohibited without prior written approval of Interactive Brokers.
http://www.interactivebrokers.com/en/p.php?f=programInterface&p=api