Reporting, funding, configuration and trading all from a single window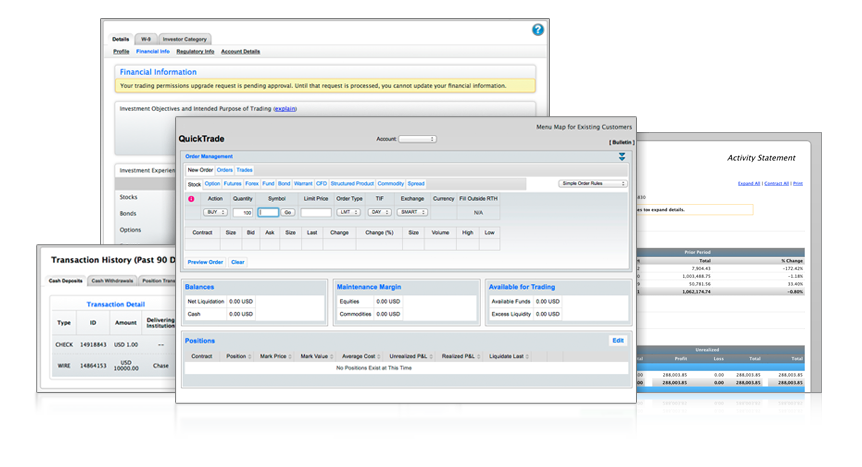 IB's Account Management system lets you configure and manage your IB account from a single window,
and gives you convenient access to these account features:
Reporting
Customize and generate activity statements to view detailed information about your account activity, including positions, cash balances and transactions.
View real-time trade confirmation reports.
Generate margin reports to see the margin requirements for single and combination positions.
Create and run Flex Queries, which are highly customizable report templates for Activity Statements and Trade Confirmations that allow you to specify exactly which fields you want to view and the order in which they should appear.
Brokers and Advisors can run a number of specialized reports, including the Advisor Fee Cap report, Advisor and Broker reports and Broker Exception reports.
View a number of supplemental reports, including Value at Risk and Stress Test Summary reports.
Use PortfolioAnalyst to evaluate the performance of your IB portfolio based on a set of portfolio and measurement criteria, and compare your results against industry benchmarks.
Launch IB's Tax Optimizer, where you can change tax lot-matching methods on the fly to optimize your capital gains and losses.
Funding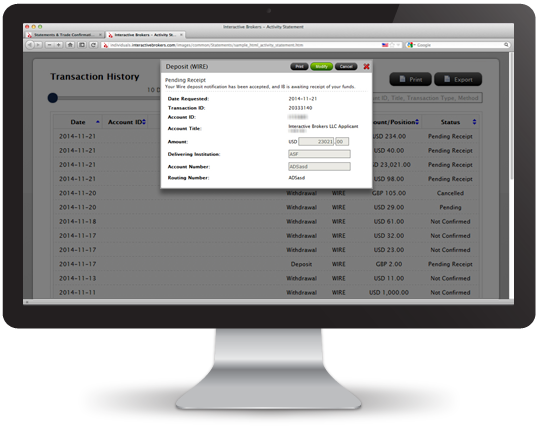 Set up fund deposits, withdrawals and transfers for your IB account.
Check the status of your deposits, withdrawals, and transfers.
Save and reuse financial institution information for future transactions.
Authenticate pending withdrawal, wire or instruction requests.
Set up post-trade allocations to allocate some or all of your US stock and options trades to defined clearing brokers.
Account Configuration
Easily configure your financial and regulatory information, pricing structures, advisor qualifications, account aliases and base currency.
View, add and close client accounts.
Change personal account information such as account title, name or address.
Advisors and brokers can set up white branding, which incorporates their own organization's identity into our software and documentation.
Link multiple accounts together with a single login.
Sign up for a Paper Trading account, which lets you enjoy the full range of Trader Workstation's trading capabilities in a simulated environment.
Upgrade a Cash Account to a Margin Account, or a Reg T Margin account to a Portfolio Margin Account.
Submit advisor-calculated monthly fee invoices for client accounts.
Specify client fees for broker or advisor client accounts.
Trading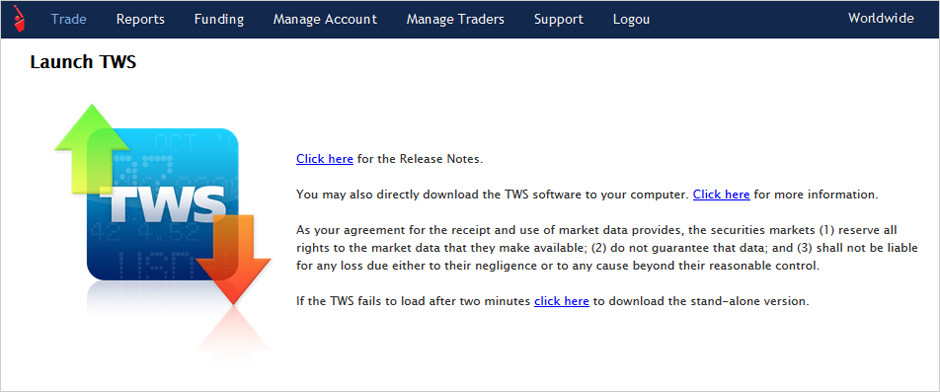 Use QuickTrade to submit orders from within Account Management without having to open a trading platform.
Launch Trader Workstation and WebTrader with a click of a button.
Upgrade your trading permissions, and subscribe to research and market data.
Eligible customers can access IB's secure Hedge Fund Investor Site to browse and invest in participating Hedge Funds.
Security
Change your account password or email address.
Institutions can add a layer of security by designating Security Officers to perform and approve Account Management functions.
Create secure account access by setting up user access rights and authorizations.
Set IP restrictions and client trading restrictions.
Activate your Secure Login System security device to protect your account.
Enable or disable client trading.
Share your authentication information with another user.
Sign up to vote in polls on our website, including the New Features poll.
Customer Service
Submit and track Customer Service inquiries.
View and respond to corporate actions.
Chat live with an IB Customer Service representative.
Access Customer Service tools, including the Trade Cancellation Request, Tax Form Correction and Short Stock Availability tools.