Rated Best Online Broker
for the Second Year in a Row
by Barron's 2013
For 36 years the IB Group 1 has been building electronic access trading technology that delivers real advantages to traders, investors and institutions worldwide. Interactive Brokers Group and its affiliates' equity capital exceeds $4.8 billion. We are the largest US electronic broker based on daily average revenue trades executing 407,000 trades per day.2 Discover some of the reasons why professional traders and investors choose IB.
Low Cost & Best Execution
Awarded a 4.3-star low-cost broker rating by Barron's magazine and awarded
four or more stars for nine straight years4, our statistics speak for themselves.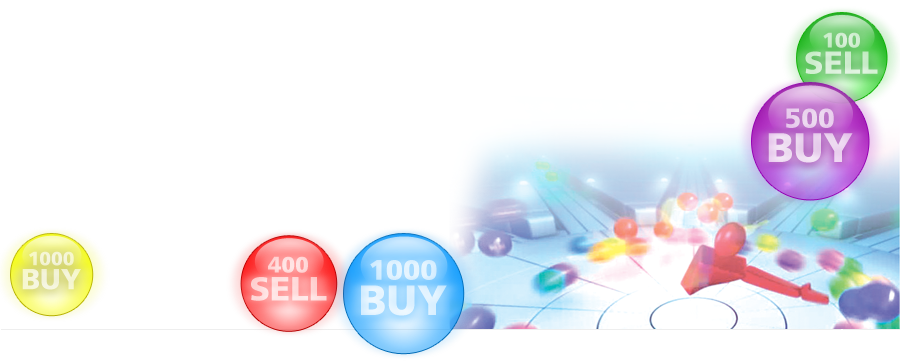 81% lower margin loan rates than the average of six of our top competitors.5
A completely automated trade process allows us to offer low6 commissions.
Our advanced SmartRouting℠ system searches for the best price available at the time of your order, and routes and re-routes all or parts of your order to achieve optimal execution.
Based on independent measurements, the Transaction Auditing Group, Inc., (TAG), a third-party provider of transaction analysis, has determined that Interactive Brokers' US stock and options price executions were significantly better than the industry7 during the second half of 2012.
Global Offerings
Awarded 4.5-star rating by Barron's magazine in the Best for International Traders category, 3
our breadth of product offering is unrivaled.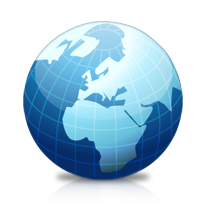 Trade on over 100 market centers in 20 countries. Direct market access to stocks, options, futures, forex, bonds, ETFs and CFDs from a single IB Universal Account™.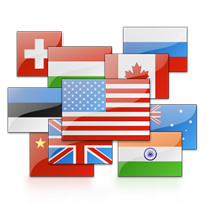 A global presence, with offices in the US, Switzerland, Canada, UK, Australia, Hungary, Russia, India, China and Estonia.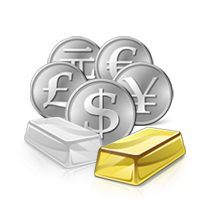 An integrated approach that makes it easy to trade global products on multiple exchanges and assets denominated in multiple currencies all from a single account.
Trading Technology Designed for Traders, Investors and Institutions
Awarded a 4.5 star rating by Barron's magazine in Best for Frequent Traders category3,
we build electronic access trading technology that delivers real advantages to traders, investors and institutions worldwide.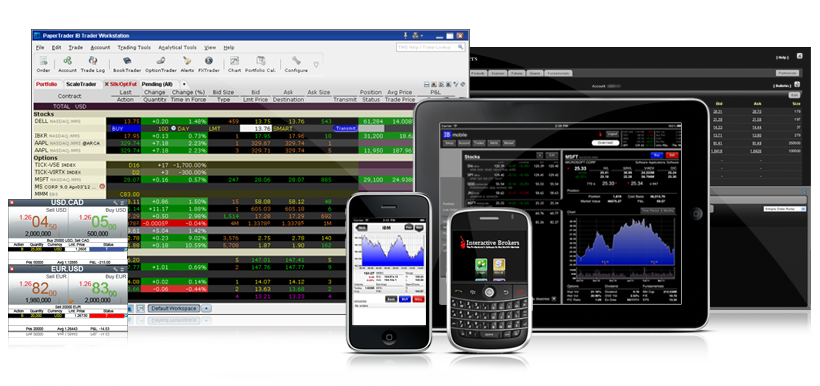 Market-maker designed Trader Workstation (TWS) optimizes your trading speed and efficiency in a single, comprehensive and customizable workspace.
Interactive Brokers Information System (IBIS), our comprehensive news and fundamentals research platform add-on to TWS, lets you access important information and research that give you the edge you need.
Sophisticated TWS trading tools such as OptionTrader, FXTrader, BookTrader and Accumulate/Distribute provide product-specific order modules to accommodate any trading needs.
Advanced algorithmic tools and order types help individual traders manage multiple large volume orders simultaneously and get the best execution.
Multiple ways to connect to our trading system, including the TWS API for traders who want to build their own trading applications, and our industry-standard CTCI FIX interface.
Mobile solutions let you trade on the go from a variety of mobile devices, including the iPhone, iPad and Android.
Extensive stock borrow and loan solutions include the AQS® Marketplace, the Short Stock Availability Tool, our popular Stock Yield Enhancement Program, which lets you earn extra income on your fully paid stock shares; and our Pre-Borrow Program.
Risk Management & Control
Our advanced technology gives you the tools
you need to manage and control your trading risk.

A real-time margin system that continuously enforces limits on an account-by-account basis lets you monitor their margin cushion directly in TWS.

Sophisticated portfolio risk management via the IB Risk NavigatorSM, which is free to IB customers.

Portfolio Margin Accounts with real-time risk management can provide increased leverage with greater safety.
Comprehensive Reporting
Our reporting tools give you the information and analysis you need, when you need it.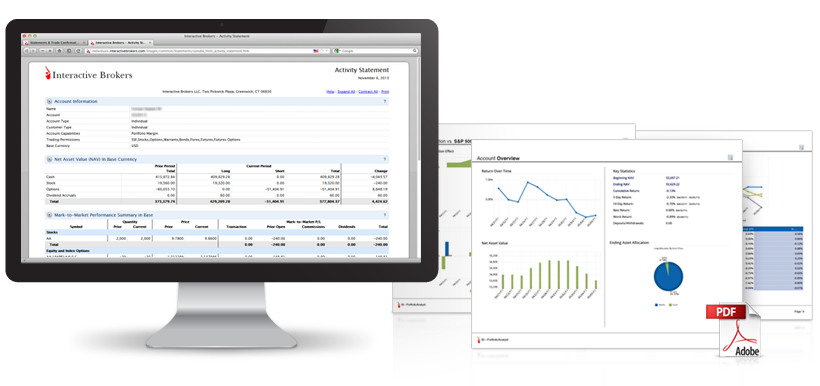 PortfolioAnalyst, our online reporting and analysis interface, lets you analyze the performance of your account portfolio online by creating and saving customizable PDF reports based on a set of measurement criteria and optionally comparing the data to selected industry benchmarks.
Customizable statements provide detail on all your trading activity and can be viewed as downloadable PDFs or in HTML format.
Downloadable statements are available as XML or text files, and as a variety of third-party software, such as Quicken or MS Excel.
Daily margin reports detail requirements by underlying.
Custom reporting for advisors and brokers including advisor fee cap, daily client balances and performance, and broker exception reports.
Tax Optimizer lets you change your tax lot-matching method to optimize your gains and losses.
Traders' University
Even the most experienced traders need to keep learning to stay ahead.
Visit Traders' University for easy access to all of our education offerings.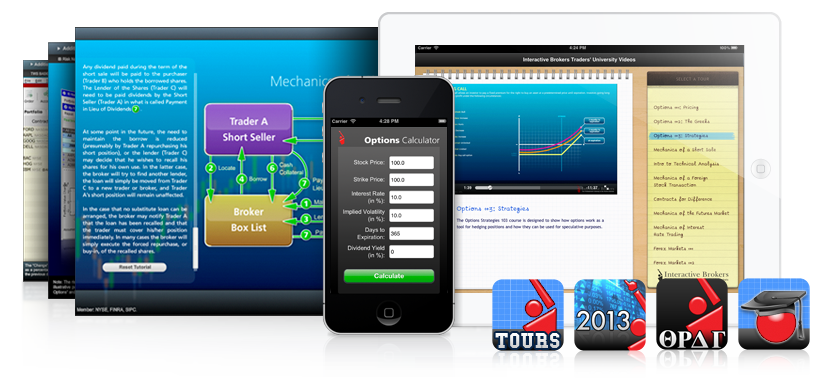 Our extensive live webinars cover topics ranging from TWS trading to understanding options to taking advantage of volatility in the gold market.
Self-paced, online interactive tours and courses provide basic trading product knowledge and help you get up to speed with our trading platform and tools.
Tours, courses and more are available on your Apple mobile device.
Daily market briefs written by our own in-house analysts provide insights into the U.S. equity options, interest rate and global currencies markets.
Free widget and gadget trading tools let you experiment with options pricing and strategies.
Strength and Security
You can be confident that your money is secure and
that Interactive Brokers will endure through good and bad times.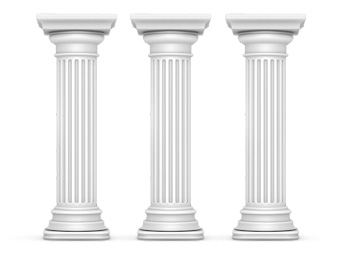 On a consolidated basis, Interactive Brokers Group's (IBG LLC) equity capital exceeds $4.8 billion.
Unlike most other firms, where management owns a relatively small share, we participate substantially in the downside just as much as in the upside. Because of this vested interest, we run our business conservatively.
Customer securities accounts at Interactive Brokers are protected by the Securities Investor Protection Corporation ("SIPC").
Our real-time margining system marks all customer positions to market continuously. All orders are credit vetted before being executed and positions in accounts with inadequate margin deposits are liquidated automatically.
We provide login protection through the use of free security devices, which generate unique, random codes that you enter each time you log in, as well as additional account protections.
Includes Interactive Brokers Group and predecessor companies.
Fourth Quarter 2012 Results.
According to Barron's Back Online - March 11, 2013, Interactive Brokers was awarded the highest 4.5 star rating for Best for International Traders, and 4.5 stars to qualify for the top two for Best for Frequent Traders.
Low cost broker 2005 through 2012 according to Barron's online broker review.
Based on IB's US Margin Loan Rates Comparison as of May 1, 2013. For additional information, click here.
According to Barron's Back Online - March 11, 2013, ranked Interactive Brokers with a 4.3 star rating for cost. Barron's is a registered trademark of Dow Jones & Company, Inc. Criteria included Trading Experience and Technology, Usability, Mobile, Range of Offerings, Research Amenities, Portfolio Analysis & Report, Customer Service & Education, and Costs.
Source: The Transaction Auditing Group (TAG). Industry as a whole for the referenced periods according to TAG. For additional information, click here.
Any trading symbols displayed are for illustrative purposes only and are not intended to portray recommendations.