Create a PDF of this page
for easy printing or saving.
Customer Activity Monitor (CAM)
CAM Software
| | | | |
| --- | --- | --- | --- |
| Software | Zugriff | Veröffentlichung | Beschreibung |
| IB Customer Activity Monitor (CAM) | | Rel: September 2006 | Der IB Kunden Aktivitätsmonitor (CAM) hilft professionellen Vermoegensverwaltern und Brokern alle Aktiviaeten des Kunden schnell zu finden und aufzurufen. |
http://www.interactivebrokers.com/de/p.php?f=cam&p=software
CAM Highlights
Auf Einen Blick
Der IB Kunden Aktivitätsmonitor (CAM) hilft professionellen Vermögensverwaltern und Brokern sämtliche Kundenaktiviäten, inklusive der kompletten Orderhistorie aller Kunden und der jeweiligen, bestimmten Übermittlungssequenzen schnell überblicken und kontrollieren zu können. Mit der Benutzeroberfläche können folgende Aktionen gestartet weden:
Mehr Informationen zur Benutzung des Kunden Aktivitätsmonitor finden Sie in unseren Benutzerhandbuch.
Für Echtzeit Abfragen zu Ordern und Ausführungen kommuniziert der IB CAM direkt mit dem IB Order Übermittlungssystem. Dieser Umstand garantiert Echtzeit Daten bzw. Resultate.
Flexible Suchfilter spezifizieren ihre Abfrage und generieren so ein entsprechend genaues Resultat.
Rufen Sie Suchresultate in verschiedenen Reihenfolgen auf. Lassen Sie sich Orderausführungen nach Datum, Basiswert oder Kurswert anzeigen.
Kontrollieren Sie bis zu 5 Tage alte Handelsbuchungen (order history) von der Orderinitiierung bis zur Ausführung, inklusive modifizierte, gelöschte oder abgewiesene Orders.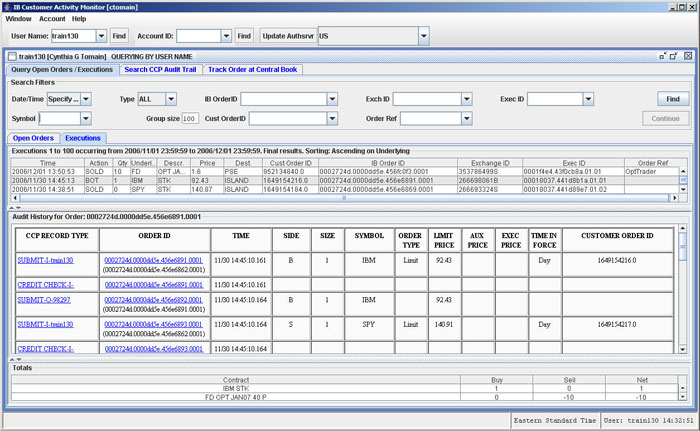 Mit dem CAM lassen sich ganze Datenpakete in eine beliebige Tabellen Applikation exportieren.

Finden Sie Kontoinformationen zu jedem ihrer Kunden, inklusive:
Echtzeit Kontostand
Margin Auflagen und Handelslimitien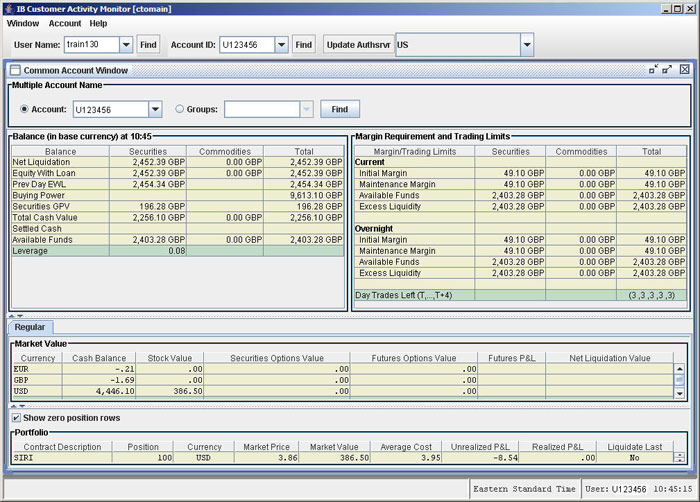 Hinweis: Bei den hier als Visualisierungs-Beispiele benutzten Aktien-, Options- und Futures Symbolen handel es sich nich um Produkte, die Ihnen IB in irgend einer Form zum Handel empfiehlt.
http://www.interactivebrokers.com/de/p.php?f=cam&p=highlights
CAM Release Notes
The enhancements and modifications below are in CAM version 2005.06.15 To identify the build number, on the Help menu select About. For clarification on any of the items listed, refer to the CAM User's Guide.
Enhancements
Improved Speed on XML Queries
The processing speed for CAM XML queries has been radically improved to complete much more quickly. You can now perform indexed XML queries on IB Order ID, Customer Order ID, Exchange ID, Execution ID, Order Reference, Symbol and Generic Text (this is the equivalent of the old "grep," but completes much more quickly).
Track Order Page Split from Search Audit
The Track Order feature has been split from the Search Audit page and given its own tab to allow more space for displaying data on the Search Audit page.
XML Query Output Displayed and Saved to Disk
The output for all XML queries, including both raw XML and processed HTML, is written to a file in your temp directory along with being displayed on the screen.
IB Order ID Indexed Queries bring up Audit Trail
Indexed queries on IB order ID bring up the audit trail of the queried order. All queries except for Generic Text rapidly display the initial customer submit record which allows Track Order or Audit Trail extractions via the order ID hyperlink.
Search Customer Records by Account Number
External customers can now bring up customer call frames by account as well as by customer user name. In addition, when you call a pooled account by account ID, you no longer need to choose a user name that trades the account because the call frames know why they were run. If you run one by account, the queries are done against that account, allowing an Ibroker to see trades he placed into a subaccount over which he has trading discretion. Currently this feature is only activated for XML queries by account, not for open order/execution queries.
Ibroker Enhancement to Account Summary
When you double-click a subaccount in the Account Summary panel, it invokes a customer call frame that will query on that subaccount.
Other Query Enhancements
The Customer Order ID is displayed as a new text column on the main page of XML extractions. In addition, order memo and customer order ID will appear in XML drilldown where appropriate.

The default CCP audit trail extraction type for TWS accounts is IB Order ID. For CTCI accounts, it is Customer Order ID.

Pending ack XML messages (PACK) are now displayed.

A new XML record type called "Orders" has been added. This returns all customer Submit, Modify, Cancel and Reject messages that pass the specified extraction type filter.

When querying for submits or orders, only the inbound submit from the customer is returned. "ACK" submits can then be seen on a particular order by doing a track order or audit trail extraction via the Order ID hyperlink.
Fixes
The tab order in the main frame toolbar has been fixed.

---
© 2001 Interactive Brokers LLC. All rights reserved. Sun, Sun Microsystems, the Sun Logo and Java are trademarks or registered trademarks of Sun Microsystems, Inc. in the United States and other countries. Excel is a trademark or registered trademark of Microsoft Corporation in the United States and/or other countries.
http://www.interactivebrokers.com/de/p.php?f=cam&p=notes